Keningau – A suspected Covid-19 patient was trapped on the first floor of Hospital Keningau while trying to escape.
The 24-year-old woman was admitted to Hospital Keningau's ward yesterday. At 6 am today, she tried to escape.
Keningau BBP chief, Sharudy Delamin, received an emergency call at 6.19 am.
A fire brigade from the Keningau Fire and Rescue Station (BBP) rescued the patient.
The BBP chief reported that the rescue team involves seven members and officers of BBP. Emergency Services Assistance Unit (ERMS) machinery and vehicles were also sent to the scene.
The victim was found trapped on the first floor outside the Keningau Hospital building when the rescue team arrived.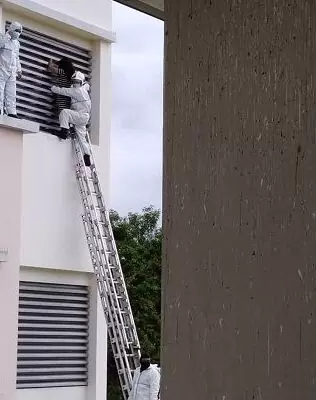 "The fire brigade, fully clothed in personal protective equipment (PPE), then carried out the rescue operation using stairs to bring the victim down," he said when contacted today.
The victim was brought down then handed over to the hospital and police for further action.
The reason behind the woman's escape is still under investigation.
Fortunately, the victim remains unhurt in the incident.
Read also:
---

---
Cover Images via Harian Metro
Author: J.W Chan
Proofreader: Anna Wong