Generally speaking, superyachts are not an unusual sight as we sometimes stumble upon one or two docking near the pier. However, what if it was a UFO-like superyacht that appeared before you?
A UFO-like superyacht was recently spotted at the mouth of Sungai Perlis, Kuala Perlis at 12pm on Saturday (Aug 13), drawing the attention of fishermen and villagers living nearby, reported Berita Harian.
It was later revealed that it was an Adastra superyacht which costs approximately USD45 million (more than RM200 million), believed to have arrived from Langkawi for repairs at the Perlis Marine Engineering (PME) Sdn Bhd dock in Kampung Tengah Kuala Perlis.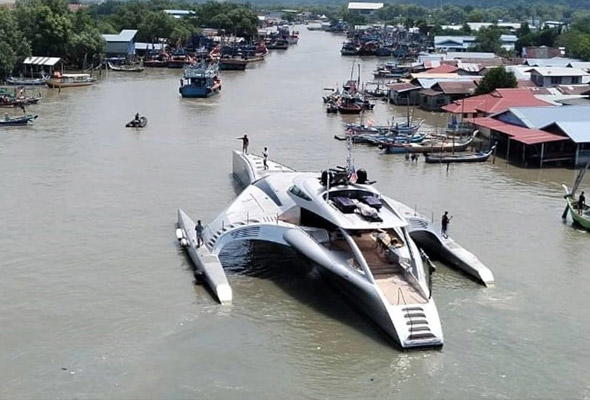 Superyacht allowed to dock
According to the Perlis Fishermen's Association (PELARIS) board member Jasmi Hashim, his party had been informed of the superyacht's appearance and movement and didn't receive any complaints about it.
The Malaysian Maritime Enforcement Agency (MMEA) Kuala Perlis Maritime Zone commander Mohd Hashim Mat Zain also confirmed that the superyacht had indeed gotten permission to dock at PME by the Perlis Marine Department.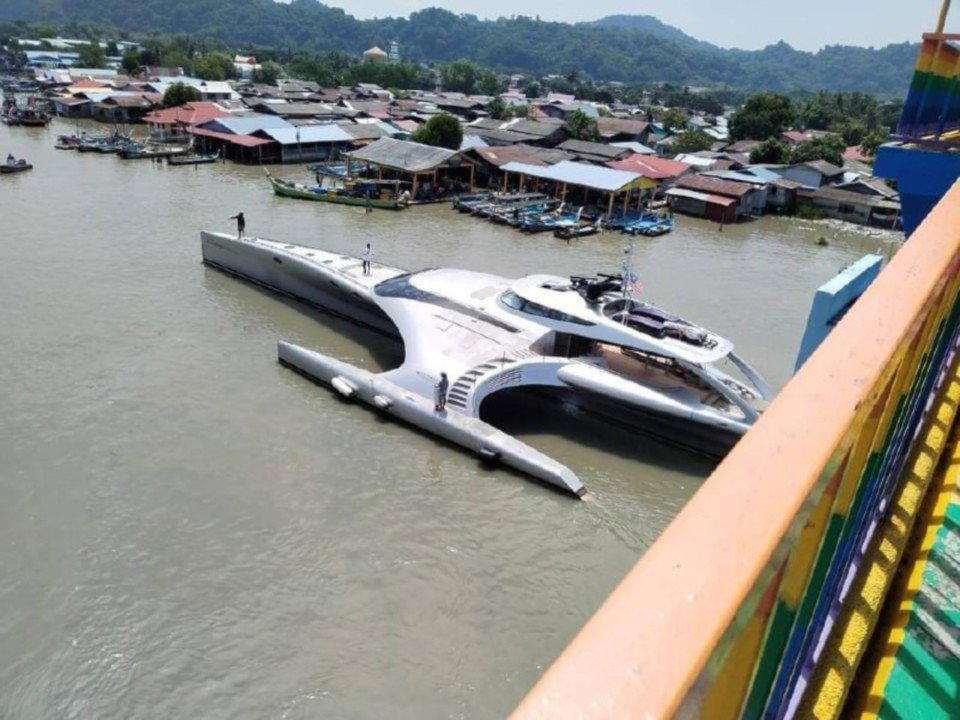 A rare sight
A video of the superyacht has since gone viral on social media and caused a stir among netizens, who couldn't help but to marvel at its majestic appearance compared to the humble fishing boats.
Mat Che Ya, a 53-year-old fisherman, told Berita Harian said that such ships were an uncommon sight as it was mostly middle-sized ships that passed through the area.
"So when the yacht cruised through here, it looked like a spaceship on the water because it didn't look like a ship or boat that we usually see," he said.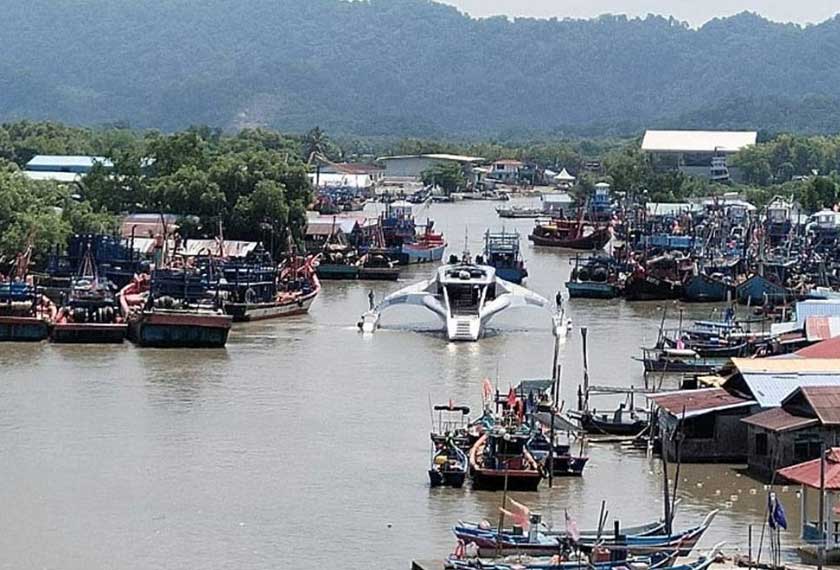 Watch a video of the superyacht here:
Space-striking features
True to the fisherman's observations, the superyacht is actually known and recognised for its spaceship-like model, thanks to the name Adastra, which means "to the stars" in Latin.
This 42.5-metre-long architectural wonder is a trimaran-type vessel, meaning that it has a main hull and two smaller outrigger hulls, which are connected to the main hull with lateral beams.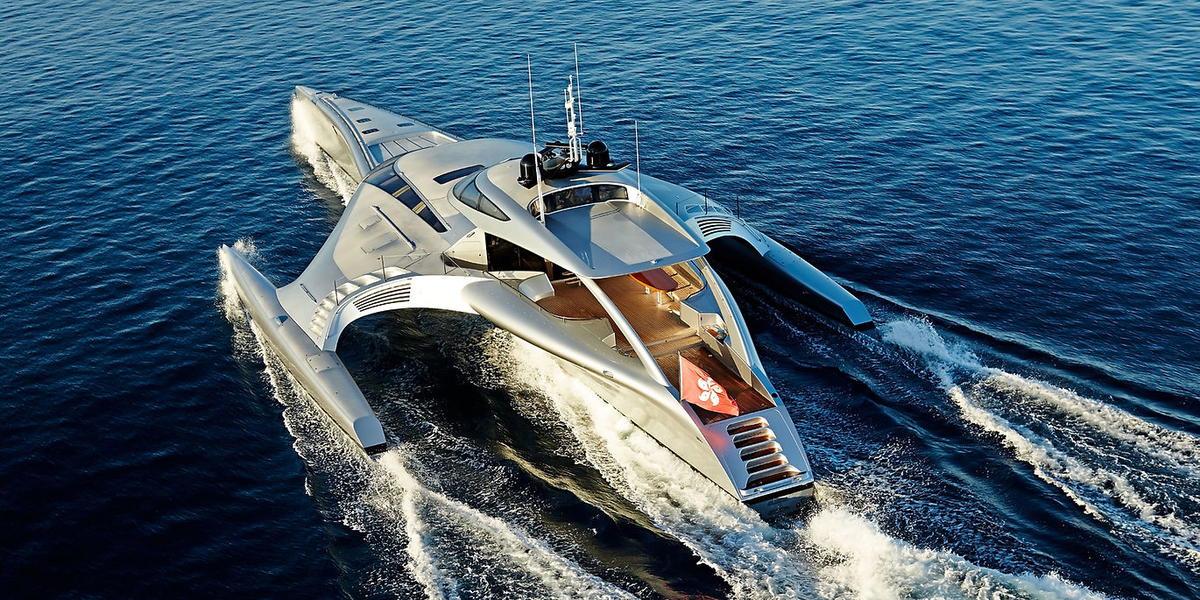 In one of its reviews, US luxury-lifestyle magazine Robb Report wrote that the boat can reach a top speed of 23 knots and venture into shallow waters where most conventional yachts cannot.
To add on to its existing luxurious appearance, the superyacht offers accommodation for nine guests and six crew members. It also has a 16-metre beam which creates a spacious salon area along with sunbeds on the main deck, where passengers can enjoy amazing views through a panoramic window.
The boat also has an al fresco dining area and an aft deck with lounges. On top of that, its garage doors can be folded out to become a diving platform.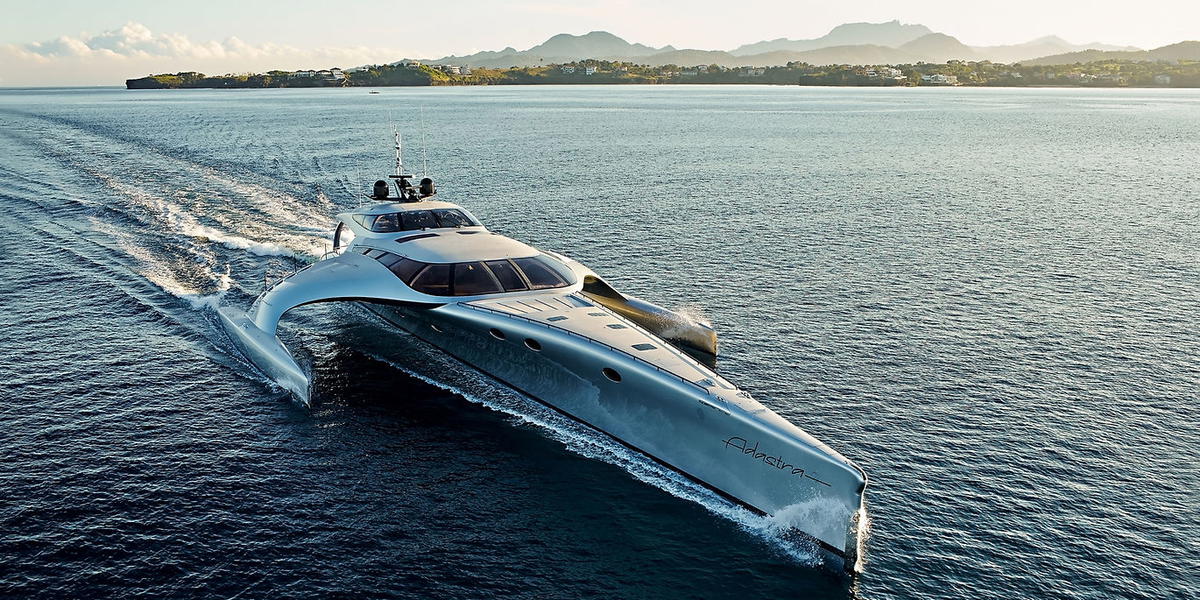 READ MORE:
---
---
Cover image via Astro Awani & Berita Harian
---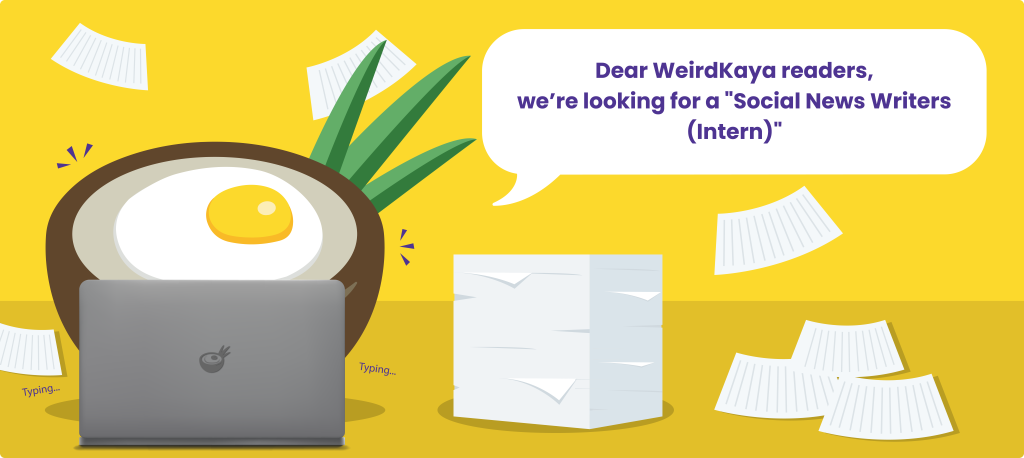 ---