Career fairs are an excellent opportunity for job seekers to connect with potential employers, learn about job openings, and explore different career paths.
However, attending a career fair can be overwhelming, especially for students who are new to the job search process. To help you make the most of your career fair experience, we've compiled a list of 5 Do's and Don'ts:
What you SHOULD do
1. Research companies before the career fair
Before attending the career fair, research the companies that will be present at the event. This will give you a better understanding of the types of jobs available, the company culture, and the skills and qualifications required.
Use this information to prepare questions to ask recruiters and tailor your elevator pitch.
2. Dress professionally
Wear a business attire and make sure that your clothes are clean, pressed, and well-fitted as the last thing you'd want is to turn up looking like a caveman/cavewoman.
Dressing professionally shows recruiters that you are serious about your job search and that you respect their time as well.
3. Prepare an elevator pitch
An elevator pitch is a summary of your skills, experience, and interests. It should be concise, engaging, as well as highlight your unique value proposition.
Practice your elevator pitch before the career fair and be prepared to adjust it based on the recruiters' responses.
4. Follow up with the recruiters
After speaking with a recruiter, be sure to ask for their contact information or business card. Send a follow-up email or LinkedIn message to thank them for their time and to express your continued interest in the company.
Following up shows that you are proactive and interested in the job opportunity, even if you're considered for the position at the end of the day.
5. Be open-minded
Even if a job doesn't seem like the perfect fit at first glance, it could lead to other opportunities down the line. So always be ready to have an open mind about all types of job prospects.
Also, be willing to learn about different industries when speaking with recruiters and look for opportunities to upskill yourself in areas that you are lacking in.
What you should AVOID doing
1. Arrive unprepared
Arriving at the career fair without a plan can be a waste of time and imposes a negative impression on recruiters. Research the companies, prepare questions for recruiters, and bring copies of your resume and business cards beforehand to avoid potential disaster.
2. Dress inappropriately
Not only does dressing inappropriately make you stand out for the wrong reason, it also suggests that you have little regard and respect for other parties involved. Avoid wearing casual or revealing clothing and make sure that your clothes are clean and pressed.
3. Turn up late
Being late to the career fair makes a negative impression on recruiters and severely limits your opportunities to speak with them. Plan to arrive early, and make sure that you have enough time to speak with all the recruiters who interest you.
4. Be pushy
More often than not, being pushy or aggressive with the recruiters will rub them the wrong way and thus harm your chances of getting a job. Be polite, respectful, and professional, and avoid interrupting the recruiters or monopolizing their time.
5. Not following up
Following up with the recruiters is a critical part of the job search process. Make sure that you send a follow-up email or LinkedIn message within 24-48 hours of the career fair, and reiterate your interest in the company and the job opportunity.
Join USM Engineering Campus' Career Fair!
Know what to and not to do and can't wait to join a career fair to practice? The Career Fair of USM Engineering Campus is finally back in wholly physical mode!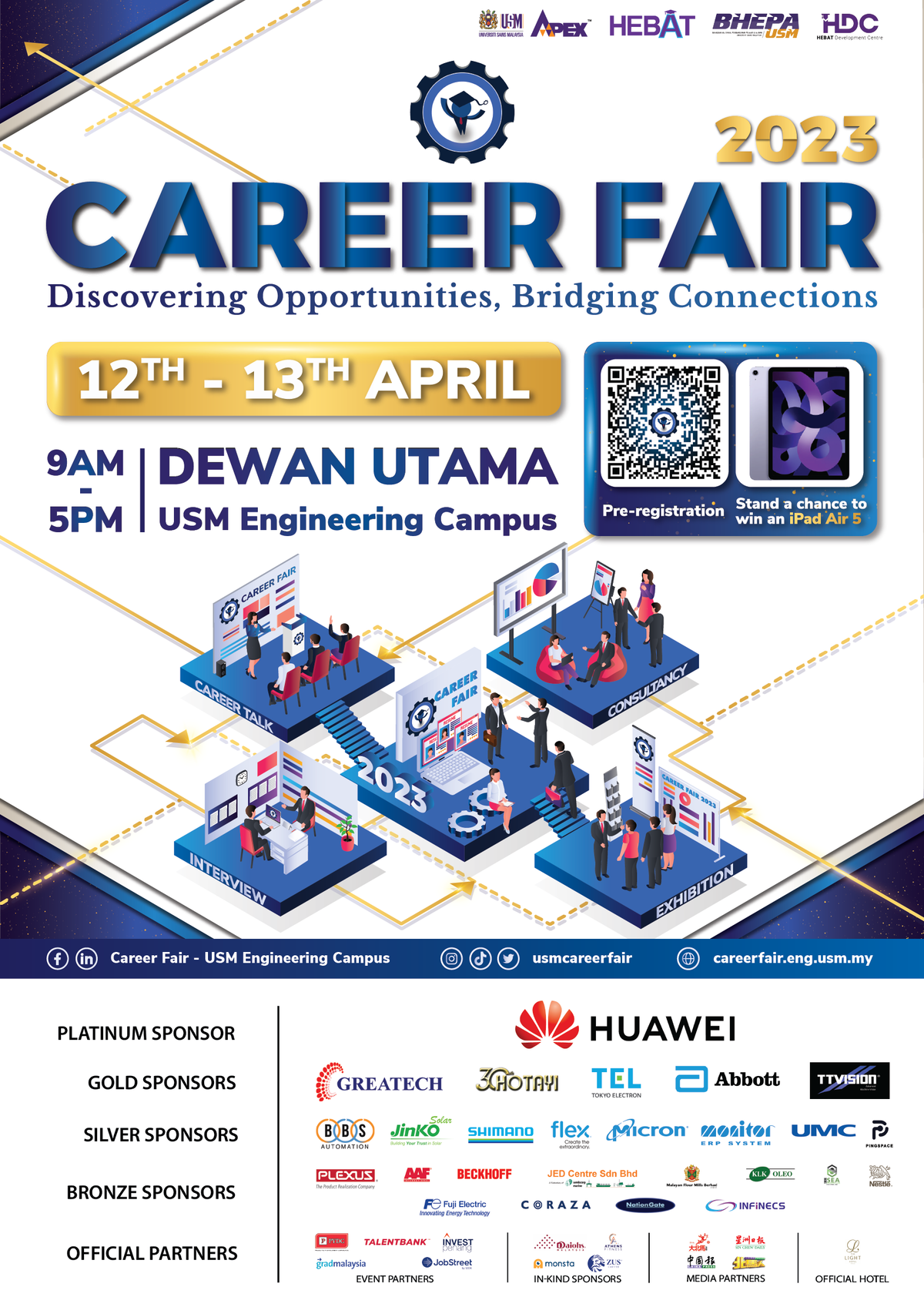 It has been three years since the Career Fair was held in its conventional way and the committee board has come a long way to continue bringing the best version of the Career Fair to participants every year.
With the mission of providing a platform to connect undergraduates with industry players, the committee has joint efforts since last year to ensure that the physical Career Fair 2023 is beyond your expectations!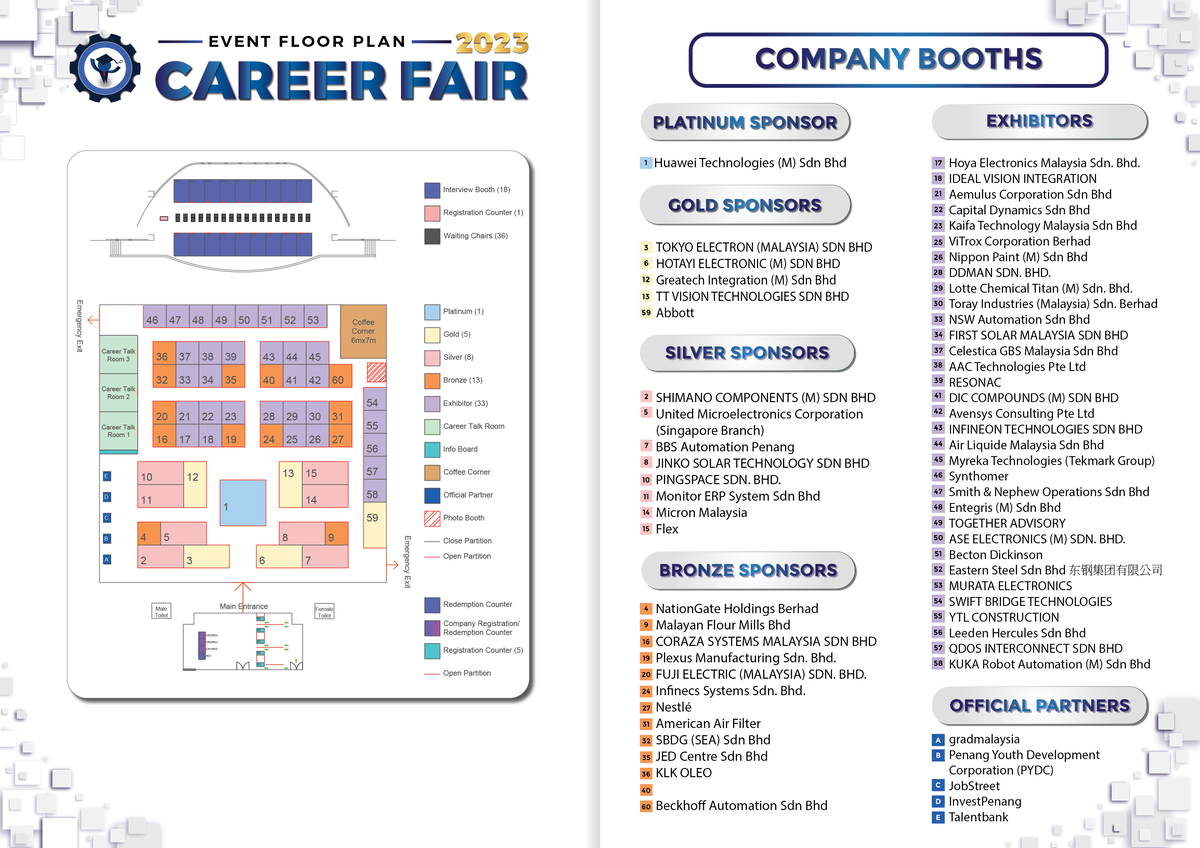 This year, over 𝟲𝟬 local and multinational companies will be joining the fair to bring you the best job-hunting experience. All booth exhibitions, career talks, company consultancy, and interview sessions will be carried out in person.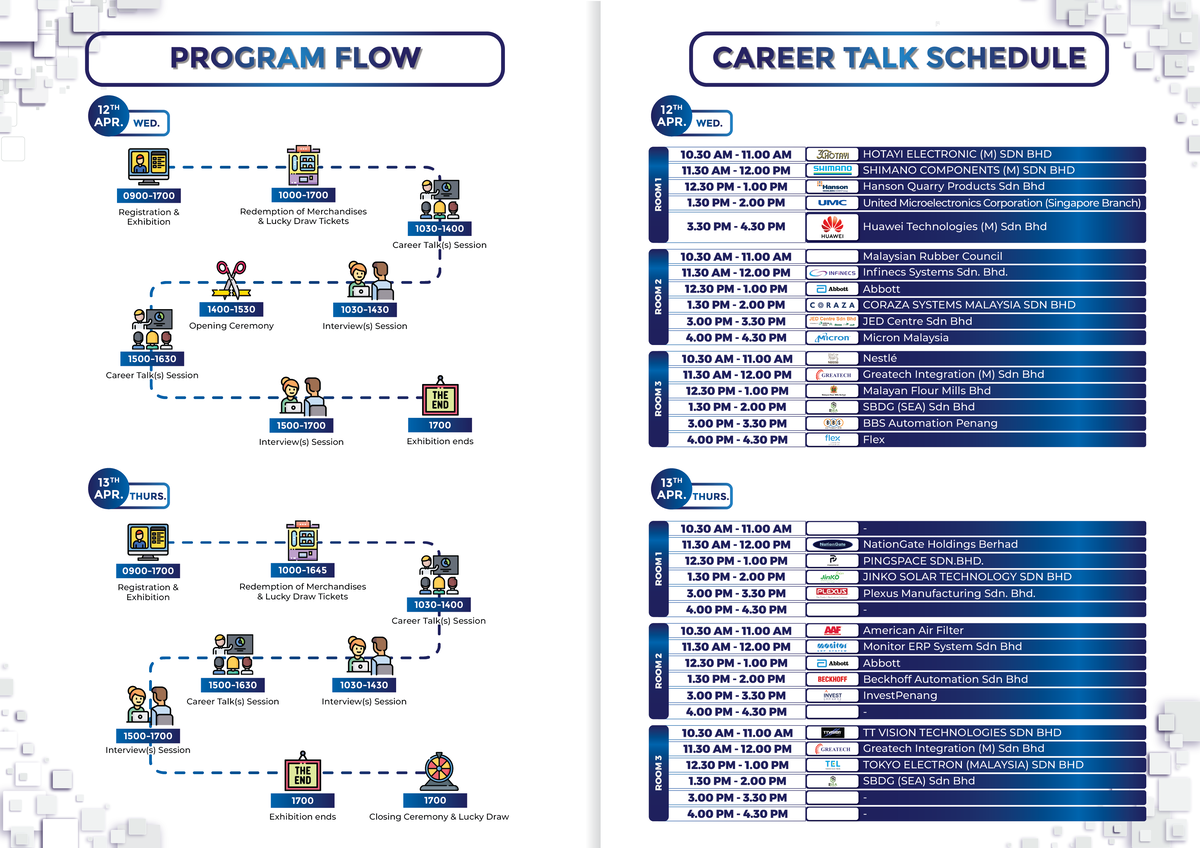 Do mark your calendar to connect with your desired companies and participate in fun mini-games on both days!
Get your adrenaline pumping for the highlight of the event, the Lucky Draw session, and stand a chance to bring home the grand prize, an iPad Air 5!🎁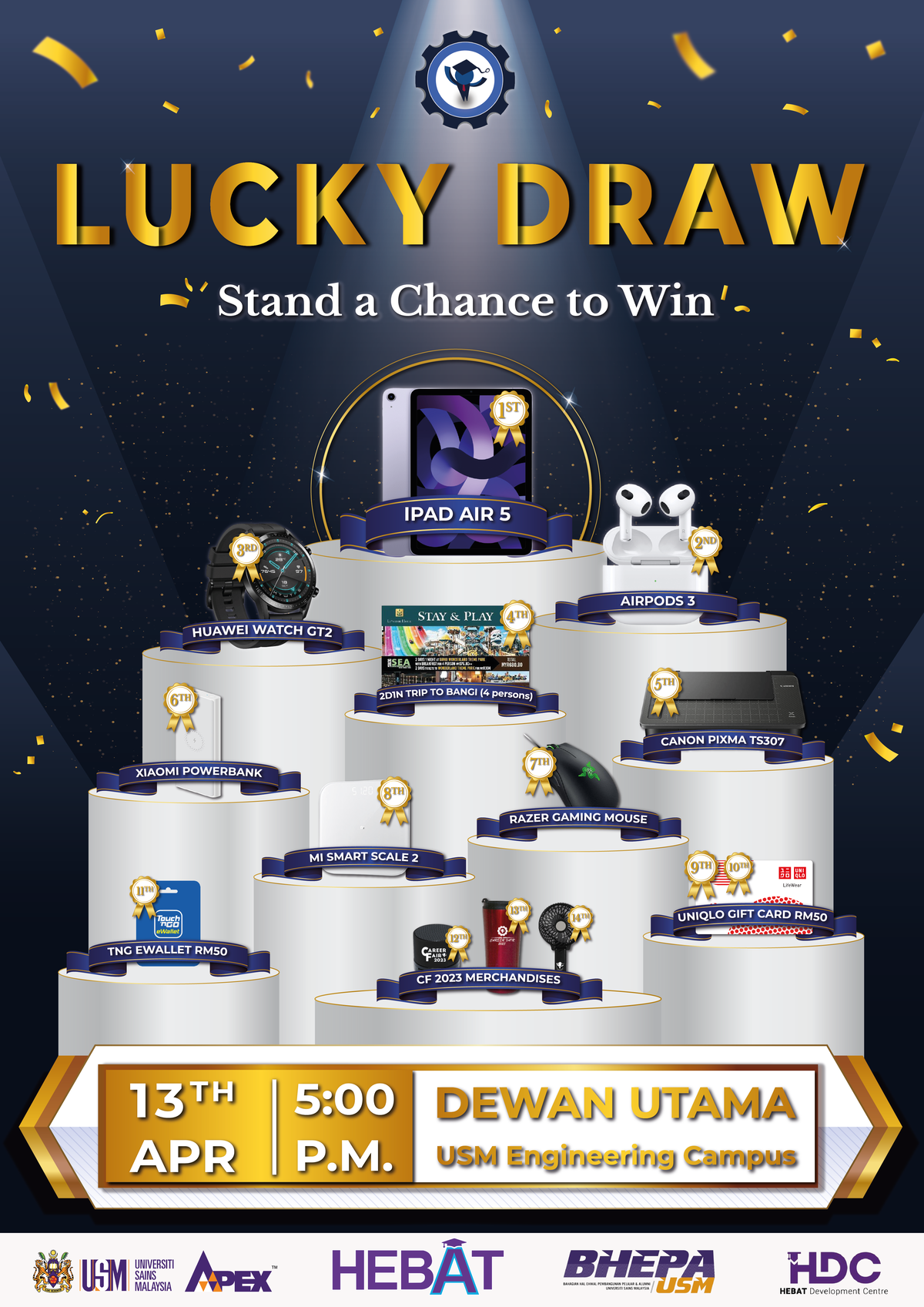 Below are the event details:
Date: 12th and 13th April 2023
Time: 9:00 a.m. to 5:00 p.m.
Venue: Dewan Utama, USM Engineering Campus
You can now pre-register by clicking this pre-registration link to skip the queue.
Ready for the thrilling ride of counting down to the event days? Buckle up and stay tuned to their social media as more exciting features of Career Fair 2023 are soon to be revealed!
Check out more details about USM Engineering Campus Career Fair 2023 from this link.
Read more:
---

Cover image provided to WeirdKaya