We all understand how annoying it is to have boisterous children raising a racket in the background when you're trying to enjoy a meal at a restaurant.
Well, if you're currently residing in Singapore, you're in luck as one restaurant is imposing a S$10 (RM30) surcharge on diners who allow their kids to run wild and cause noise pollution.
The restaurant implementing this policy is called Angie's Oyster Bar & Grill, a seafood restaurant located in Tan Boon Liat Building at Outram Road, Singapore.
While the policy isn't new, it has still caused dissatisfaction among mothers, who called the policy as "child-unfriendly".
'Screaming will not be tolerated'
The policy was brought to the limelight when one to-be customer sent a screenshot of a message highlighting Angie's Oyster Bar & Grill child-unfriendly environment to Mothership.
In the message, the to-be customer made a reservation and asked for a baby chair to be provided.
The restaurant responded by saying no baby chairs were available and that there was only space for a baby pram as the place isn't kid-friendly.
The restaurant also wrote that while children are still welcomed to dine in, a S$10 surcharge will be imposed if they are left to their own devices and disturb other guests.
All children are welcomed to dine at Angie's. However, screaming/ uncontrolled children disturbing other guests will NOT be tolerated.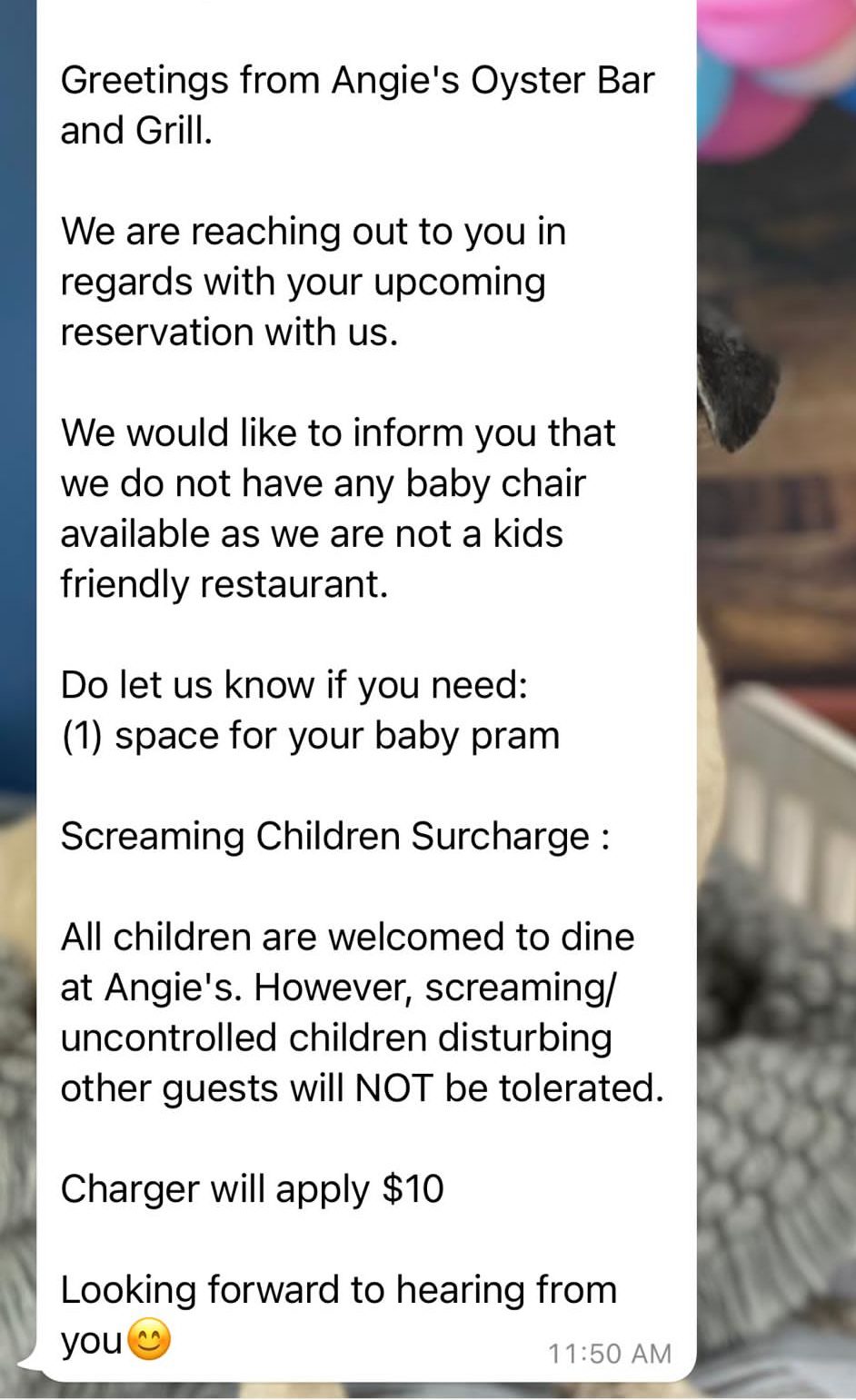 Mixed reviews online
All in all, Angie's Oyster Bar & Grill has enjoyed a considerable number of positive reviews on Google and Facebook praising its food and ambience.
The only negative review regarding its screaming child surcharge and child-unfriendly policy was made on TripAdvisor in August 2022.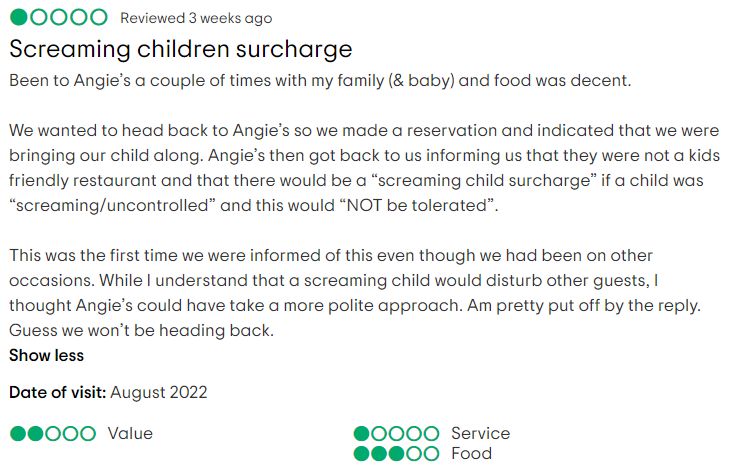 However, it's not known whether it was written by the same customer who sent the screenshot of the message to Mothership.
Angie's responds
Speaking to Mothership, Angie's Oyster Bar & Grill issued a statement explaining the rationale behind the surcharge.
We pride ourselves in providing a pleasant environment for all our dining guests at Angie's. We are constantly on the lookout for ways to improve our customer experience and make it a point to ask guests for feedback on their dining experience–our food, service standards, and overall ambiance.
The restaurant then went on to say that its staff had seen a hike in complaints in recent months about children creating havoc for other diners.
"Not only is this dangerous as servers are often moving around with hot food and sharp cutlery, but it is also disrespectful to other diners who may wish to dine in a quiet and comfortable atmosphere," they said.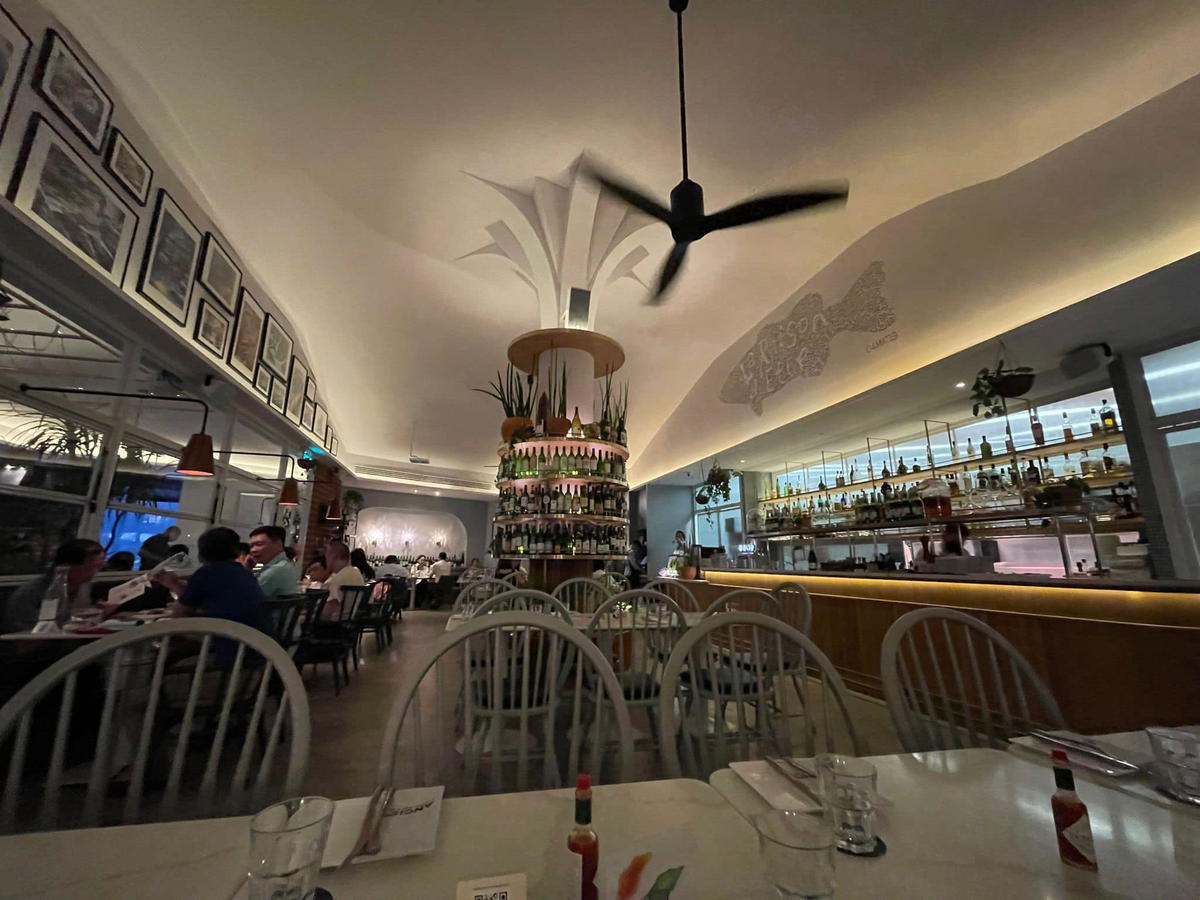 The restaurant also said that it would be forced into "awkward" situations if they were to play peacemaker between disgruntled diners over disruptive behaviours.
As such, the restaurant felt that it had little choice but to implement the highly unpopular surcharge.
Towards the end of the statement, Angie's Oyster Bar & Grill said that it will continue to provide plenty of memorable dining experiences for its diners.
"We ask for nothing more than mutual respect from all our guests, but we've sadly come across a few diners who may feel more entitled than others. It pains us to impose the policy but it was never our intention to diminish any of our guests' experience."
Do you agree with the restaurant's policy regarding disruptive children? Let us know in the comments below!
READ ALSO:
---