With GE15 slated to be held tomorrow, candidates from various political parties are doing their best to woo over voters to their side before time runs out.
In the midst of doing so however, there has also been plenty of allegations claiming that certain candidates have resorted to dirty tricks swirling around.
Such was the case for lawyer and activist Siti Kasim, who accused her opponent P Prabakaran of playing dirty to secure votes.
'Do not vote for candidate No.1'
In a Facebook post uploaded by Siti on Monday (Nov 14), it showed a screenshot of an Instagram story which was shared by Prabakaran.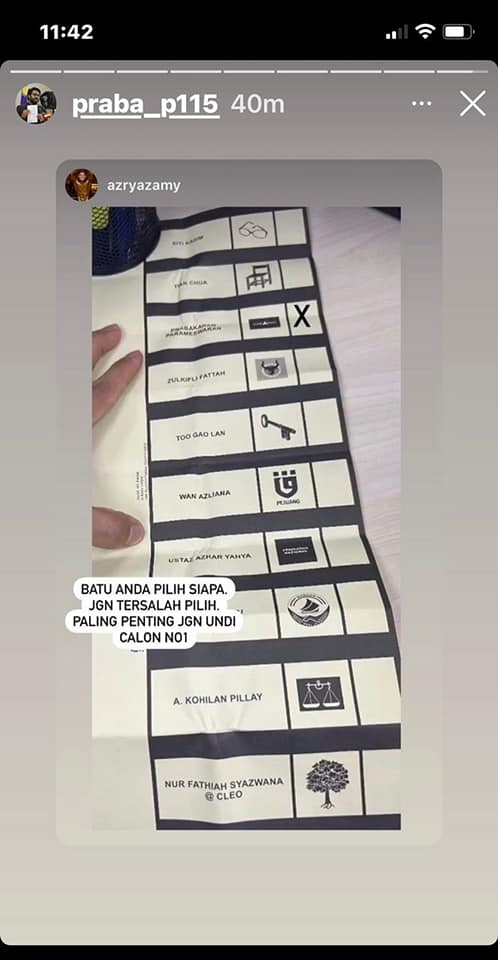 In the screenshot, it showed the full list of candidates contesting for the Batu parliamentary seat, where an "X" was printed next to Prabakaran's name.
As for the caption, it asked viewers who they would be voting for and also gave an oddly specific instruction as well.
Don't pick the wrong one. Most importantly, do not vote for candidate No. 1.
Turns out that the said candidate was none other than Siti herself and it clearly didn't sit well with her.
She wrote in the post caption that she would lodging a report to both the police and the Election Commission of Malaysia (SPR).
Read the post here:
Mixed reactions
The post which has since gained 1.7k reactions and 179 shares at the time of writing, where netizens were undecided over whose side to take.
Some stood on Siti's side and condemned Prabakaran's attempt to smear his opponents.

On the other hand, some told Siti not to jump into conclusions too quickly and to do her due diligence into the screenshot's authenticity.
However, Siti insisted that it was real and said that it was posted to Prabakaran's Instagram account.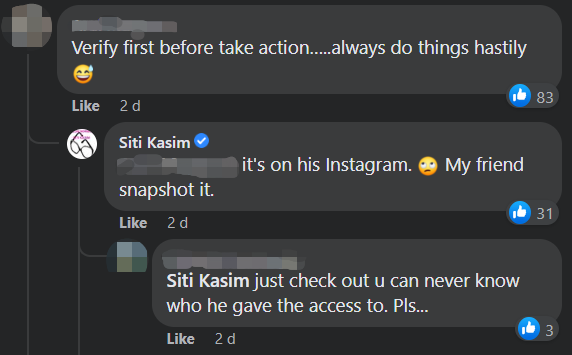 One netizen speculated that it was probably campaign material and not the actual ballot paper.
"It has been like this since a long ago. Isn't this the material on how to vote? It's not a ballot paper but a certain party's material. Every party has something like this."

Another opined that Prabakaran may not have written the caption himself but was simply resharing what was written by the OP.

Others said this was a common tactic used by many politicians and shouldn't come as a surprise.


Do you think what Prabakaran did was wrong? Let us know in the comments!
READ ALSO:
---