Are you a dog owner who loves bringing your dogs out for walks in public? If you are, you might need to think twice as some Malaysians do not enjoy sharing the same public space with them.
In a recent post on Penang Kini, it showed a couple bringing two dogs for a walk at Penang Esplanade while a Muslim couple was a few feet away from them.
This has since sparked a debate among netizens, garnering more than 7k reactions, 2.7k comments and 255 shares.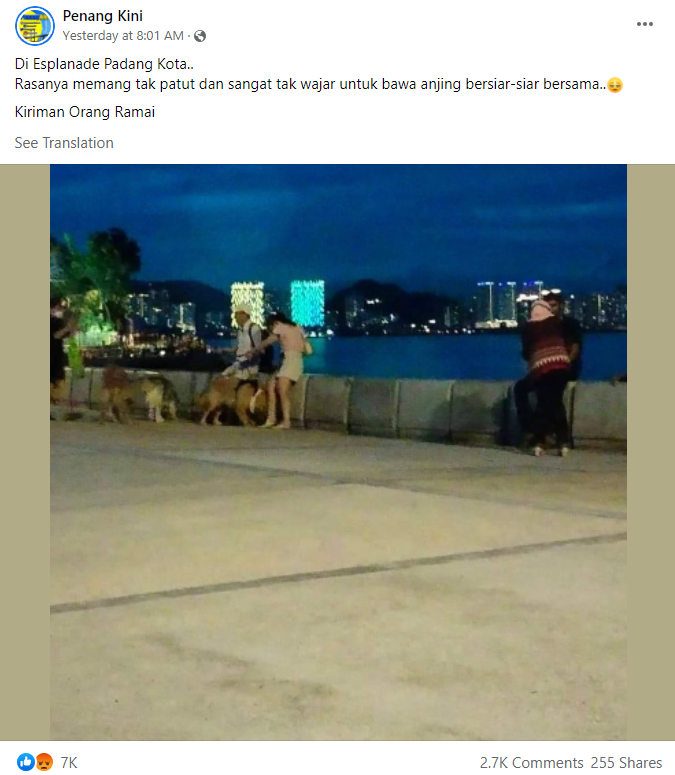 ---
---
Which side are you on?
Some felt that the couple was being insensitive towards Muslims by bringing their dogs out in public as dogs are considered unclean in Islam.
"Don't expect anything good. These are the ones who do not respect the sensitivities of other religions.

Another called for a ban on bringing dogs and pets to public places.
"I request the authorities to ban whoever that brings dogs or pets into public areas."

However, a handful of people believed that there's wrong in bringing dogs out in public.
"Dogs are God's creation too. They aren't a nuisance."

One netizen pointed out that the real issue was maintaining public hygiene and being aware of the surroundings.
"In my opinion, it isn't wrong to walk your pets in public. What's important is that the owner has to watch it well (doesn't bother others, cause too much noise, or poop everywhere). If your pet is bigger than other dogs, don't let them take up too much space as others need to sit too."

Another opined that most pet dogs are well-trained and that the owners have every right to bring them out, regardless of race.

Regardless of your stance, let's all be a little considerate towards others in public, okay?
Read more:
Cover image via Facebook.