SINGAPORE – The Singapore Police Force (SPF) has apologised after a photo of one of its officers posing next to a deceased's body went viral online.
In the photo, the officer could be seen striking a pose with a peace sign on both hands while standing next to a blue tent covering the victim's body.
This unsurprisingly evoked anger from one of the victim's relatives, who slammed the officer for his insensitive act on Facebook.
"That was my auntie lying on the ground, motionless, and decided to take her life. Instead of showing basic respect, this police officer decided it was funny and treated the situation as if it was a happy matter, like he just won a trophy, a game or a prize.
Is a dead body a prize to police officers? Is there no integrity on how a police officer should behave, especially when he is on duty, attending to a case involving casualty?
"This is utterly unacceptable and disrespectful to my family and myself and anyone who has been through death in the family."
No room for inappropriate posing
The post was later taken down after the SPF reached out to the relative via a phone call and apologised.
In a statement, the SPF said that while the officer "was not taking a photo of himself at the scene", his actions were still deemed inappropriate "to the presence of onlookers in the vicinity".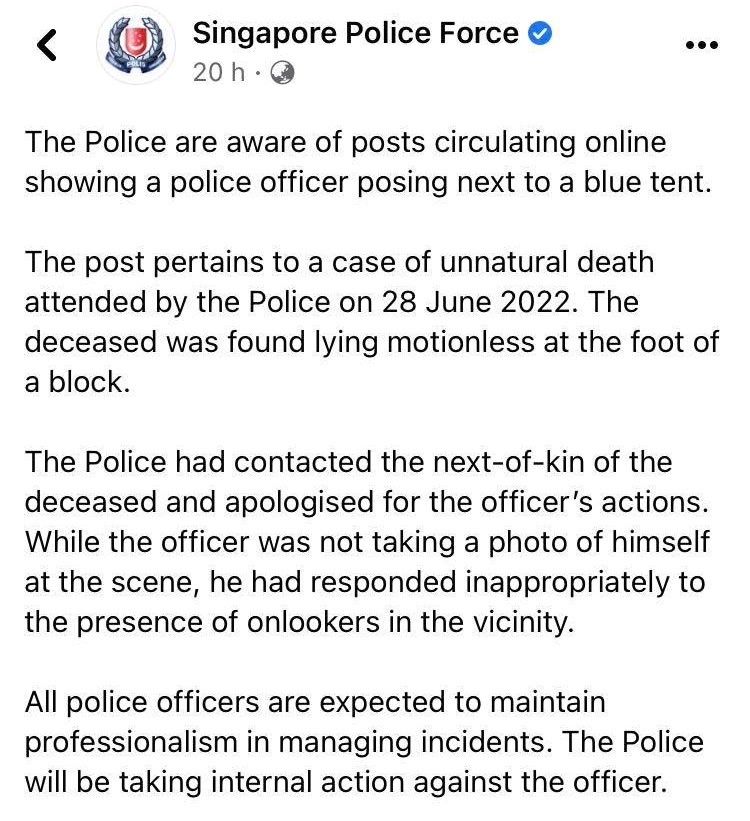 "All police officers are expected to maintain professionalism in managing incidents. The Police will be taking internal action against the officer."
Read also:
Cover image via Facebook/Singapore Police Force