There are some food combinations that are meant to go together such as milk with cereal, or bread with jam. However, a Singaporean content creator has decided to go absolutely wild with those combinations.
Recently, he stunned netizens with a TikTok video of him mixing Koko Krunch with chicken curry before eating it heartedly.
Mixed cereal with chicken curry
In the 16-second clip uploaded by @foodmakescalhappy, it showed him pouring chicken curry into a bowl of Koko Krunch cereal before mixing them together.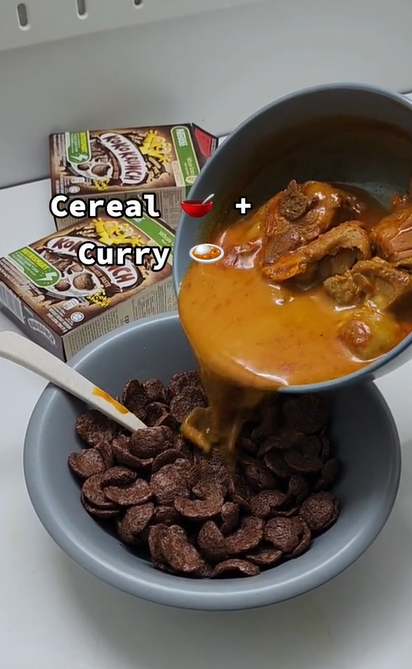 After giving the unusual concoction a good stir, he then takes a spoonful of the mixture and gives it a munch.
To his surprise, he was impressed by it and gave the curry-cereal combination a huge thumbs-up, adding that the curry made the cereal "richer and flavourful" compared to milk.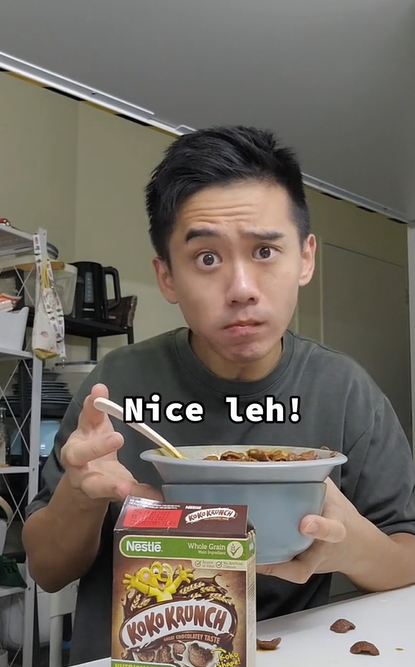 The content creator also said that having chicken curry with cereal was a "shiok" way to kickstart one's day.
Watch the clip here:
'But why?'
Naturally, netizens were shocked to see the content creator mixing the chicken curry and cereal together and expressed disbelief over it.
'My soul just left my body.'

'Sir, that's illegal.'

'I was frowning the entire time watching this.'

In a short conversation with WeirdKaya, the content creator named Calvin Lee said he was a huge foodie and has been curious about different food combinations.
"I've always wondered how different food would taste like if they are eaten together or prepared in a slightly different way. So I decided to try them out and share the videos online," he said.
Would you be brave enough to give the curry cereal a try too? Let us know in the comments!
READ ALSO:
---

---