In the village near Kudat, Sabah, a unique celebration takes place every August and September.
The villagers showcase their National and Malaysia Day spirit with beaded flags, a testament to their creativity and dedication.
These flags, made of thousands of beads, were crafted by a group of local women back in 2019, as reported by The Star.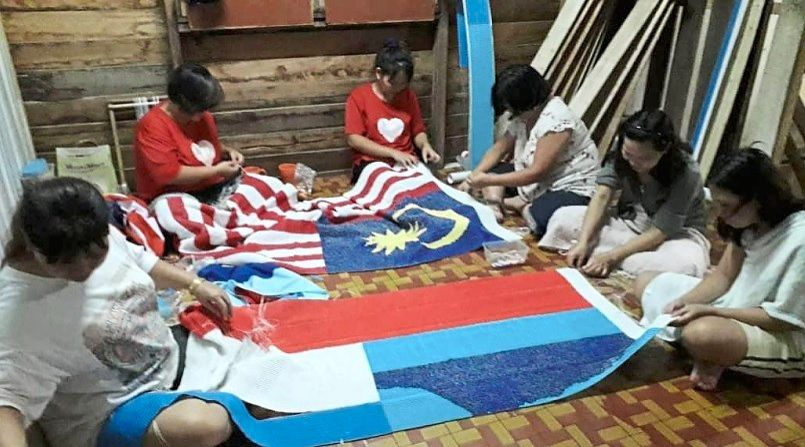 Hanna Porodong, 57, spearheaded this initiative. Her vision was not just to create a decorative item but to earn a spot in the Malaysia Book of Records for the flags with the most beads.
In their quest for perfection, the women took to YouTube, learning advanced beading techniques.
A team of 15 dedicated women took nearly a month to complete just one flag.
Their dedication bore two glittering tapestries, one with 54,442 beads representing the Jalur Gemilang and another with 53,790 beads for the Sabah flag.
Each flag, weighing over 5kg and stretching to 193cm, was an embodiment of their relentless effort and passion.
Wish to make bigger ones
But they faced a hurdle: their flags, despite their size, weren't large enough to break the record.
Undeterred, they planned to make an even bigger flag, investing their own money. One significant challenge was getting the intricate designs, like the crescent and star, just right.
It's been four years, and the flags are mostly kept in storage, with occasional displays during the National Day month.
The dream of getting them recognized in the record book is still alive, but funds for official verification remain a challenge.
"It is collecting dust because we do not have the money to hire the officials to come and list our product in the MBOR," she told The Star.
Hanna and her team hope that someday, their hard work will be acknowledged widely.
---
---