It is true that sometimes even though we drive obediently following the road rules, there are still other road users who deliberately violate the road rules and cause problems to other road users.
Porsche tries to change lanes
The incident was shared from a footage of a dashcam in a Facebook post on Tuesday (Sep 6) by Ikhwan Saupi.
The footage shows that the food delivery rider deliberately kicked the side mirror of a Porsche when the car attempted to do a slow lane change.
While motorcycles were whizzing past in lane, the Porsche which is in the right lane of the highway began indicating the signal sign before starting to make a lane change to the middle.
It is shown in the footage where a motorcycle that can be identified as a Shopee rider approaches the Porsche without slowing down and sticking out his right foot to kick the car's side mirror.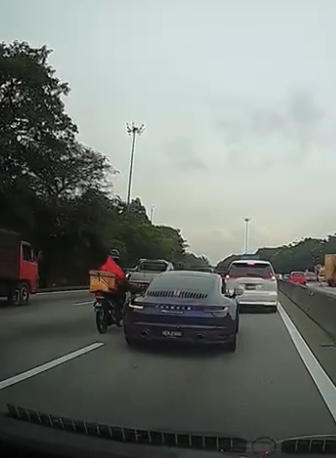 The speed of the impact takes the side mirror off and has caused it to thrown towards the car in front of the Porsche meanwhile the rider continues on his way.
Watch the video here:
Whose fault is it?
The post has garnered over 216k shares and 2.3k comments on Facebook at the time of writing with many netizens expressing their anger towards the rider.
"Seems like he can just avoid the car like other motorists before him did, but maybe he's against luxurious cars like that. Suddenly that car became a victim"

"Please la, behave and beware on your attitudes. This is why all car drivers hate all Shopee, Grab and FoodPanda rider"

However, despite all the anger expressed by the netizens towards the rider, there are also some comments that puts the blame on the driver itself, explaining that the driver did not gives any signal to make a lane change.
"Owns an expensive car but with cheap mindset, only give signal after being honked and continues to change lane. Serves you right, now you are 'deaf' on one side"

We're sure many of you have had such experiences when you're making a lane change, especially during peak hours or traffic jams. To all drivers and riders, please be aware of your surroundings on the road.
READ ALSO: