No one likes it when they discover that their favorite food has been contaminated by disease-infested animals such as rats as it can lead to severe health consequences.
For pretzel lovers in Penang, they might want to consider avoiding eating the pastry for the time being after a netizen shared a video of several rats crawling around the premise of a well known pretzel chain.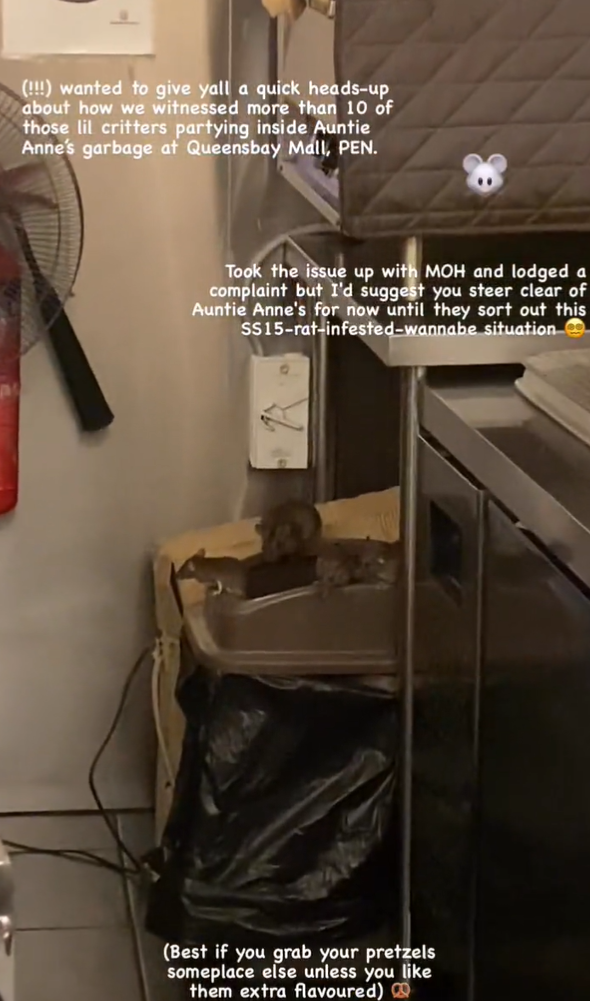 Rats spotted loitering at popular pretzel shop
According to a 22-second Twitter video by a user named @khartulisteewa, the rats were discovered at a pretzel shop located at Queensbay Mall, Penang.
In the caption, she wrote that she saw at least 10 rats loitering around the shop's garbage area and had lodged a report with the Ministry of Health (MOH).
She also called upon others to refrain from eating pretzels until the issue was resolved by health authorities.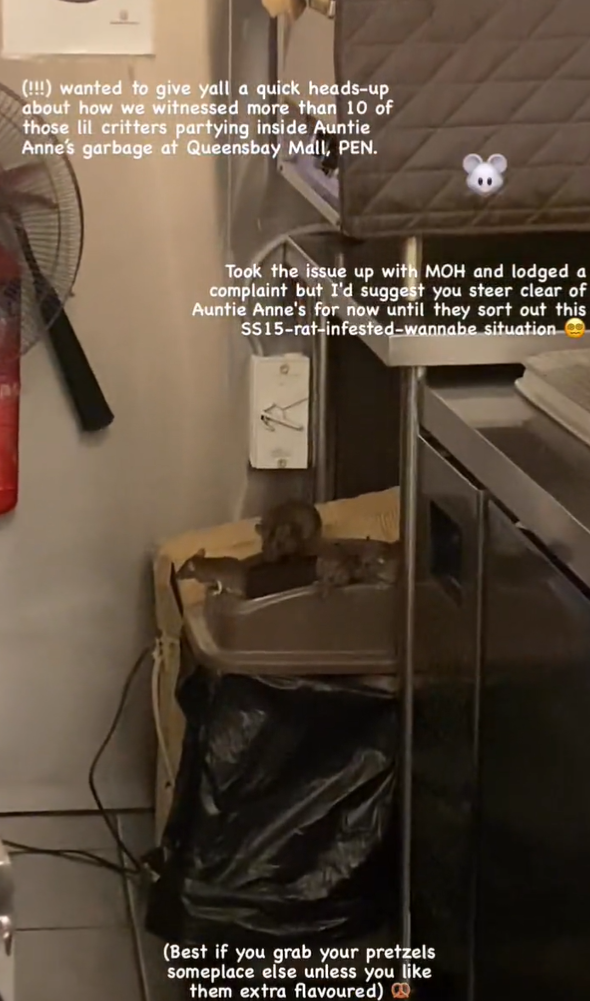 "Best if you grab your pretzels someplace else unless you like them extra flavoured," she added.
Watch the clip here:
for my Penang, Queensbay goers, please refrain getting your pretzel fix from Auntie Anne's— unless you like them extra-flavoured. pic.twitter.com/vJKem00MAa

— alia *:・゚✧ (@khatulisteewa) July 15, 2023
Pretzel shop responds and apologises
The tweet, which has amassed over 250,900 views at the time of writing, saw netizens disgusted by the sight of the rats 'partying' at the store.
One urged for a health inspection to be carried out at nearby shops as it could be a sign of a rat infestation.

Some decided to make jokes out of the situation, saying that Ratatouille was simply trying out a new recipe.

The store later responded to the tweet in the comment section, where it apologised for the incident and told the OP to provide them further details for an investigation.

Guess we'll be skipping out on pretzels for the next few weeks or so!
READ ALSO:
---
---