Bersatu Women's wing (Bersatu Srikandi) is calling for police action to be taken against Segambut MP Hannah Yeoh for alleged incitement in a Facebook post.
Urged Sabah & Sarawak to reject PN
On Monday (Nov 21), Yeoh wrote in the Facebook post urging those in Sabah and Sarawak to withhold support for Perikatan Nasional (PN).
She also pleaded with them to not choose a government that plays upon racial and religious sentiments.
People of Sabah and Sarawak, let the political parties who represent your interest know that you want a multiracial Federal Government in Putrajaya and not one who toys with racial and religious tension among Malaysians.
The post also included several news clippings of Sarawak leaders calling for PAS president Hadi Awang to be forbidden from entering the state and Muhyiddin being criticised for claiming that Jews and Christians were attempting to "Christianise" the country.
'Investigate her'
Following Yeoh's post, Bersatu Srikandi released a statement urging the police to launch an investigation into her remarks.
It also added that a police report had been lodged as well.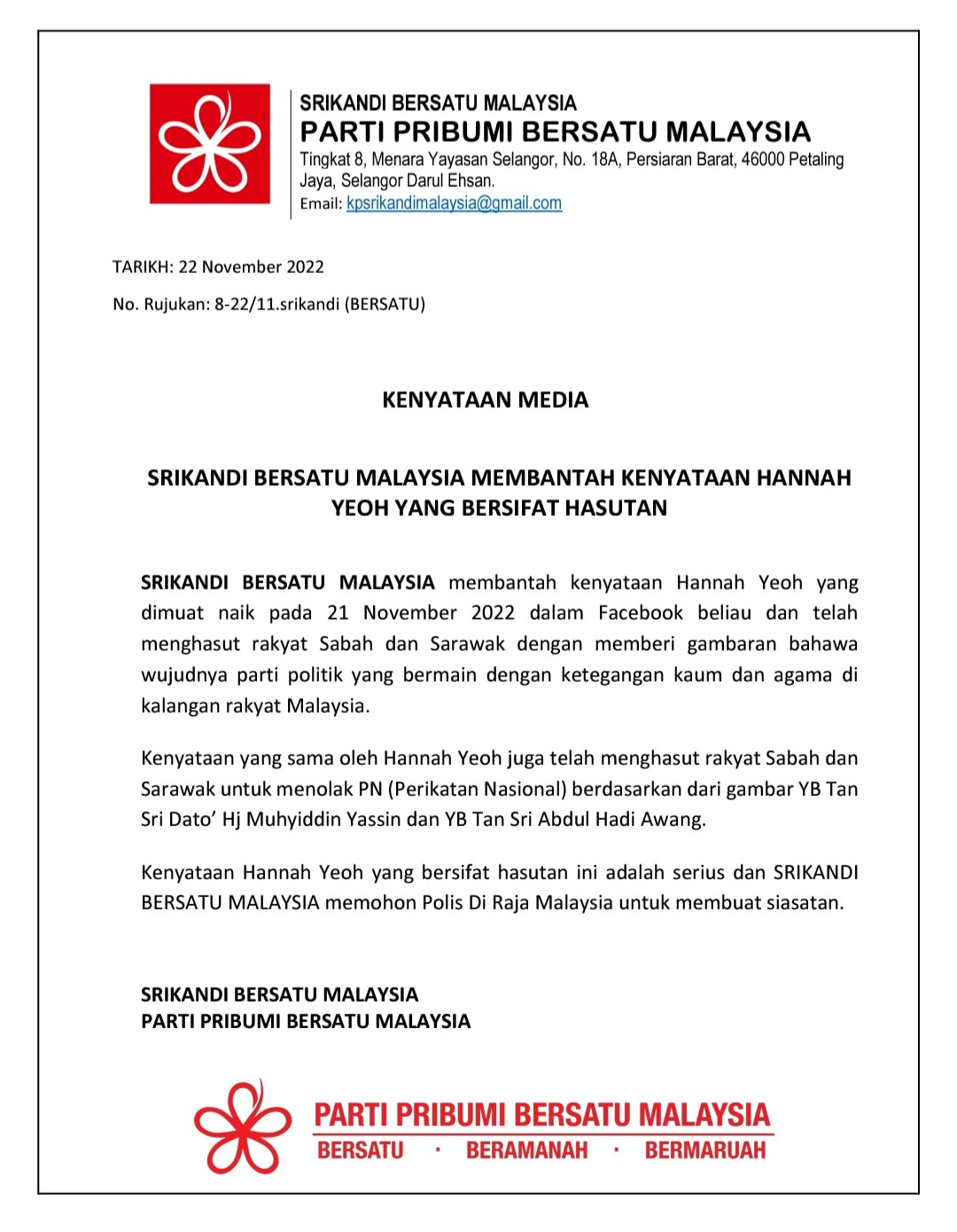 "Bersatu Srikandi opposes the statement made by Yeoh on Facebook yesterday, in which she incited the people of Sabah and Sarawak by portraying that there are parties that toy with racial and religious tension.
The same statement had also incited the people of Sabah and Sarawak to reject PN, based on the photos of (coalition chairperson) Muhyiddin Yassin, and (PAS president) Abdul Hadi Awang.
"Yeoh's inciting statement is serious and we urge the police to investigate (the matter)."
What do you think of Hannah Yeoh's statement? Let us know in the comments!
READ ALSO: