A man believed to be a member of the People's Justice Party (PKR) has been lambasted by netizens for making disparaging remarks about party leader and Permatang Pauh MP Nurul Izzah's marital status.
In a video posted on Twitter by S.E.B.A.R., the man named Fitry Kamal was caught on tape accusing Nurul Izzah of being the reason for her three failed marriages while giving a talk.
This woman [Nurul Izzah] has already married three times at a young age. Of course it is her problem, not the man's.
However, he then went on to say that he wasn't trying to pick on her but merely wanted to show how she "behaved differently from others".
Watch the video here:
"Perempuan ni kalau kahwin 3 kali umur muda ni memang perempuan tu problem"

Satu penghinaan kpd kaum wanita.

Solidariti kpd @n_izzah pic.twitter.com/seAos9XfFY

— S.E.B.A.R (@SEBAR_99) April 3, 2022
Apology not accepted
Fitry's comments have since triggered a backlash from netizens, who found his words extremely disrespectful.
One netizen mocked Fitry's Twitter bio which bore the words "Respect come from manners", saying that he had singlehandedly destroyed its meaning with his actions.


Another shared a story of how his cousin brother's ex-wife, who was 26-years-old at the time, remarried three times due to problems arising from her ex-husbands and even said that he himself didn't support his own relative throughout the marriage.

Another pointed out the double standards that existed between men and women when it came to remarrying.

Throw him out!
Following the public outcry, Fitry posted an apology with the sentence "Saya mengaku saya salah" (I admit I was wrong), but it has done little to assuage netizens' anger.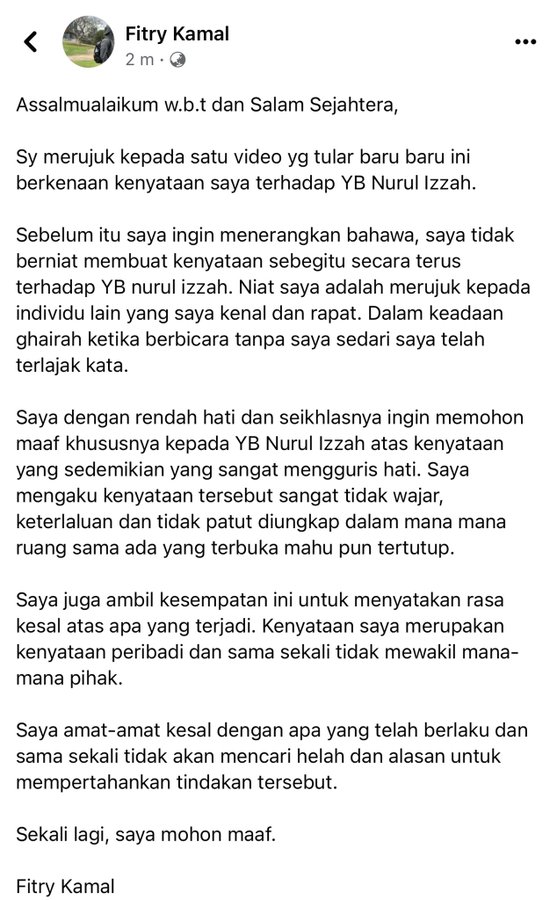 S.E.B.A.R., the page which first broke the scandal, called on PKR to take stern action against Fitry by removing him from the party altogether, adding that he was a "liability".

A PKR supporter also expressed similar sentiments, writing that PKR doesn't need "an uncultured member like you [Fitry]".
If you choose to stoop this low in the midst of the party election, then I pray that you're voted out.
PKR has also responded to the incident, with youth activist and PKR Youth chief contender Adam Adli releasing a statement condemning Fitry's comments and urged its members to respect its leaders.
Read the statement here:
What are your thoughts on Fitry's statement? Let us know in the comments down below!
Read also:
Cover image via Twitter.