The Malaysian Chinese Association (MCA), who will be participating in GE15 as part of the Barisan Nasional (BN) coalition, caught public attention again after a Penang candidate got to his knees in order to convince voters to support him.
Got to his knees
A photo of Tan Chuan Hong, who will be facing former Lim Guan Eng for the Bagan seat, kneeling down during a speech at a mega ceramah in Seberang Prai, Penang on Thursday (Nov 17) has recently gone viral on social media.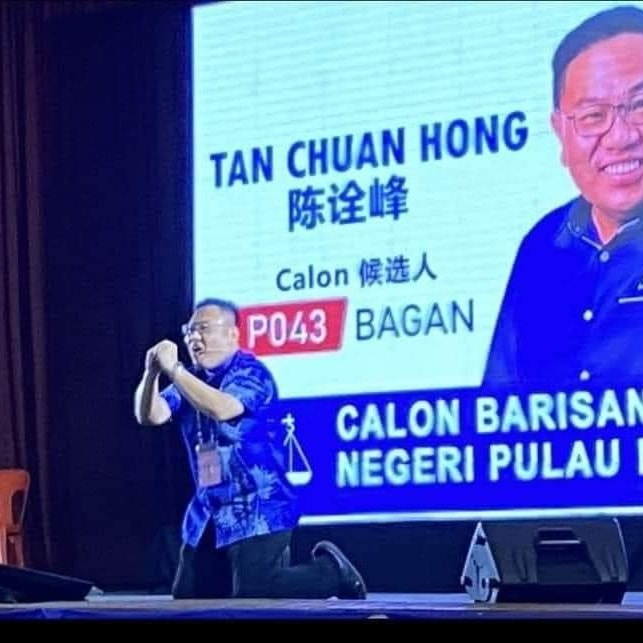 According to Sin Chew Daily, Tan was halfway through his speech when he suddenly dropped to his knees while onstage.
He also clasped both of his hands together and pleaded with Penangites to give him their support at the polls tomorrow.
In his speech, he criticised Lim and Pakatan Harapan for failing to fulfil its promise of abolishing the Sungai Nyior toll plaza, among other things.
The Chinese daily reported that nine representatives from BN and MCA and more than 200 attendees were present at the ceramah.
'It's not for the votes'
Speaking to China Press, Tan clarified that he got to his knees not to beg for votes, but to "open the eyes" of Penangites to how poorly DAP has governed the state for the past 36 years, adding that it was time for BN to take over.
This was not the first time a MCA candidate has resorted to such tactics to garner support for the party.
Previously, BN's candidate for the Indera Mahkota constituency, Dato Quek Tai Seong shocked many when he suddenly burst into tears and bowed to ask voters to support him during a campaign dinner on Nov 15.
Read about it here: