KUALA LUMPUR – Pasir Salak MP Tajuddin Abdul Rahman was heard uttering words of profanity on 20 July when the Dewan Rakyat is debating for The Anti-Sexual Harassment Bill, while denying that the accusation of him being sexist, reported by Malaysiakini.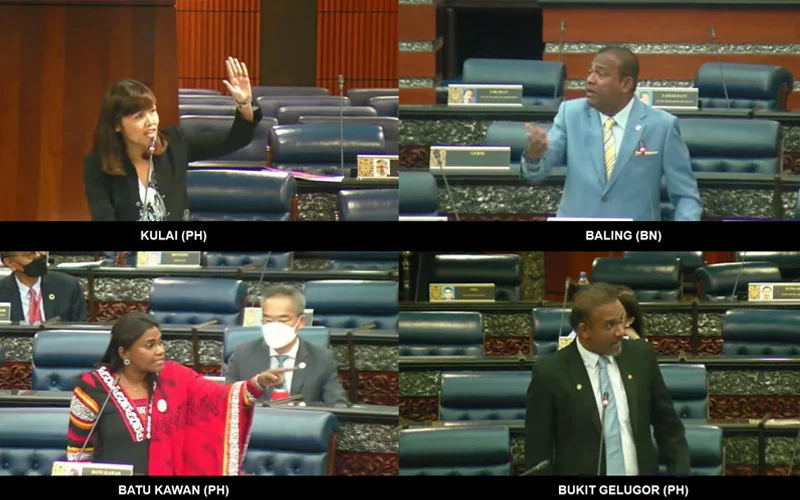 Opposition member of parliaments then responded him defensively, which led to further accusations of he being a sexist.
Chaos broke out before Tajuddin insisted himself as a defender of women, while he accused DAP women MPs of being foul-mouthed.
Several MPs claimed that he used a degrading Malay swear word "p*****k", referring to a woman's genitals.
Not the first sexist remarks
This is due to the debate on the bill that was held on 19 July, where Teo Nie Ching, Kulai MP from the opposition party voiced her concerns about the sexist remarks she encountered inside the parliament in the past 14 years since she was elected as a MP, reported by Free Malaysia Today.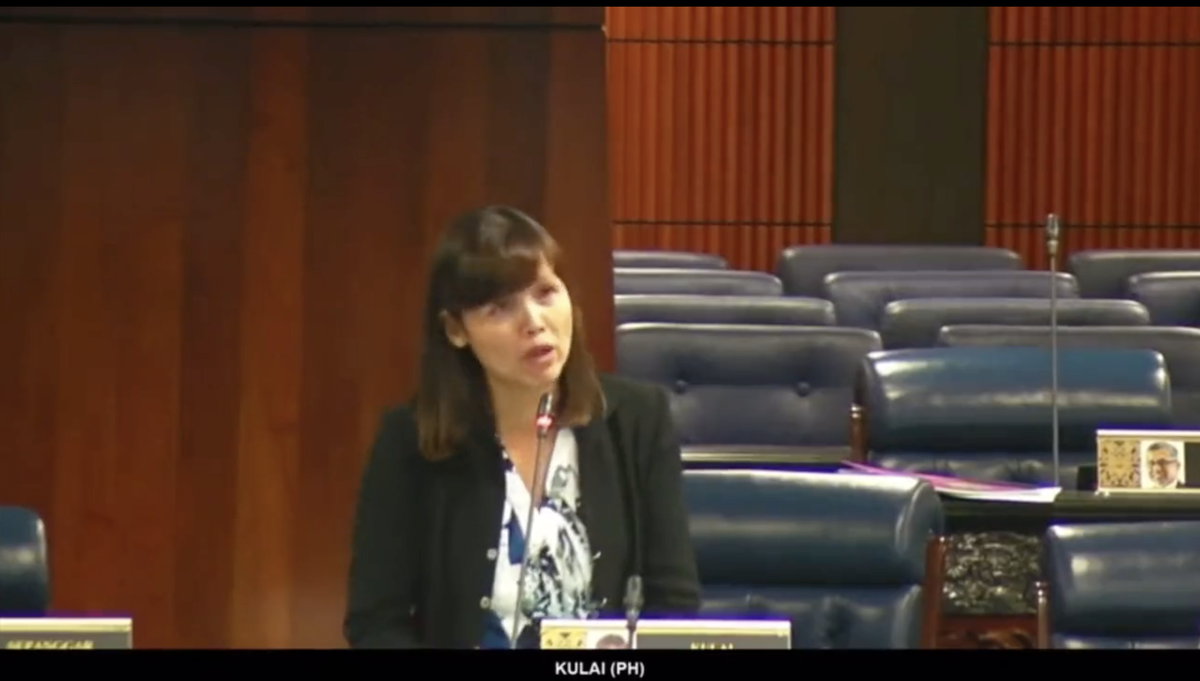 She accused the Umno lawmakers, Bung Moktar Radin, Kinabatangan MP and Azeez Abdul Rahim, Baling MP as offenders of sexist remarks repeatedly in the past few years in the parliament.
When this Act is enforced, will there be a change in Parliament? When a tribunal is formed, and these MPs continue to make sexist remarks, can we haul them to the tribunal?
"Or will we let them go because of (parliamentary) immunity? If they continue (to make sexist remarks), it means that the institution (Dewan Rakyat) has failed to protect the dignity of the MPs, and the Speaker has failed to defend the dignity of the MPs," she added.
Azeez then stood up and responded to her accusations, "There are reasons (why we make such remarks). When you have MPs calling the Speaker 'barua' (lapdog), we will get angry."
Teo then pointed out that the ministry had failed to defend for victims' rights on sexual harassment in the past.
She also questioned the effectiveness of the Act if the minister did not carry out promising measures on this matter.
In 2020, Azeez commented on Kasthuri as being dark and told her to wear powder during a sitting.
In 2016 back then, Tajuddin infamously described Seputeh MP Teresa Kok as "the only woman with a 'kok' in Parliament" when answering a question. He never apologised for his behaviour, saying that he's plainly referring to her name.
Back in 2007, Bung commented a leaky ceiling in the Parliament building was reminiscent of a woman's menstrual cycle. He reportedly said the Batu Gajah MP at the time also "leaks every month" in reference to DAP's Fong Po Kuan.
Chaos in parliament
Pasir Salak member of parliament Datuk Seri Tajuddin Abdul Rahman was issued a warning from deputy speaker Datuk Rashid Hasnon and he promptly left the House after he swore.
According to New Straits Times, before the incident, Tajuddin cited the parliamentary Standing Order 36(6) which refers to uttering rude remarks.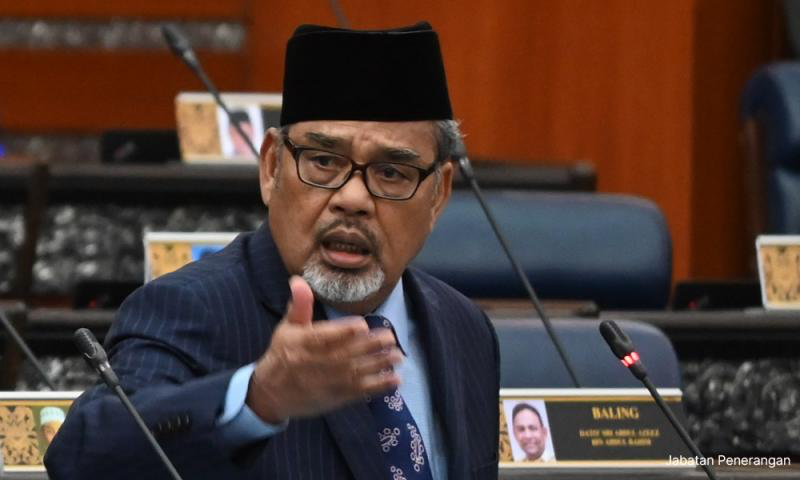 He demanded opposition MPs to give him an explanation on accusing him of disrespecting women in the previous days.
"You don't know how we treat women, yet you said I disrespect women. Ask Wanita Umno (if they are being mistreated).
"The problem is actually with some women DAP members. 'Perangai tak senonoh (uncouth), mulut cabul (lewd)," Tajuddin said.
His words led opposition MPs stood up and demanded him to apologise and take back his statement.
"Well, it's true anyway. Not all of you, of course, but some are. 'Batu api, kaki hasut' (provocateurs). Always challenging other people," Tajuddin replied.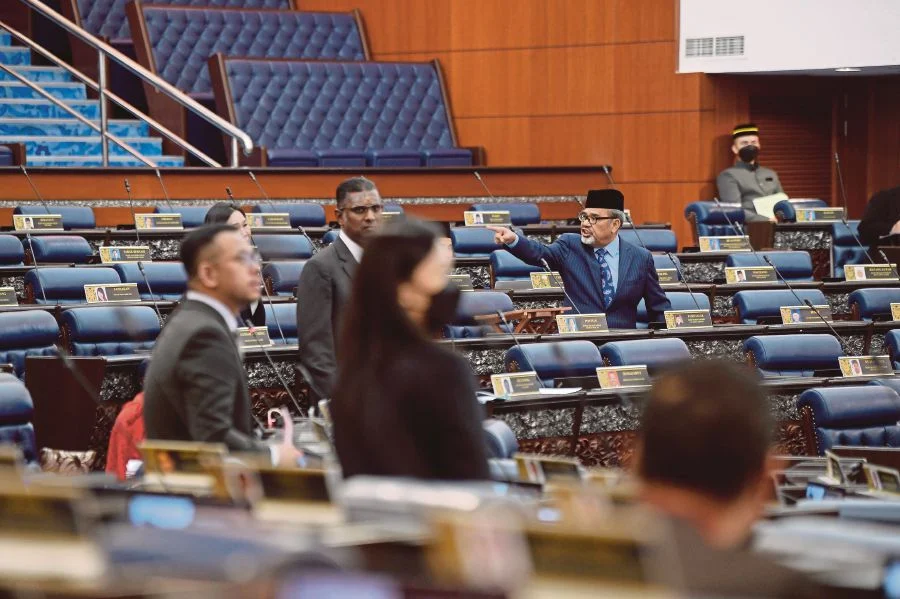 When Tajuddin mic had been muted with the rising voices, Hannah Yeoh, Segambut MPs among with other opposition lawmakers revealed that Tajuddin mentioned the vulgar word twice.
After he left with a warning issued by the deputy speaker, Datuk Rashid Hasnon, Hannah Yeoh questioned the inaction saying that, "But, the warning didn't work. This has happened many times and if you don't do anything about it, this is going to keep happening."
Batu Kawan MP, Kasthuri Patto joined Yeoh questioning Rashid for double standards, stating that if the remarks was made from opposition parties, they would have been punished, but when an Umno man does the same he gets away with it.
Netizens find the incident distasteful
Batu Kawan MP Kasthuri then tweeted about the incident, claiming that, "This is on top of insulting DAP women MPs in the house."
Today we witnessed MP for Pasir Salak Tajuddin use p*k*m*k in the Dewan Rakyat on Opposition MPs with his mic off. Many other MPs heard it as he repeated it at least twice. This is on top of insulting DAP women MPs in the house. Dep Speaker lets him off with a warning 🤦🏽‍♀️

— Kasthuri Patto (@PattoKasthuri) July 20, 2022
Several netizens also voiced their frustration as they find that the Pasir Salak MP behaviour distasteful. Especially when the parliament is debating the Anti-Sexual Harassment Bill which is full of irony.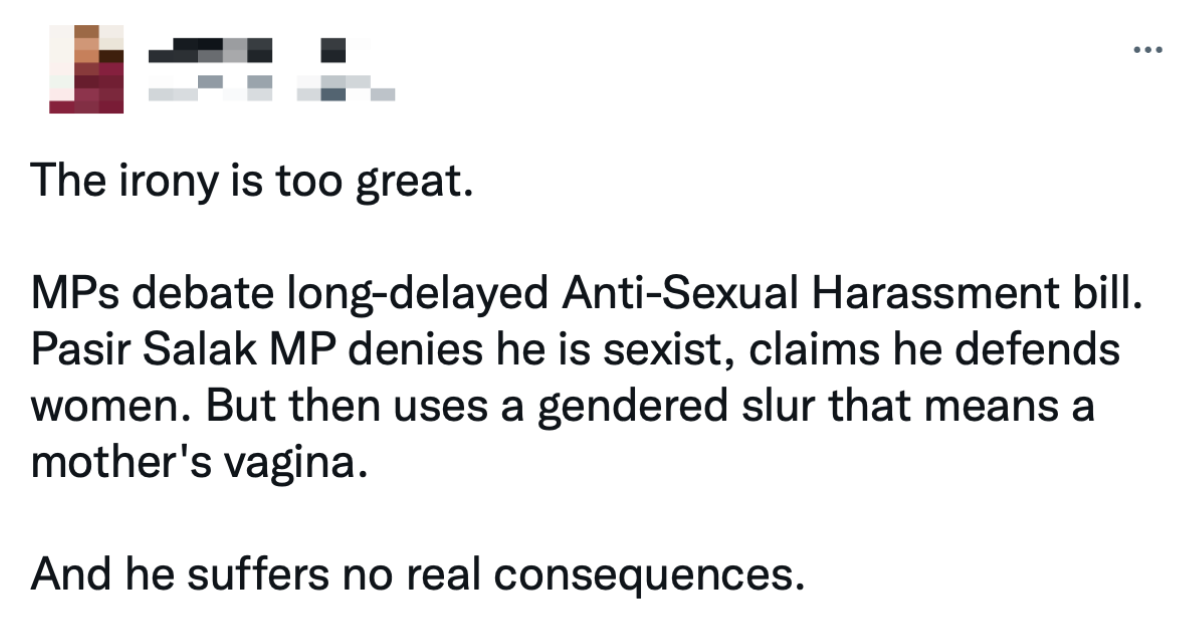 The Anti-Sexual Harassment Advocacy Group (comprising JAG, Engender and Young Women Making Change) released a press statement that expressed their disagreement with Tajuddin behaviour.
They also urged further actions to reprimand him, saying "We call on the Speaker and Deputy Speaker of the House to take strict disciplinary measures and make the necessary ruling against Pasir Salak."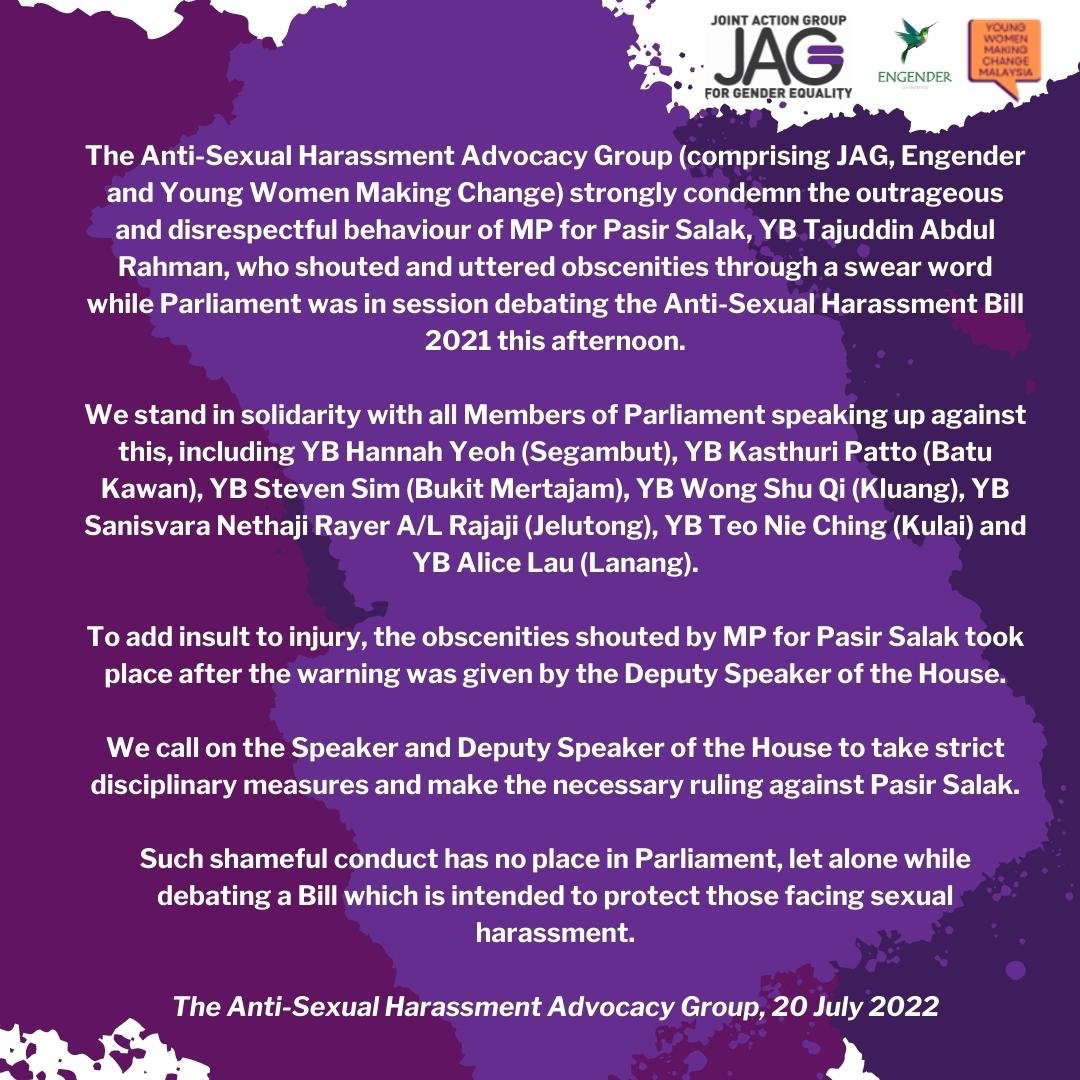 Dewan Rakyat then passed the Anti-Sexual Harassment Bill to implement laws to protect both men and women against sexual harassment.
The law is for all Malaysians.
"It is a manifestation of the commitment of the government to prevent sexual harassment among the genders," Women, Family and Community Development Minister Datuk Seri Rina Harun said in Parliament on Wednesday (July 20), reported by The Star.
Watch the full video of the incident here:
1. Chaos erupted in the Dewan Rakyat today when Pasir Salak MP Tajuddin Abdul Rahman claimed that female DAP MPs are "vulgar", while MPs debated the Anti-Sexual Harassment Bill.

Tajuddin also allegedly used a swear word which was not picked up by the parliament's microphones. pic.twitter.com/XEz3yY6TP3

— BFM News (@NewsBFM) July 20, 2022
Read also:
---

---
Cover Image via Malaysiakini and Twitter / kuasasiswa
Editor: Sarah Yeoh