7-Eleven Malaysia has issued a statement to clear the air regarding claims that its Nutrimalt drink contained alcohol.
This comes after a preacher named Ustaz Syah told Malaysians to stay away from the beverage in a viral TikTok video.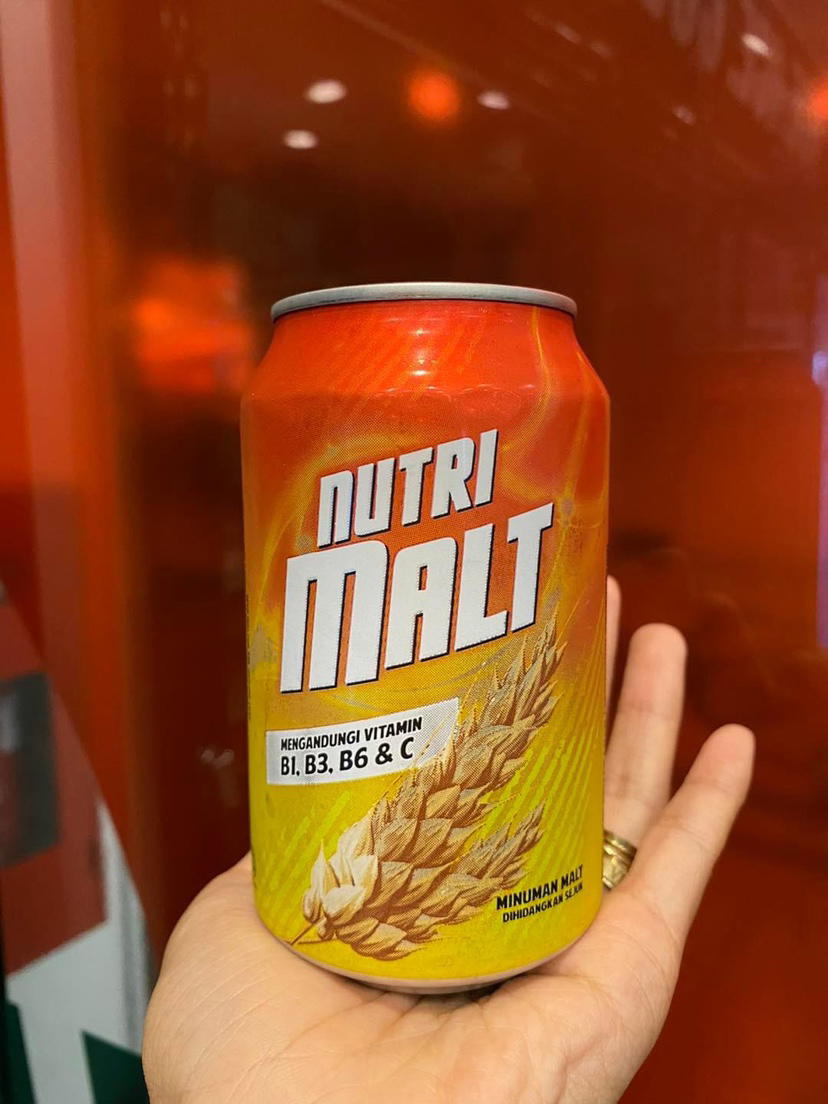 'Stay away from it'
In the 2-minute clip, Ustaz Syah advised Malaysians to avoid buying Nutrimalt drinks at 7-Eleven, alleging that it contained alcohol as it was produced by Carlsberg Group.
He also showed viewers that the drink didn't have a halal logo from Jakim and was stacked at the non-alcoholic section.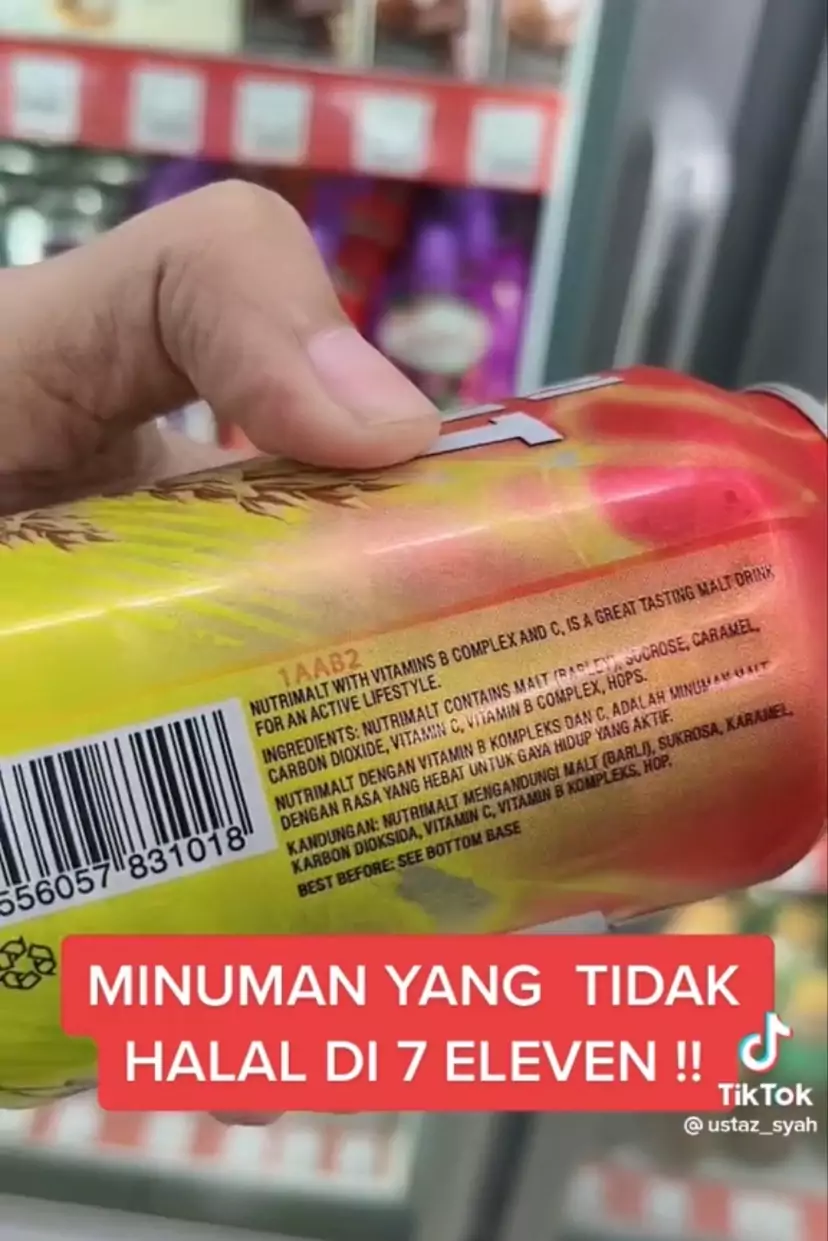 The video has since garnered over 329.4K likes at the time of writing, where it raised questions among netizens over Nutrimalt's halal status.
Watch the video here:
100% no alcohol
In response to Ustaz Syah's claim, 7-Eleven Malaysia released an official statement to clarify the issue.
The convenience store wrote that it had reached out to the manufacturer and received confirmation that Nutrimalt contained no alcohol.
It also mentioned that all products undergo strict approval process for the consumers' safety and that they will always be attentive to concerns raised by the public.
Read the statement here: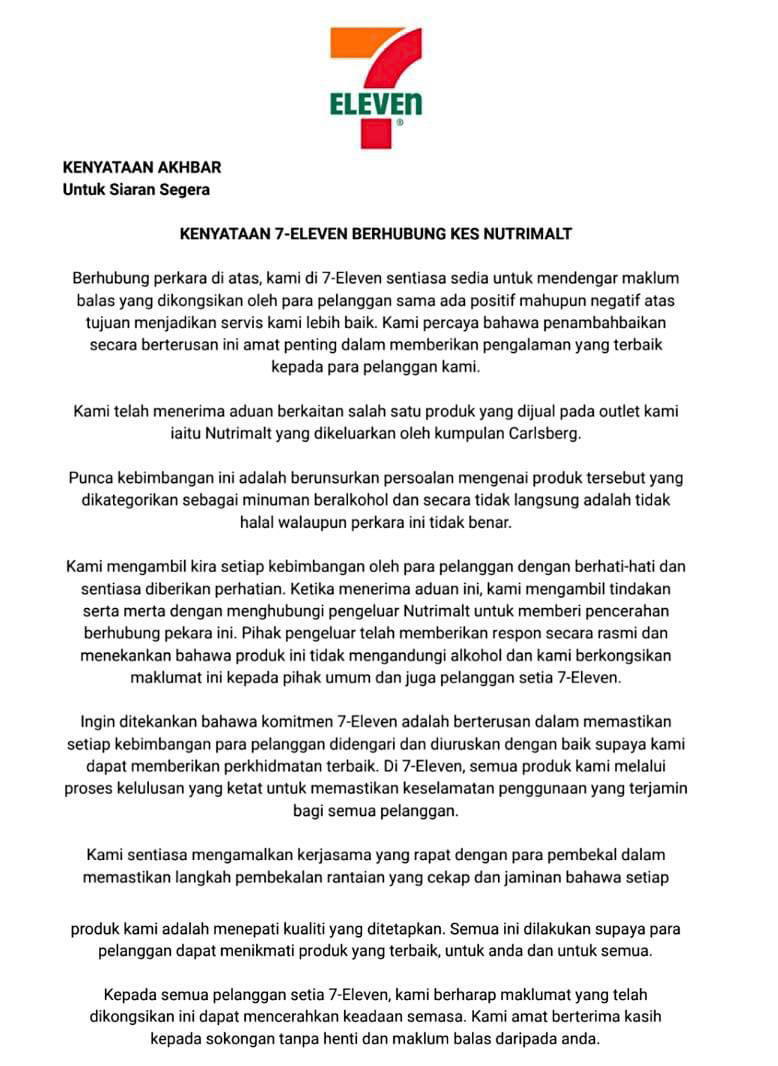 Jakim chimes in
The issue has also caught the attention of Jakim, where they also released a statement via Facebook.
In the post, it confirmed that Nutrimalt doesn't have halal certification and wasn't eligible to apply for one.
Under the Malaysian Halal Certification Procedure Manual (Domestic) 2022 clause 6 (2), it states that "companies that produce and/or distribute halal and non-halal products, including food delivery services are not eligible to apply for Malaysian halal certification."
As such, Jakim urged Muslims to purchase products that come with a Malaysian Halal Certification Certificate.
They can also check a product or premise's halal status through Malaysia's Official Halal Portal, the SmartHalal application and the Verify Halal application.
READ ALSO: