We all have been taught that littering is an irresponsible act as it would cause pollution bring inconvenience to others. However, some do not seem to see it as a problem at all.
A series of photos on Facebook showing Stadium Tuanku Abdul Rahman in Negeri Sembilan being covered with trash recently surfaced online after a match between Negeri Sembilan Football Club and Penang Football Club on Tuesday (Aug 9).
From the photos, we can see that empty plastic cups, sunflower seed shells, snack packaging, and small plastic bags were thrown indiscriminately all over the stadium.
In the post, the Negeri Sembilan Football Club urged fans to keep the place clean and maintain public hygiene while watching the match.
Who's responsible?
The post, which has since garnered 708 likes and 200 comments at the time of writing, saw netizens shifting the blame to various parties over the mess.
One wrote that it was the stadium's responsibility to clean up the premises as fans have paid for the tickets.
"Sir, it's the same in every country. Any activity will similarly leave a lot of garbage (after the event).. After the games, the organisers should arrange cleaners because they have made profits from selling tickets."
"If you prepare trash cans or plastic bags for garbage, when a team loses, the bins will surely fly here and there as they will be kicked by some supporters."

Another felt that is was the organisers' job to provide enough rubbish bins to keep the place clean and prevent fans from littering.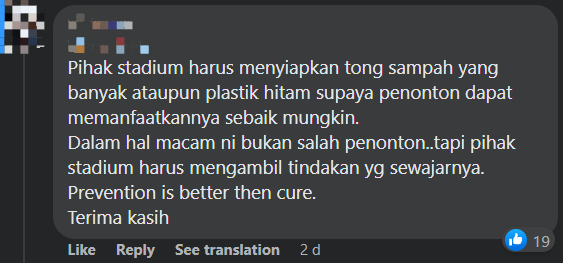 However, this argument was quickly shut down by a netizen, who posted a photo of a large but empty trash bag, subtly implying that it was a matter of attitude and not a lack of resources provided.
On the other hand, there were a number of netizens who criticised the fans for their lack of civil consciousness.
"All supporters who come to the stadium must be responsible for throwing away their garbage. Don't embarrass the Negeri (Sembilan) people," wrote one.
"Mentality is still backward. Very sad to see," commented another.

Malaysians have long been known to have the bad habit of littering at public places, including this instance:
---
---
Cover image via Facebook/Negeri Sembilan Football Club
Editor: Sarah Yeoh