As inflation continues to make a dent in Malaysians' savings with each passing day, politicians have been going at each other's throats over who's to blame for it.
One such person was former Prime Minister Najib Razak, who criticised Pakatan Harapan in a tweet by claiming that RM50 wasn't enough to fill up a trolley during its rule as the federal government.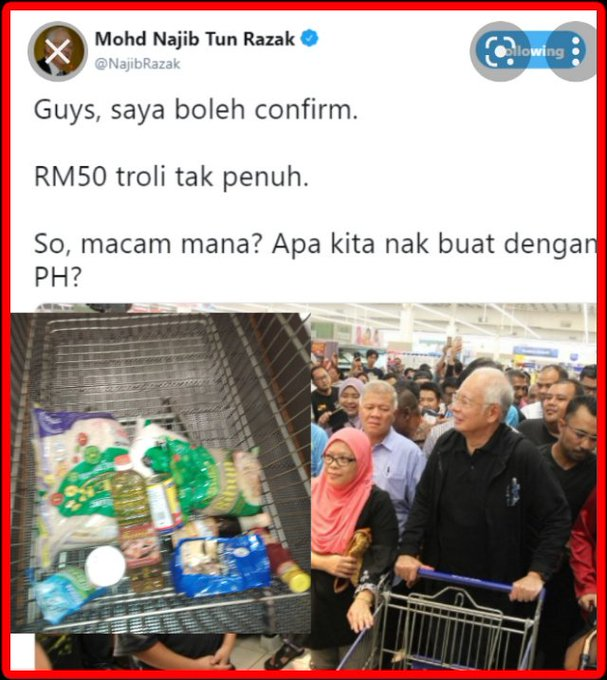 Guys, I can confirm. With RM50, your trolley can't be filled. So, what to do? What should we do with PH?
Along with the tweet, it included a photo of a trolley which had instant noodles, a small bottle of oil, a packet of rice, canned food and sauces inside.
Um, not true?
However, Najib's claim was later refuted by Twitter user @kuhaslinda_a1, who posted a photo exposing how expensive cooking oil was under Barisan Nasional (BN) rule, where a 5kg Neptune cooking oil cost RM50.70.
Najib troll zaman PH, rm50 tak penuh troli. Tiba² Allah balas, … zaman BN, dapat satu botol minyak je … tidak trrmasuk tudung.

Zaman PH Zaman BN pic.twitter.com/Pn6ExZXyu5

— Akaun Adik Guna (@kuhaslinda_a1) June 25, 2022
Currently, a 5kg Neptune cooking oil is priced at RM44.99 and RM34.99 at Lazada and Lotus's respectively.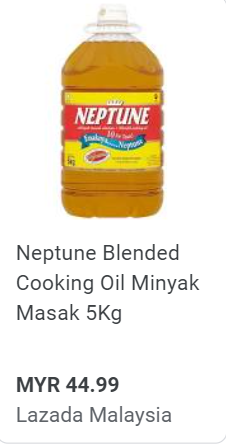 "Don't believe politicians"
The post has since stirred a discussion among netizens, who expressed disappointment over the government's failure to address inflation.
One wrote: Be it PH, PN, or BN, none of them are good. Don't believe what politicians feed you."

Another jokingly remarked that Malaysia's oil probably came from outer space as the people had to pay so much for it.

Others were also puzzled by the expensive cooking oil prices despite the fact that Malaysia's the biggest international exporter of palm oil.

Some tried to put a lighthearted spin, with one netizen depicting how the value of RM50 had shrunk in recent years in the form of a meme.
June 25, 2022
Palm oil price set to increase
As of May 2022, palm oil prices per metric ton currently stands at $1,716.92 (RM7,564.75), according to Ycharts.

Previously, The Edge Markets reported on June 1 that palm oil prices will be pegged above RM6,000 by the Malaysian Palm Oil Council (MPOC).
Trading Economic has also forecasted the price of palm oil is set to only move upwards in coming years.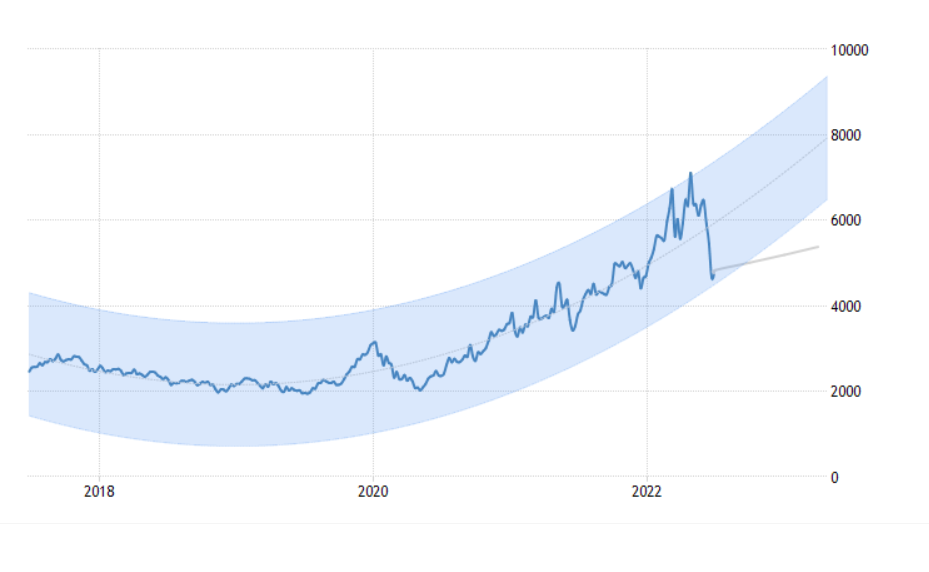 Read more:
---
---
Cover image via Twitter @kuhaslinda_a1 and @CXinfei.