KUALA LUMPUR – Former prime minister Datuk Sri Najib Tun Razak has publicly ridiculed the Pakatan Harapan (PH) and Perikatan Nasional (PN) administration for causing the national debt to balloon to more than RM1 trillion.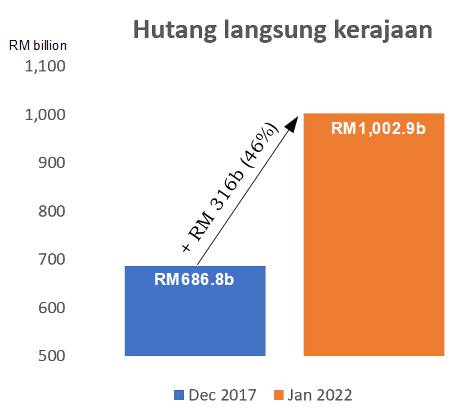 In a Facebook post, he uploaded a bar chart comparing the national debt in 2017 (RM686.8 billion) before the historical GE14 which saw PH come into power and the latest debt amount of RM1,002.9 billion – a 46% increase.
Congratulations Pakatan Harapan (PH), congratulations Guan Eng, congratulations Abahkau and congratulations Atok," he wrote in a sharp jab aimed towards key figures within PH and PN.
Najib also claimed that during his time as prime minister, Malaysia's economy experienced exponential growth and saw a sharp decrease in national debt for eight straight years before it shot up again during PH rule, which he blamed on the abolishment of the Goods and Services Tax (GST) and selling of the country's assets.
"As a result, the rate of increase in government debt was very fast compared to when I was PM – the period during which PH kept accusing the country of bankruptcy."
The Pekan MP also challenged his opponents to come forward and disprove the figures and claimed that PH had used a "fairy tale" method to allege that national debt had reached RM1 trillion during his tenure.
He shared a graph of the Federal Government's debt over the past six years to show the increasing trend in the comment section as additional evidence.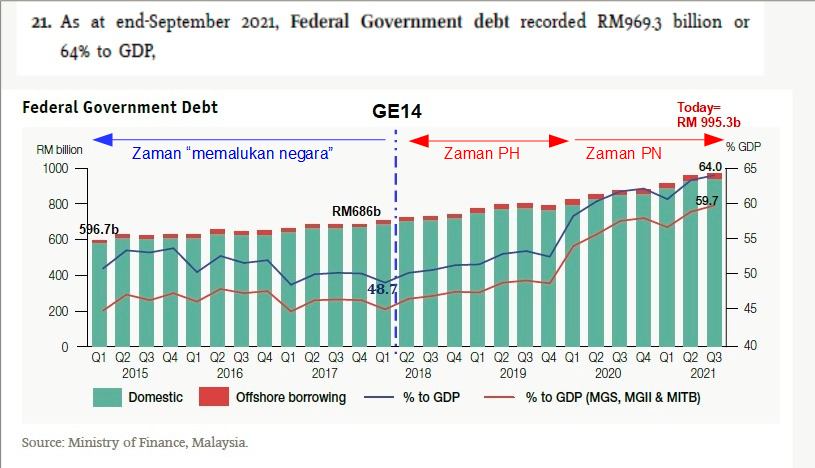 His post has so far garnered 13k reactions, 2.5k comments and 842 shares at the time of writing.
Read his post here.
Read also:
---
It's unrelated to the article but here's our brand-new podcast – Talk Je Lah!
---
Cover image via cfr.org & FB/ Najib Razak
Editor: Sarah Yeoh