Happy Malaysia Day! While many spend their Public holidays or weekends chilling at home, groups of Malaysians were spotted gathering in various LRTs, MRTs and also at different rail stations to cheer and sing patriotic songs to show love to our beloved nation.
Clips of these cheerful scenes have been circulating on social media since this morning. Many people were seen wearing their traditional costumes while holding a national flag.
They are actually the participants of a Malaysia Day "flashmob" program named "Keretaapi Sarong".
Harmonious Atmosphere
A netizen named Jin Niu, from TT/ @bossmaucuti, shared with WeirdKaya that the atmosphere at the station remained harmonious despite the large crowd.
People would then gather at Dataran Merdeka from their respective LRT or MRT stations.
Another attendee, AiThong, shared with WeirdKaya that initially, only a few people were singing.
However, at the Maluri station, someone began shouting, and subsequently, another person took a microphone and led the singing. Gradually, more people joined in, and everyone sang together happily, irrespective of their ethnic backgrounds.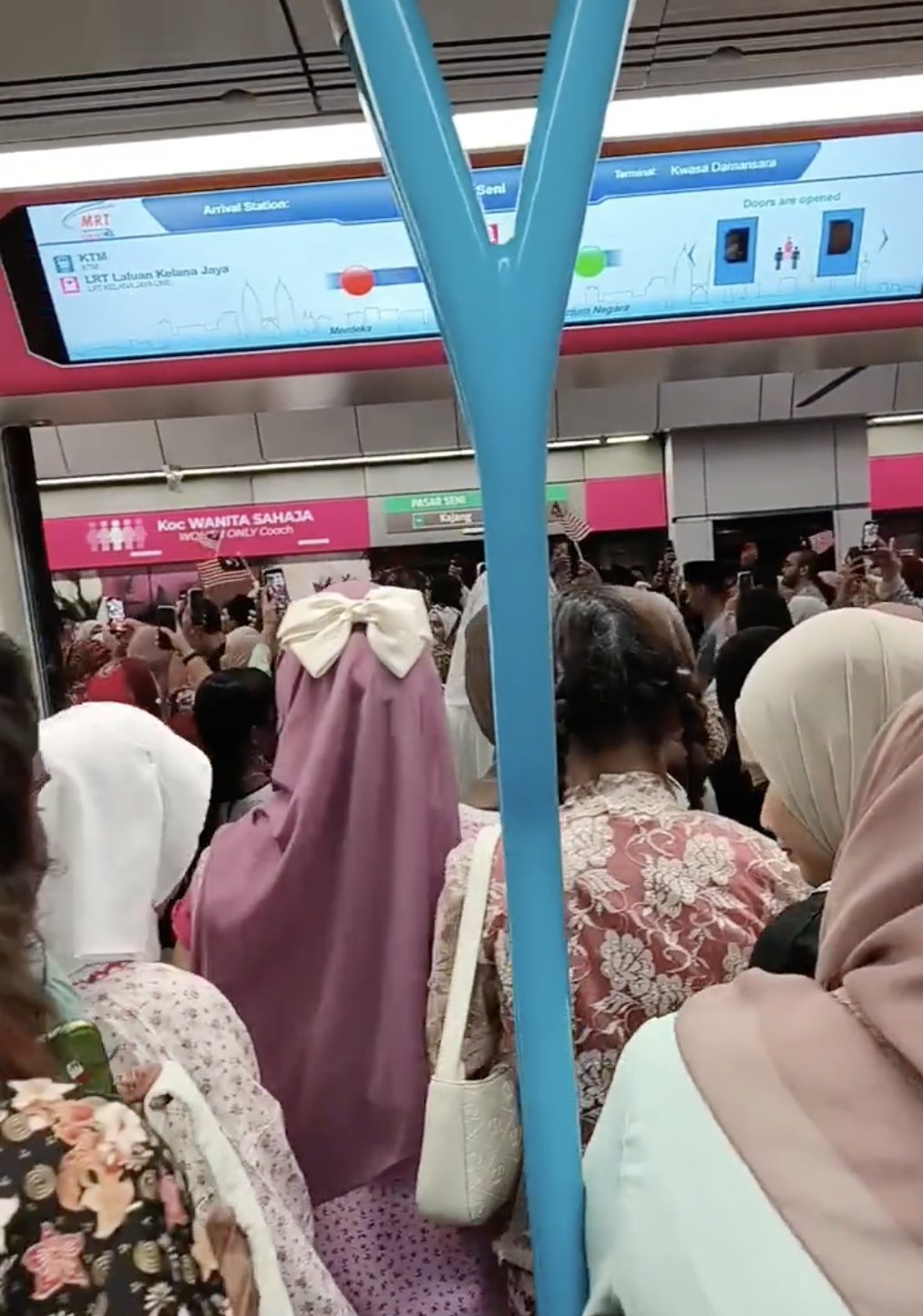 The atmosphere was filled with great harmony, and there was cheering when everyone exited the train together. I could truly sense the patriotism of Malaysians in action.
She added that approximately 2/3 of the people were dressed in their traditional clothing, and many were holding the "Jalur Gemilang."
The atmosphere was lively, making it a wonderful experience.
Annual Keretaapi Sarong
The Keretaapi Sarong program, featuring a "flash mob" or collective performance with an "ethnic" theme, is organized by the non-governmental organization LOCCO.
This unique celebration will showcase traditional dances, multicultural storytelling, and music performances at various locations, including popular transportation hubs and iconic sites in Malaysia and even in London, United Kingdom.
The program, which began in 2012, encourages participants to wear sarongs, symbolizing the cultural diversity and heritage of Malaysia, while taking public transportation.
This year, it is sponsored and supported by various entities, including the Ministry of Tourism, Arts, and Culture, the National Department for Culture and Arts, Kuala Lumpur City Hall, Rapid KL, Air Asia, Bulan Bintang, and Mr. D.I.Y.
The highlight of this year's event is the gathering at Dataran Merdeka, making it a historic moment for participants as they embark on their train journey from selected stations to celebrate Malaysia's rich cultural tapestry in a vibrant and engaging manner.
This year, the cities and stations involved are Putrajaya Sentral KLIA Transit, Subang Jaya LRT, Bandar Utama MRT, Ampang LRT, Gombak LRT, Kajang MRT, and KL Sentral LRT.
The event will also take place simultaneously in major cities such as Johor Baharu (along the Sungai Segget), KTMB Ipoh, and Kampung Budaya Terengganu, as well as the Battersea Power Station in London, United Kingdom.
Check the program out here.
Read more:
---
---