Recently, netizens were in uproar over a clip of a woman who brought several dogs to play the slide at the playground.
This time around, a woman is facing backlash on social media for bringing her cat on a KTM train ride, something which isn't allowed on public transportation.
Brought pet cat to KTM train ride
In the 31-second video posted by Eliza on TikTok, she shared about how she came to know of the 'No Pets' rule while onboard a KTM train.
She claimed that she was unaware of the 'No Pets' rule, which was why she brought her cat Marissa along during the trip from Sri Mahligai to Gua Musang.
Confronted by train conductor
At first, they were taking pictures of Marissa when Eliza's son suddenly pointed to her about a 'No Pets' signage on the train, which caused her to panic.
Not long after, the conductor approached her and asked her what was inside the carrier, where she admitted that a cat was inside.
He then told Eliza wasn't allowed to bring pets onboard the train and instructed her to place the carrier at the baggage section, which she did.
Watch the clip here:
Criticised for violating the rules
The clip soon found its way to Twitter, where netizens were outraged by Eliza's behavior and certainly gave her a piece of their mind about it.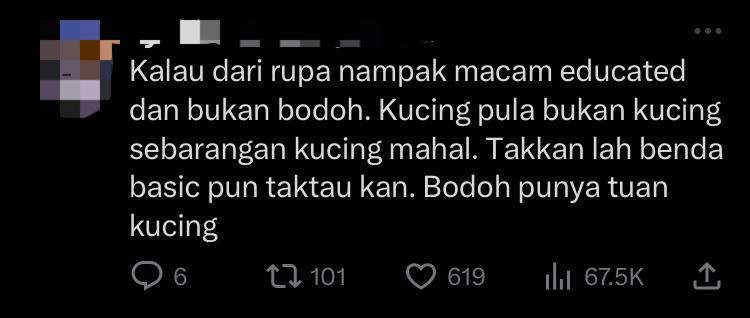 Following the backlash, Eliza posted several videos explaining what really went on behind the scenes.
In one of them, she said that she placed Marissa at the baggage section when told to do so by the conductor, adding that she even bought a ticket for the cat too.
She admitted that she was wrong for bringing her cat to the train and urged netizens to stop blaming the conductor as he was merely doing his job.
Eliza also doubled down on her claim about not knowing the 'No Pets' rule, saying she didn't do it on purpose and that the train she took had little passengers in it.
What do you think of this incident? Let us know in the comments!
If you're OOTL about the dog controversy, read about it here:
---
---