Would you be brave enough to own up to something you've done wrong even after the many years that have passed?
For one brave soul, he owned up to his deed by writing an apology letter and giving RM100 in compensation to a pharmacy for stealing some Pokémon stickers 20 years ago.
Stole Pokémon stickers 20 years ago
Sin Chew Daily reported that the theft occurred in the 1990s at the Ren Ann Enterprise Pharmacy in Ipoh.
Speaking to the Chinese daily, owner Liang Lizhen (transliteration) said the letter was written in English anonymously, where it was sent by a person simply known as 'Guilty Child'.
In the letter, the person confessed to stealing some Pokémon cards when he was eight and has been guilt-ridden ever since.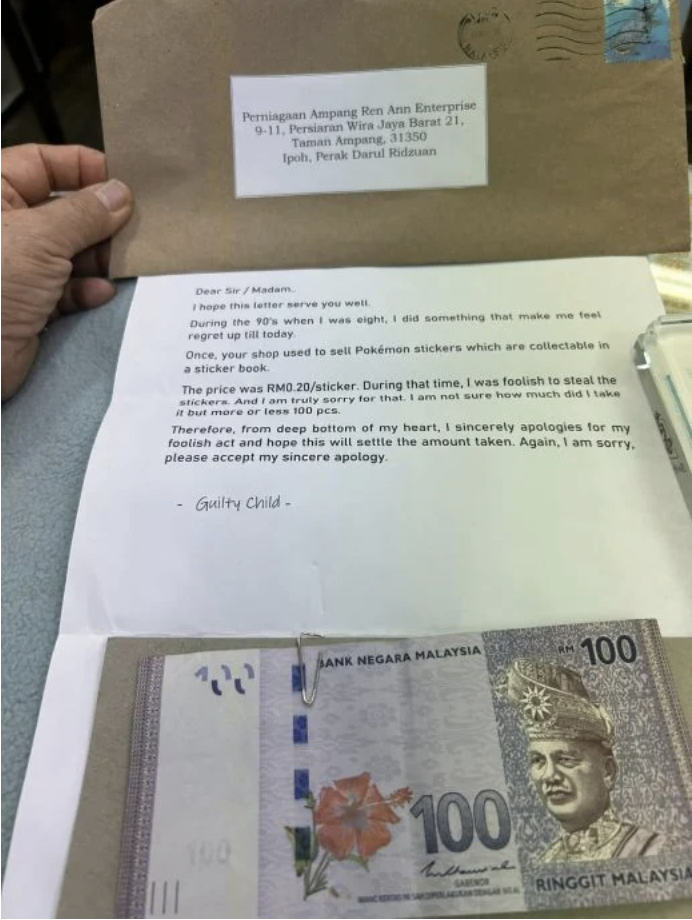 To show his remorse, he offered RM100 in compensation as he couldn't remember the exact number of stickers he has stolen, adding that it was around 100 stickers.
From the bottom of my heart, I sincerely apologise for my foolish act and hope this will pay off the amount I've stolen. Once again, I'm sorry and please accept my sincere apology.
Touched by the anonymous letter
Liang said she had no knowledge of the stolen Pokémon stickers nor did she know who was responsible, which was why the letter and money were a huge surprise and delight to her.
I'm happy not because of receiving RM100, but because the person showed remorse.
"He stole around 100 stickers worth about 20 cents each, which only costs RM20 in total, yet he sent RM100.
"I don't know who this person is, but I believe it's a guy because usually, boys are the ones who like Pokémon stickers," she said.
When asked what she would do with the money, Liang said she plans to frame it up and teach future generations not to repeat the same mistake.
She also wished the person who sent her the anonymous letter all the best and hoped that he was doing well.
Read more:
---