If you've ever joined a competition, you'd know that there's a list of exciting prizes waiting to be won. However, only a lucky few are chosen to be winners.
The stars were definitely aligned for a man who found himself winning a year's supply of Cadbury chocolate at just a cost of RM6.
Paid RM6 to join competition
Speaking to mStar about his lucky strike, Ahmad Ridhzaini Supian, fondly known as Jai, said he had joined a competition organised by Cadbury Malaysia but didn't harbour high hopes of winning.
"Usually, I rarely join these contests because I feel it's difficult to win. But one day, I saw on Twitter that someone had won the Cadbury chocolate contest and received a lot of chocolate.
"It seemed easy to join, so I decided to try my luck. I bought a Cadbury chocolate bar worth RM6 and sent the receipt to the company via WhatsApp," he said.
Jai said the receipt was sent on June 17 and two weeks later, he was informed that he was chosen as the week's lucky winner under the '1-Year Supply of Cadbury' category.
"The grand prize was a mini Cadbury-themed refrigerator, which was what I really wanted. But it's okay," he quipped.
M'sian man wins a year's supply of Cadbury chocolate
On July 8, a truck turned up at Jai's home and dropped off five cartons brimming with Cadbury chocolate, where it totaled to more than 300 chocolate bars.
"As soon as I got home, I saw five cartons of Cadbury chocolate. Each carton has 72 chocolate bars, which means there's a total of 360 chocolate bars. Up until now, I've only eaten two to three bars," he said.
The 26-year-old receptionist told the Malay daily that he's unable to finish all the chocolate bars by himself and will share it with family and friends.
"I have set aside one carton to send to my parents in Merlimau, Melaka, while I've given another carton to my friends at work. The third carton was gifted to someone else and as for the remaining two cartons, I will share them with my housemates," he said.
Jai also urged others to try their hand at the competition, which will end on July 31.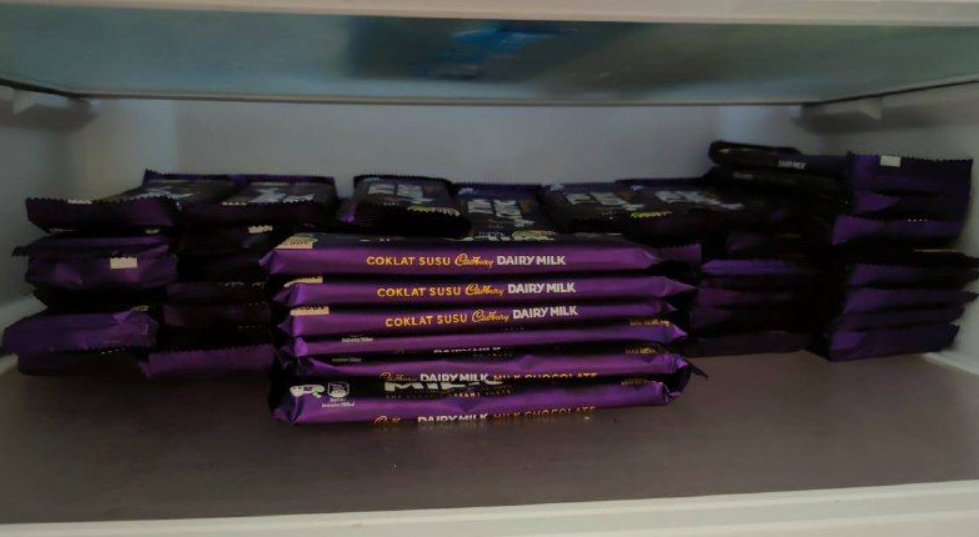 "For others who want to join the contest, don't hesitate. Who knows, if luck is on your side, your home can turn into a chocolate paradise!"
Can you get any luckier than Jai did? Share with us your stories on how you won big prizes in the past!
READ ALSO:
---
---