SINGAPORE – A Malaysian man was sentenced to a week in jail after pleading guilty to stealing his current and ex-colleagues' ID to obtain free face masks provided by the Temasek Foundation.
Yang Wei Xian (translated), who's the manager of a KOI bubble tea outlet in Yishun, carried out his plot on March 3, 2021 after he found the face masks to be extremely comfortable.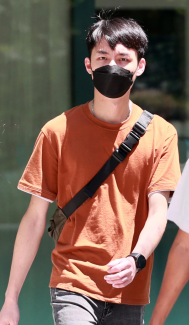 He then wrote down the names and ID numbers of nine colleagues and two ex-colleagues behind their backs before heading over to a self-service kiosk at Anchorvale Grave and redeemed all 11 face masks for himself, unaware that everything was captured by the CCTV.
However, Yang's plot began to unravel when one of his ex-colleagues was unable to redeem a face mask under his name and immediately lodged a police report.
---

---
Upon realising that he was being investigated, Yang quickly gave some of the face masks to the victims and tried coercing them into telling the police that he had done so with their consent.
Unfortunately, Yang cracked under the pressure when questioned by police and admitted to his crimes yesterday (Mar 16), where three face masks were seized from him as well.
Guilty as charged
At the court hearing, Yang's lawyer pleaded for a lighter sentence, arguing that Yang was a first-time offender and an outstanding employee at his workplace.
However, the judge sided with the prosecution, who accused Yang of abusing his power, obstructing justice, and bringing financial loss to the Temasek Foundation.
Read also:
Cover image via The Straits Times and China Press
Editor: Sarah Yeoh