Having a group of close friends who stick by you through the ups and downs of life is hard to find, so it's natural for some to give gifts to such friends as a token of appreciation.
A local influencer decided to show a good friend how grateful he was for their friendship that he actually gave him RM100,000 in the form of cash bouquets at his wedding.
M'sian influencer gives close friend RM100K in cash
In a 1-minute long Instagram reel posted by Aisar Khaled on Saturday (Aug 26), it begins with him taking out a cash bouquet from the bonnet of his Lambourghini.
After gathering his entourage together who were holding several cash bouquets, they then made their way to the wedding.
Upon reaching the wedding venue, Aisar presented the cash bouquets to his friend, who was shocked by the amount of bank notes used.
Aisar's gesture also left him deeply touched, where he was seen trying to hold back tears as he thanked Aisar for the gift and even hid his face behind one of the cash bouquets.
'It's to thank him for our friendship'
Speaking to mStar about his lavish gift, Aisar said that he gave his friend RM100,000 as a way to thank him for standing by him all these years.
I believe what I gave him was worth it. After all, he has been with me back when I had nothing up until today, where I now have 15 employees under me.
"As such, I decided to give him something meaningful as he had helped manage my business. So, I feel that he deserves the gift," he said.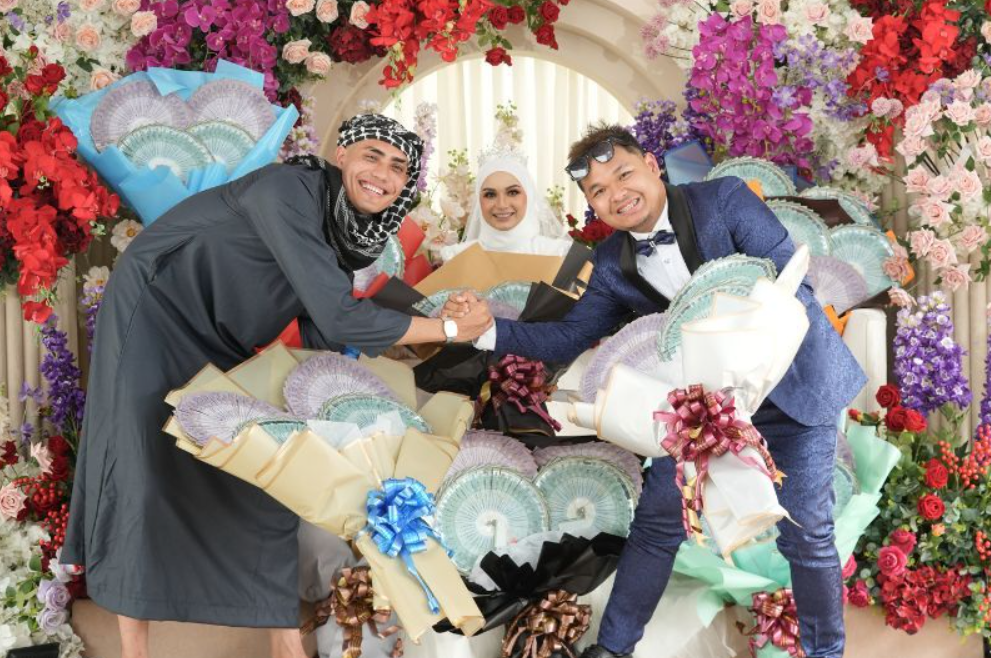 Aisar said he became friends with Muhammad Nicholas Alif Putera Adil five years ago when they were both in college and eventually became work partners.
"He was really shocked by the RM100,000 gift and told me that he plans to give a portion of it to the needy and his wife before saving the rest," he said.
'May their friendship last'
The video has since garnered more than 20,000 likes at the time of writing, along with hundreds of comments from netizens.
Some said that they hope to see Aisar and Muhammad Nicholas' friendship continue to blossom and grow for many years to come.

Others praised Aisar for remembering his friend's contribution throughout the years, be it good or bad times.

One jokingly commented that Aisar's future wife might have the chance to receive RM1 million in cash, given the fact that he didn't hesitate to gift his friend RM100,000.

Watch the clip here:
READ ALSO:
---
---