While school is undoubtedly a good place for children to learn how to build friendships and interact with their peers, it can prove to be a challenge for some who struggle to adapt due to language barriers.
One young Malaysian schoolgirl recently cried her heart out to her mother over having no friends as she was shunned for speaking English.
'Nobody wants to befriend me'
The girl's mother, Farahani, recently shared a video on TikTok documenting the struggles her daughter went through at school.
Initially, the video depicted her daughter as being excited and eager to start school in the morning.
However, the video took a somber turn when it showed the girl returning home in tears, where she told her mother that no one wanted to be friends with her because she spoke English.
Given the fact that Farahani and her daughter are Malays, it is highly possible that the girl was enrolled at a public school where most students speak Malay.
In the clip, Farahani admitted that her daughter wasn't proficient in Malay and blamed herself for subjecting her daughter to such rejection.
Watch the video here:
Mum denies showing off
Just yesterday, Farahani posted a follow-up video addressing a comment from a TikTok user who claimed to be one of her daughter's seniors at school.
According to the commenter, she noted that Farahani's daughter was often alone during recess and walked by herself.
In response, Farahani tearfully expressed guilt over her daughter's situation and asked for empathy from those who accused her of sharing the original video to boast about her daughter's English skills.
Instead, she explained that she posted the video to serve as a lesson for other parents and families about the importance of learning one's mother tongue.
She also urged others to consider how they would feel if they read such comments about their child and were aware of their daily struggles at school.
'Don't give up!'
Since the release of the original video, netizens have offered words of support and encouragement for Farahani's daughter.
"Don't cry, darling. It just takes a month to fully master Malay. And it isn't easy to master English but you managed to do it."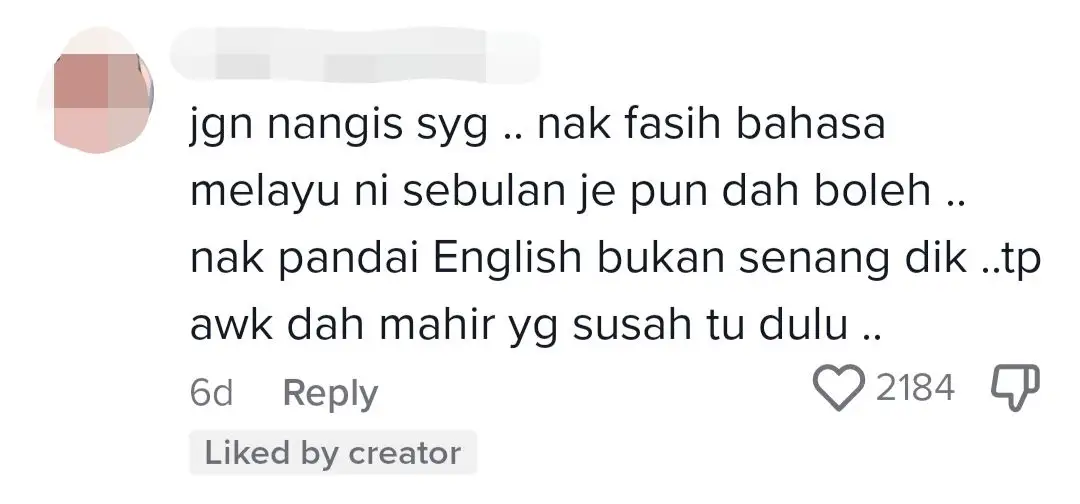 "It's okay, baby girl. Slowly day by day you will learn new things. Be strong ya."

"Hey adik (little sister), you remind me of myself. My first day at school was also the same but it's ok. Don't let them bring you down, just do your best!"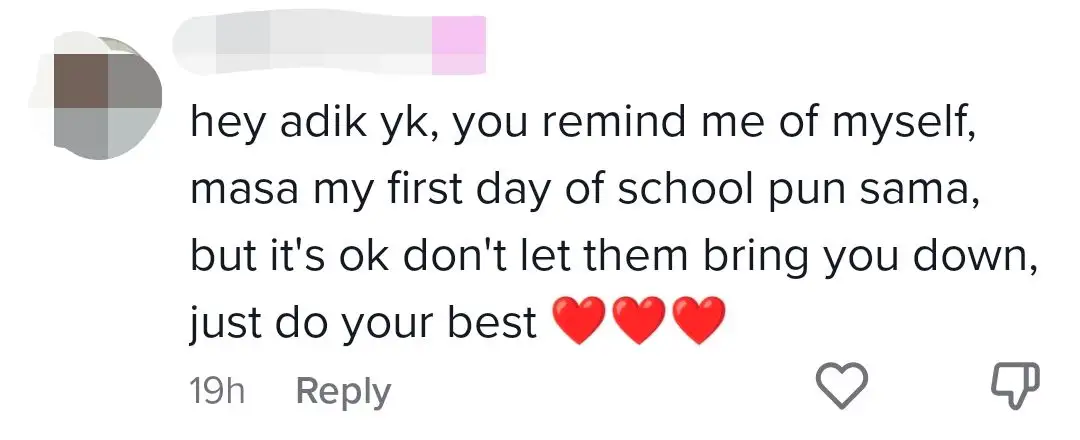 No matter what language you're proficient in, it doesn't cost much to be kind to others!
READ ALSO:
---
---