Roti canai is a popular dish in Malaysia and requires much skill in both making it and tossing it high into the air in front of customers.
A young boy who tried to put his roti canai making skills had a good laugh after he hilariously failed in doing so and had the dough land right on top of a baby's head.
Boy tries to show off roti canai making skills with hilarious result
In the 50-second TikTok video, it showed the young boy dubbed 'Abang Terbang' flipping and tossing a piece of roti canai dough before a customer.
Unfortunately, things went slightly awry when the dough splatted on top of a baby's head, which frightened him and caused him to cry.
Shocked by the outcome of his theatrics, the young boy ran towards the child and apologised profusely to him and his family for the failed showmanship, much to the amusement of those looking on.
Based on the videos posted on the TikTok account, 'Adik Terbang' is apparently the one behind the account and frequently showcases his roti canai tossing skills at Warung Abg Mad Roti Canai in Manjung, Perak.
'So cute!'
The video has since garnered over 67,000 likes and 1.2 million views at the time of writing, where netizens were tickled by the boy's failed roti canai tossing antics.
Many were amused by the boy and baby's reaction over the incident.


Some also praised 'Adik Terbang' for his politeness in apologising to the baby's family for the failed stunt.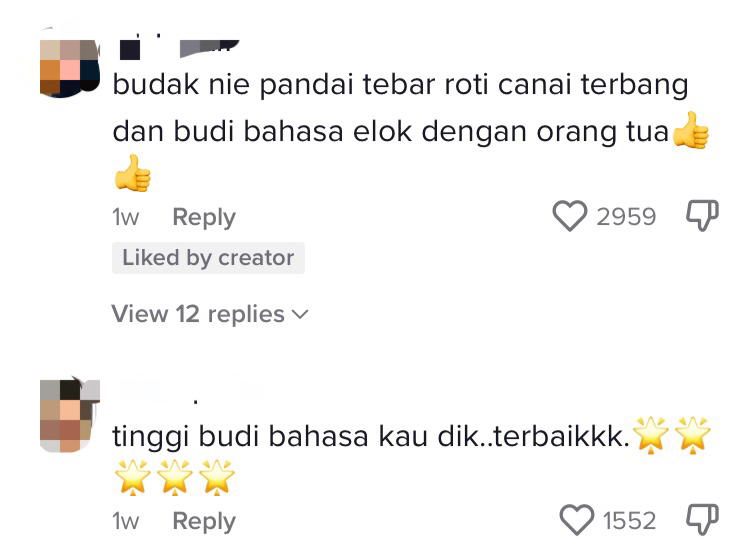 Watch the video here:
Read about how a man got RM50 after a roti canai dough landed right on his face:
---
---