A mother of 8 children achieved what many thought was impossible — completing her PhD studies within 3.5 years at the Mara University of Technology (UiTM).
Dr. Zatilfarihiah Rasdi earned her doctoral degree after completing her research in dental biochemistry, reported Utusan Malaysia.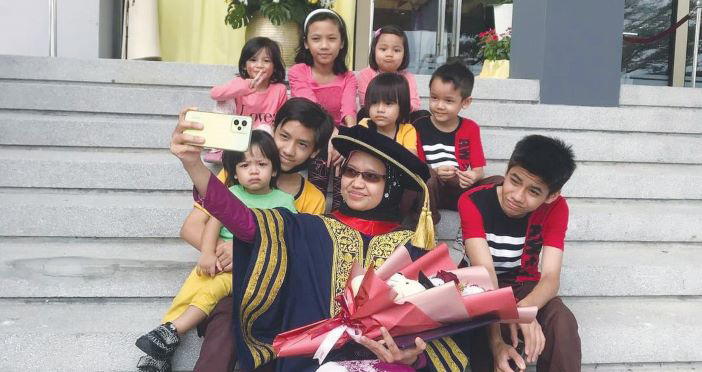 Had to take care of 8 children
Dr. Zatilfarihiah, who's also a lecturer at UiTM's Faculty of Dentistry, told the Malay daily that having to care for her 8 kids had taught her to be more self-disciplined and to manage her time well.
It was indeed tough. I had five children before enrolling in April 2017, and had three more after completing my studies in October 2020.
She added that she practices a strict routine everyday, where she wakes up and reviews periodicals at 2am before going to the laboratory at 8am to conduct experiments until 5pm.
"It was tiring, but as a lecturer, I felt lucky to be able to cope with it quickly.
"My husband also gave me a lot of support throughout my studies while my parents and in-laws help to take care of the kids whenever I was busy," she said.
When asked what was her biggest challenge, Dr. Zatilfarihiah said is was the time where she had to submit her thesis and sit for an oral exam while pregnant with her youngest son.
Fortunately, she managed to sail through the exam.
Read also:
---