Unlike most cafes in the touristy state of Penang, this establishment in particular snatches one's attention in an instant not with its food, but its name — Moody Cow Café.
"Why a cow?" you may ask. Well, unfortunately I can't give you the answer because even as a Penangite myself, I'm still trying to find out why. And perhaps this ambiguity is the reason the café still draws a crowd to this day.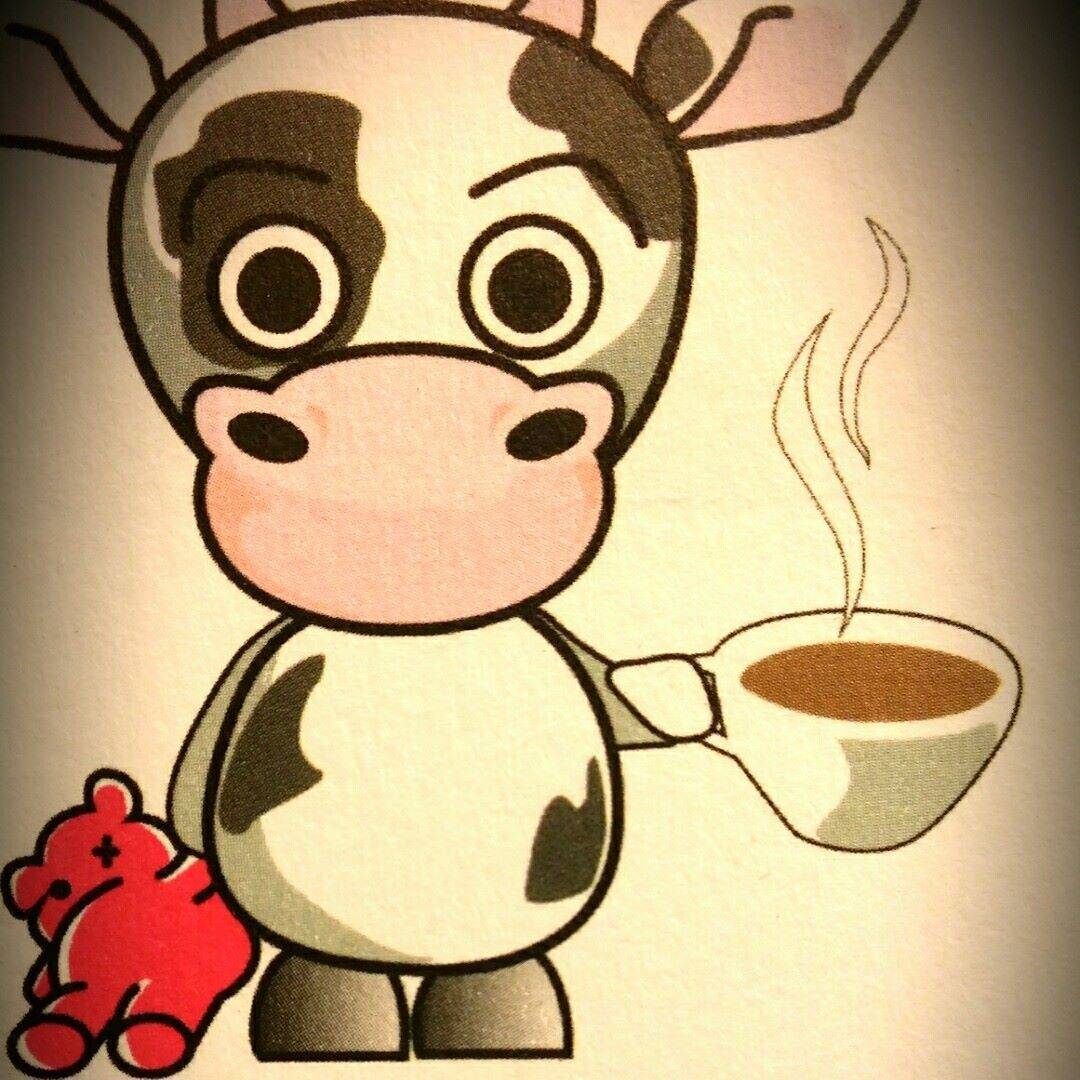 I first heard of Moody Cow back in 2017 when I heard whisperings of a café that served "huge-ass cheesecakes" at a price that would send most wallets trembling, which was rather surprising to me as I've never heard a café being described in such a manner.
With my curiosity piqued, I went to Moody Cow located at Jalan Transfer with a friend to witness these whisperings for myself and there were three things that I remember distinctly: dark lighting, giant cakes (along with the frightening prices), and classical paintings such as the Mona Lisa by da Vinci.
Back at it 5 years later
Fast forward to 2022, it has been five long years since my last visit to Moody Cow when I suddenly read the news of another branch opening at Gurney Plaza in April.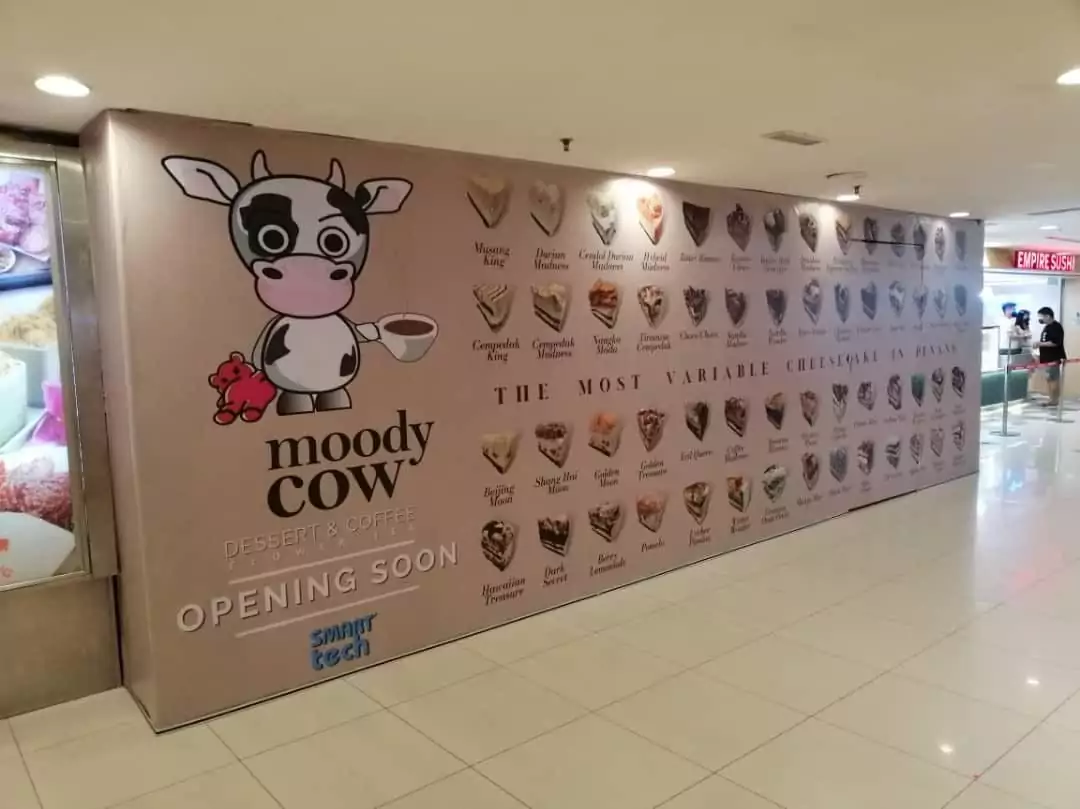 While I was excited to patronise Moody Cow again after so long, I was a little apprehensive as well after reading reviews accusing the café of unprofessional behavior, including snarky comments left by the owner whenever a 1-star review is given, and subpar cakes sold at exorbitant prices.
Despite my misgivings, I decided to give it another shot by visiting the spanking new Gurney Plaza outlet and was immediately struck by how much it retained the exact same atmosphere like its first outlet at Jalan Transfer – dark lighting, paintings and all.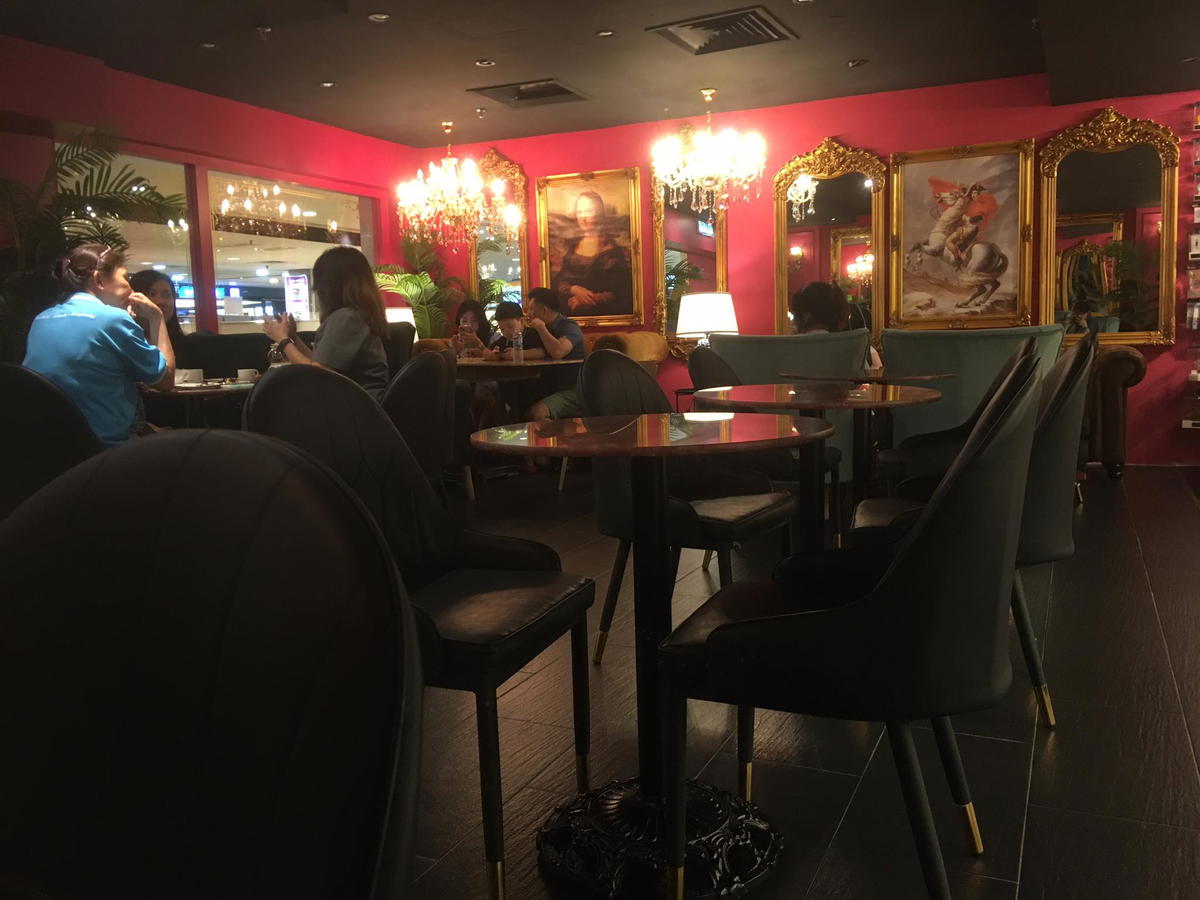 One of the most unique features of Moody Cow is the sheer number of cakes that's being displayed at the counter, where it sells more than 20 types of cheesecakes to choose from. Even China House doesn't sell this many cakes!
As you'd expect, I spent close to 10 minutes (yes, it was that long) deliberating which flavour to go for as all of the cakes looked soooo appetizing. In the end, I settled for the Tiramisu Onde-Onde and Drunken Wife.
Strangely, I couldn't find the Century Egg Cheesecake on the display rack, a cake which proved to be a PR highlight for Moody Cow when it was first unveiled.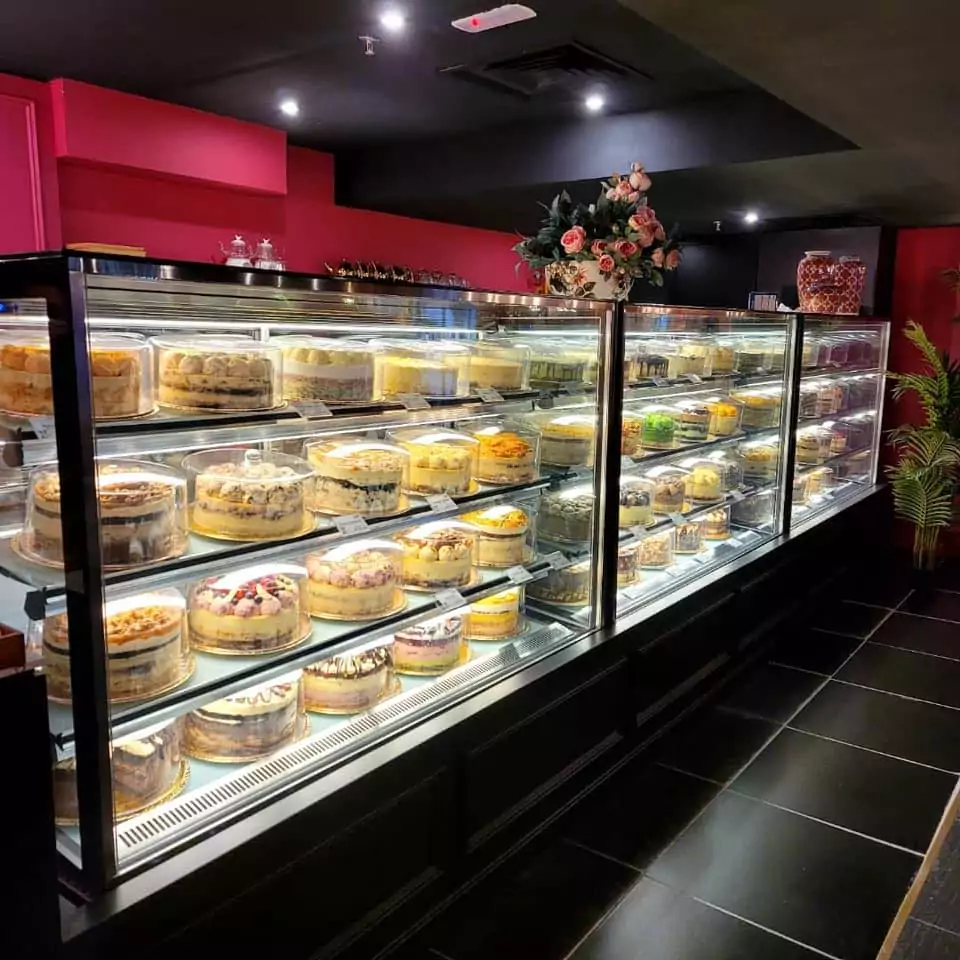 Tiramisu Onde-Onde (RM46)
Although I had mentally prepared myself for a monstrous slice of cheesecake, I still wasn't ready to absorb in the towering, five-layer cake which was placed before me.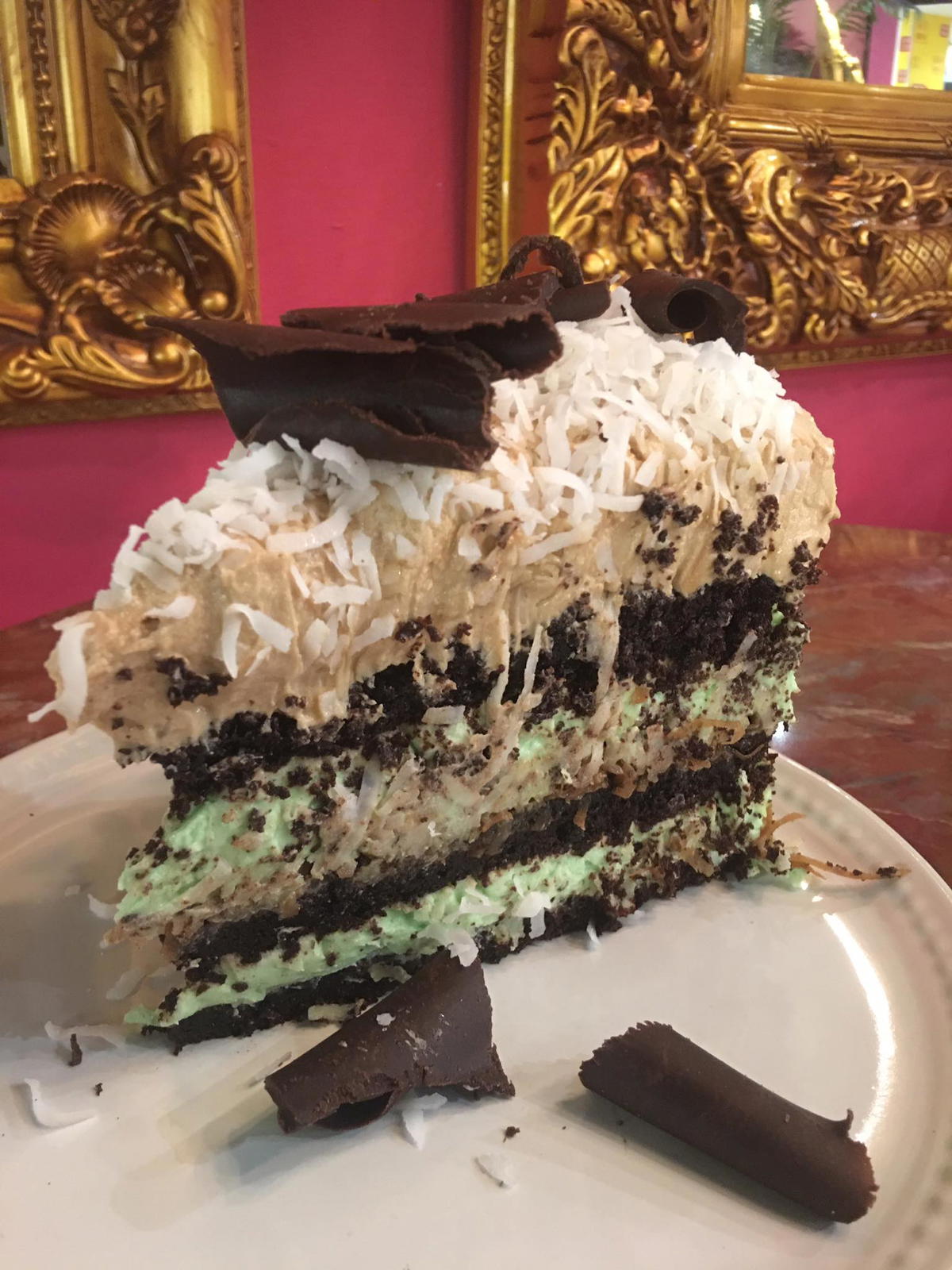 The Tiramisu Onde-Onde was jam-packed with coconut shreds along with creamy pandan and gula melaka-infused cream cheese layered with chocolate sponge cake.
My first thought when I took the first bite was "Oh lord, this is super sweet!" Even for a self-confessed sucker for desserts like myself, I found the sweetness completely overpowering my tongue and I had to take a few more bites before my tongue eventually got used to it.
But I must admit that it was an ingenious way of combining a local delight such as onde-onde with cheesecake. The coconut shreds were also quite crunchy, where I could hear it being grinded by my teeth with every munch.
However, despite having the word "tiramisu" in its name, I couldn't taste a slight hint of tiramisu at all. Maybe someone in the kitchen didn't get the memo? (Rating: 7/10)
Drunken Wife (RM36)
Since I'm a chocoholic and can't seem to stay away from all-things chocolate, I ordered the Drunken Wife, which is basically chocolate cheesecake infused with rum along with a Ferrero Rocher sitting on top.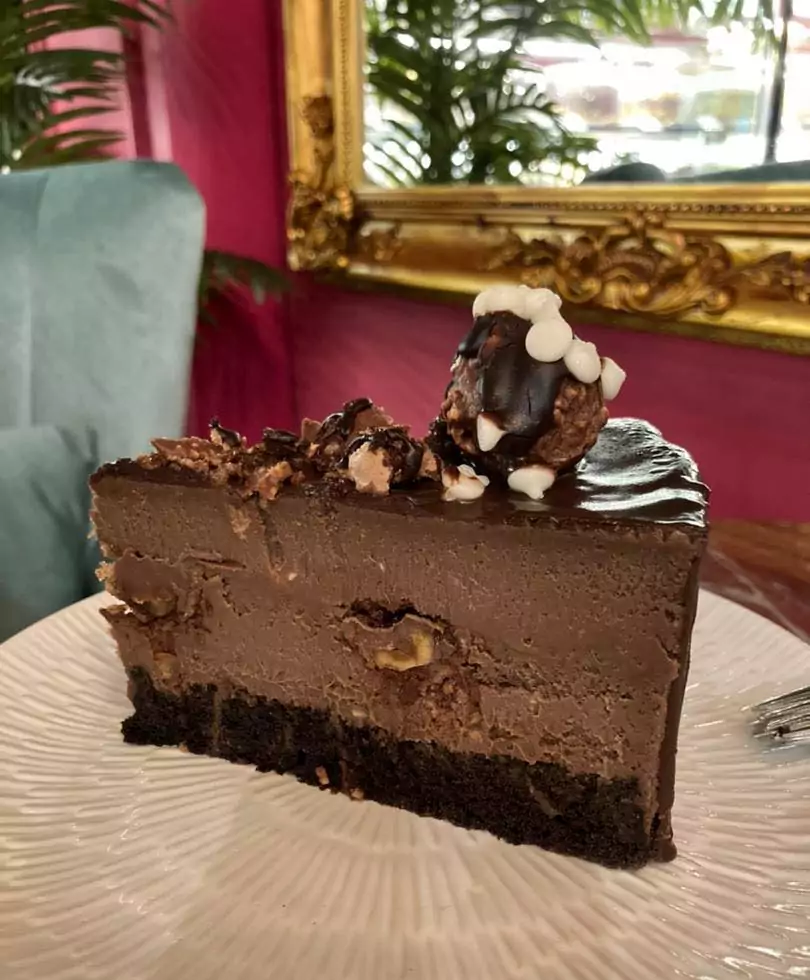 While this was way less sweeter than the Tiramisu Onde-Onde, I found it to be an ordinary chocolate cheesecake that was soaked in rum for a minute or so, which made me wonder over the RM36 price tag.
The cake was also very heavy in the dairy compartment, where I felt quite jilat after eating slightly less than half of it. I don't know whether my tastebuds were affected after eating the previous cake but I think it's safe to say that it made it quite hard for me to finish it in one sitting. (Rating: 5/10)
Worth a second time?
In my honest opinion, not really.
For one, the price is enough to make one rethink multiple times about buying a slice, let alone eating it. So, unless your pockets are deep enough, you're better off spending your money at a café that serves equally good cheesecakes.
Also, it seems like Moody Cow takes the phrase "eat till you drop" quite literally as you can see from the size of its cakes. Thus, it's highly recommended that you bring at least 3-4 friends with you because I went there with two of my friends and we could barely finish one slice.
But, if you're confident in your massive appetite for huge slices of cheesecake, Moody Cow is quite a decent place to taste cheesecakes made in many unique ways.
Address: Gurney Plaza, Basement 1, 10250 Georgetown, Penang
Operating hours: 10am to 9.30pm daily (This is a non-halal eatery)
Disclaimer: This is an independent review by WeirdKaya
Read also:
---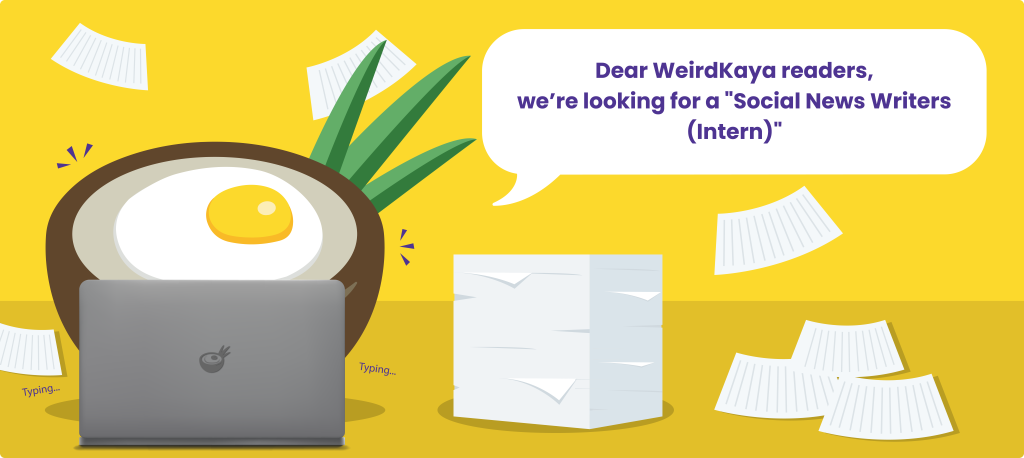 ---