A man has been charged for disrupting a prayer session at a mosque in Kuantan, Malaysia. The incident occurred during morning prayers on March 26 at the Sultan Ahmad 1 State Mosque, according to Harian Metro.
The suspect, a 37-year-old man, allegedly attacked the imam, Ilhan Muhammad Irham, for mentioning his name during the recitation of a Quranic verse.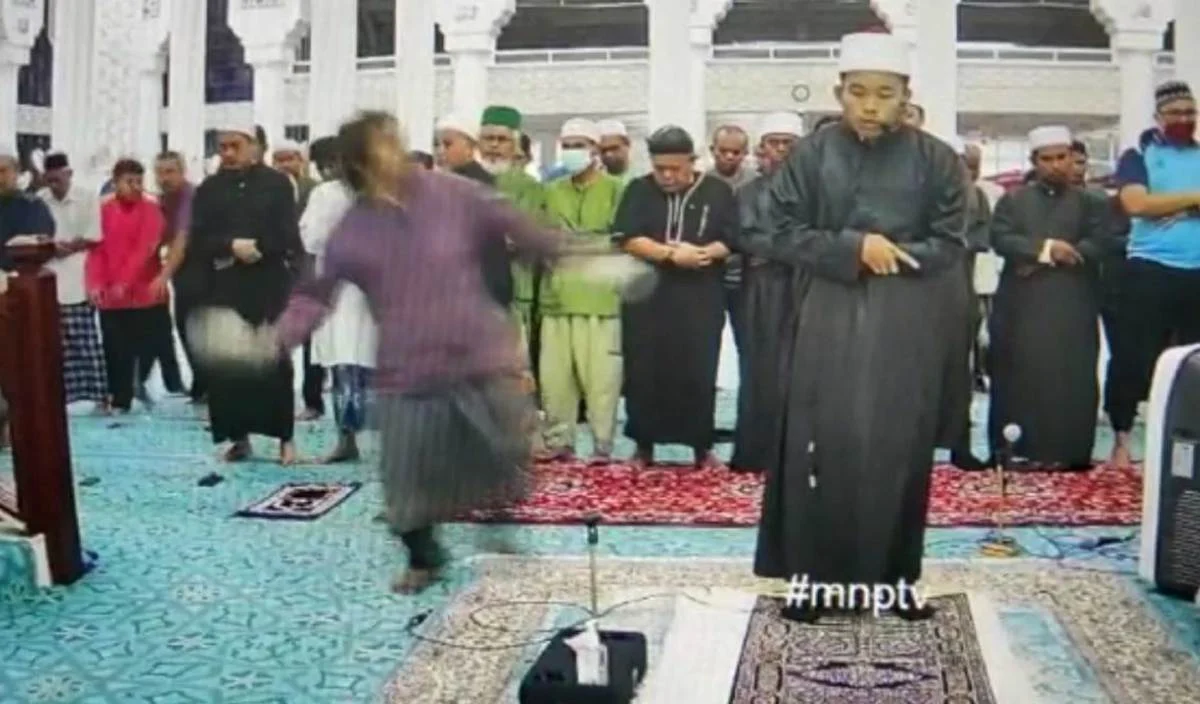 The incident took place at 6:18 am, when the suspect, wearing a purple Malay traditional shirt and black pants, attacked the imam from behind.
Video footage of the incident, which has since gone viral, showed the man pushing past several congregants to make it to the front row where the imam was, before trying to hit him with his slippers.
Lelaki serang imam ketika solat Subuh di sebuah Masjid di Kuantan 26 Mac lalu positif dadah jenis amphetamine dan methamphetamine

Suspek akan dituduh di Mahkamah esok kerana lakukan kacau ganggu solat di rumah ibadat.

Suspek 37 tahun kini dlm pengawasan unit psikiatri HTAA. pic.twitter.com/Qsm5mkmbQ4

— Mohd Redzuan Abdul Manap (@redzuanNewsMPB) March 30, 2023
An ex-soldier under influence of drugs
The imam managed to step aside and evade the attack before the other congregants, along with the mosque security, nabbed the man and handed him over to the police.
Further investigations have revealed that the suspect is a former soldier who is now homeless. He was often seen near the mosque and Jalan Mahkota, and used to sleep near the mosque at night, according to New Strait Times.
According to the police, the suspect was believed to be under the influence of drugs, as tests revealed traces of amphetamine and methamphetamine in his system and claimed to have heard the imam calling out his name and experienced hallucinations prior to the attack.
He has been referred to the Tengku Ampuan Afzan Hospital's psychiatric unit for a mental evaluation.
The suspect will be charged under Section 296 of the Penal Code for disrupting a religious ceremony and also under Section 15(1)(a) of the Dangerous Drugs Act 1952 for drug possession.
The suspect will appear in court tomorrow to face the charges under Section 296 of the Penal Code.