KUALA LUMPUR – A video showing a maskless Causacian woman arguing with staff after she was refused entry into a Dior outlet in KLCC has gone viral on Twitter.
Twitter user @DFEfiercefun, who captured the commotion at around 8.35 am today, was waiting in line when the occasion transpired.
Was in a que at @Dior KLCC!!! No entry for no mask!!! This lady resisted and said those with masks are communist!! Applying "white entitlement" in Malaysia!! Kudos to the @Dior KLCC and @SuriaKLCCMall staff @Khairykj @KKMPutrajaya please find and fine her!!! pic.twitter.com/hXzi9difRg

— DFE (@DFEfiercefun) October 27, 2021
According to the Tweet, a Dior staff was seen denying entry to the woman as she didn't have a face mask on. She then went to accuse him of pushing her, which he vehemently denied.
@DFEfiercefun also called upon Health Minister Khairy Jamaluddin and the Ministry of Health (MOH) to identify and compound the woman for violating SOPs.
'It's a free country, you don't own the shop'
A second follow up video was posted showing the lady insisting to enter the shop.
"You can't stop me she said. It's a free country."
Tambah cili #findandfinekaren pic.twitter.com/BXTvJ4OeXH

— DFE (@DFEfiercefun) October 27, 2021
Health minister Khairy Jamaluddin acknowledge the issue and mentioned that they are getting more information on the issue.
"When in Rome do as the Romans do."

When in Malaysia, please mask up. Regardless of the rules elsewhere. @KKMPutrajaya is getting more information from KLCC.

— Khairy Jamaluddin 🇲🇾🌺 (@Khairykj) October 27, 2021
'
It's a Karen, no doubt

'

The Tweet has since gone viral, shoring in more than 40k views and fiery comments from netizens.

Many have snidely labelled the woman as a "Karen", a term used to describe white, middle-aged women who often act with a sense of entitlement and demand beyond the scope of what's considered normal.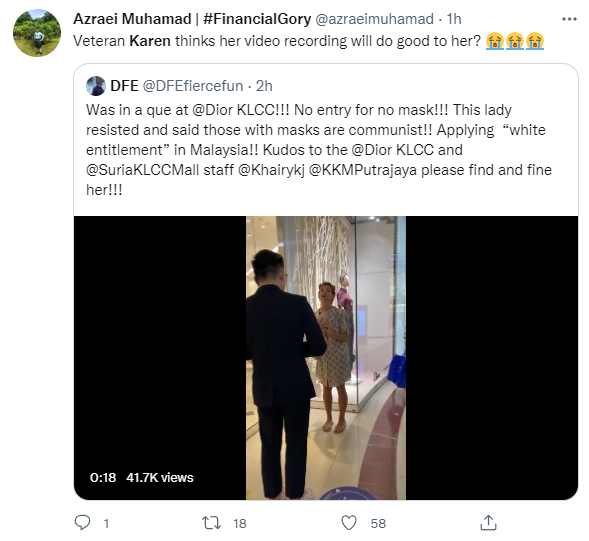 Many were also questioned how the woman was able to enter the mall without adhering to the SOPs.


Some even speculated that she had 'bullied' the guard at the entrance into allowing her to enter the shopping mall without a mask.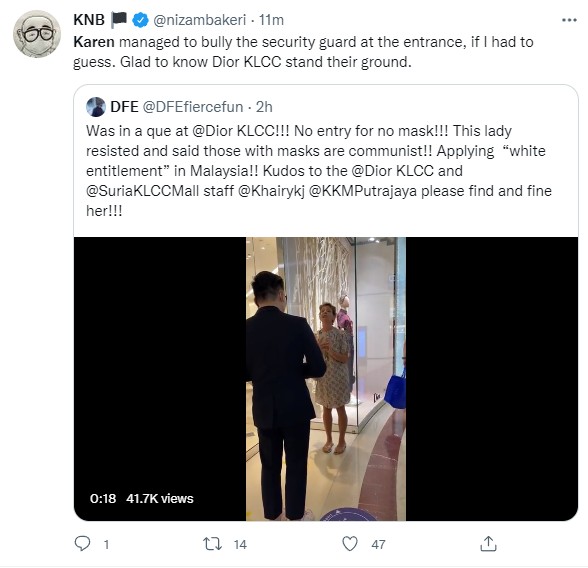 WeirdKaya has tried reaching out to @DFEfiercefun for more information but to no avail.
---

---
Cover Images via Twitter/@DFEfiercefun

Proofreader: Anna Wong