SIMPANG RENGGAM – A man showed that age was just a number by registering himself as a SPM candidate for both the Math and English paper.
Zulkifli Md Pungot, who is the vice-headmaster of SMK Dato' Abdul Rahman Andak (SDARA), will be taking the exam along with his 18-year-old son Afif Ajmal Zulkifli as a way to encourage and motivate him.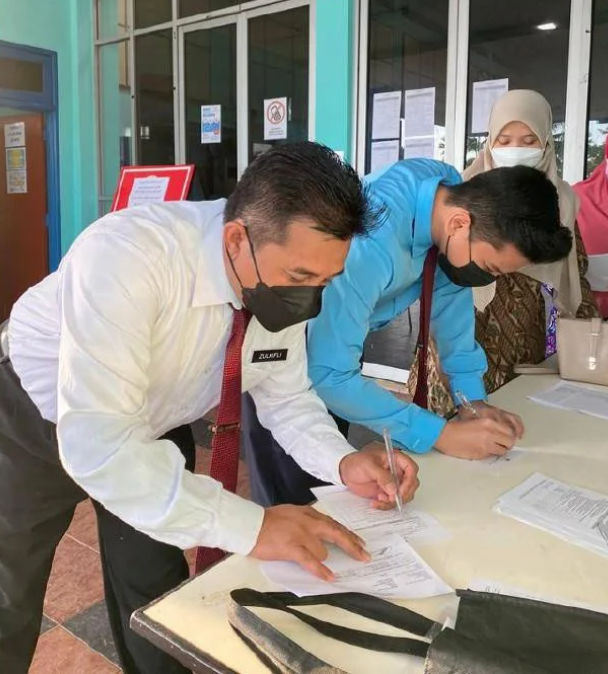 Speaking to Harian Metro, Zulkifli said he is no stranger to retaking SPM as he had retaken the Math paper 22 times since 2011, where one of them involved his eldest daughter Puteri Nur Nabilah in 2016.
This year however, he is challenging himself by sitting for the English paper for the very first time.
I'm challenging myself to retake the English paper as a means to assess my abilities since I've only retaken the Math paper.
"This is my way of giving strength to my son so that he will have a close competitor to spar with and will be motivated to do his best and score with flying colours," he said.
---

---
Zulkifli, who has been a Math teacher for 20 years, added that he conducted Math classes with his son to prepare him for SPM. He later extended the classes to his son's peers who were weak in the subject and couldn't keep up with the lessons.
"As for the English paper, I learnt my speaking, listening and writing skills by watching YouTube videos," he said.
He then went on to describe the journey leading up to the big day, which he admitted was "difficult".
"My son and I tested positive for COVID-19 a night before the English paper, so we had to register for the second session on Tuesday (Apr 12).
"Nonetheless, I regard it as a test from God and am thankful that I recovered just in time to sit for the second session."
Read also:
Cover image via The Sun Daily and Harian Metro.