With inflation soaring to unprecedented levels due to economic instability and disruption of global chain supply, the cost of living has risen exponentially too, with many forced to pay more for basic necessities.
Thus, it's not unusual to hear some openly grumble about the crushing pressure of having to get by with so little while paying for something they consider unsatisfactory.
Claimed to have been served 'bulls**t food'
A netizen has taken to Twitter to share his experience of being assaulted by several workers of a mamak stall after he and his mother voiced their unhappiness over the food and pricing.
In the thread, the netizen said that the incident had occurred at a mamak stall at Bahau, Negeri Sembilan yesterday (May 5).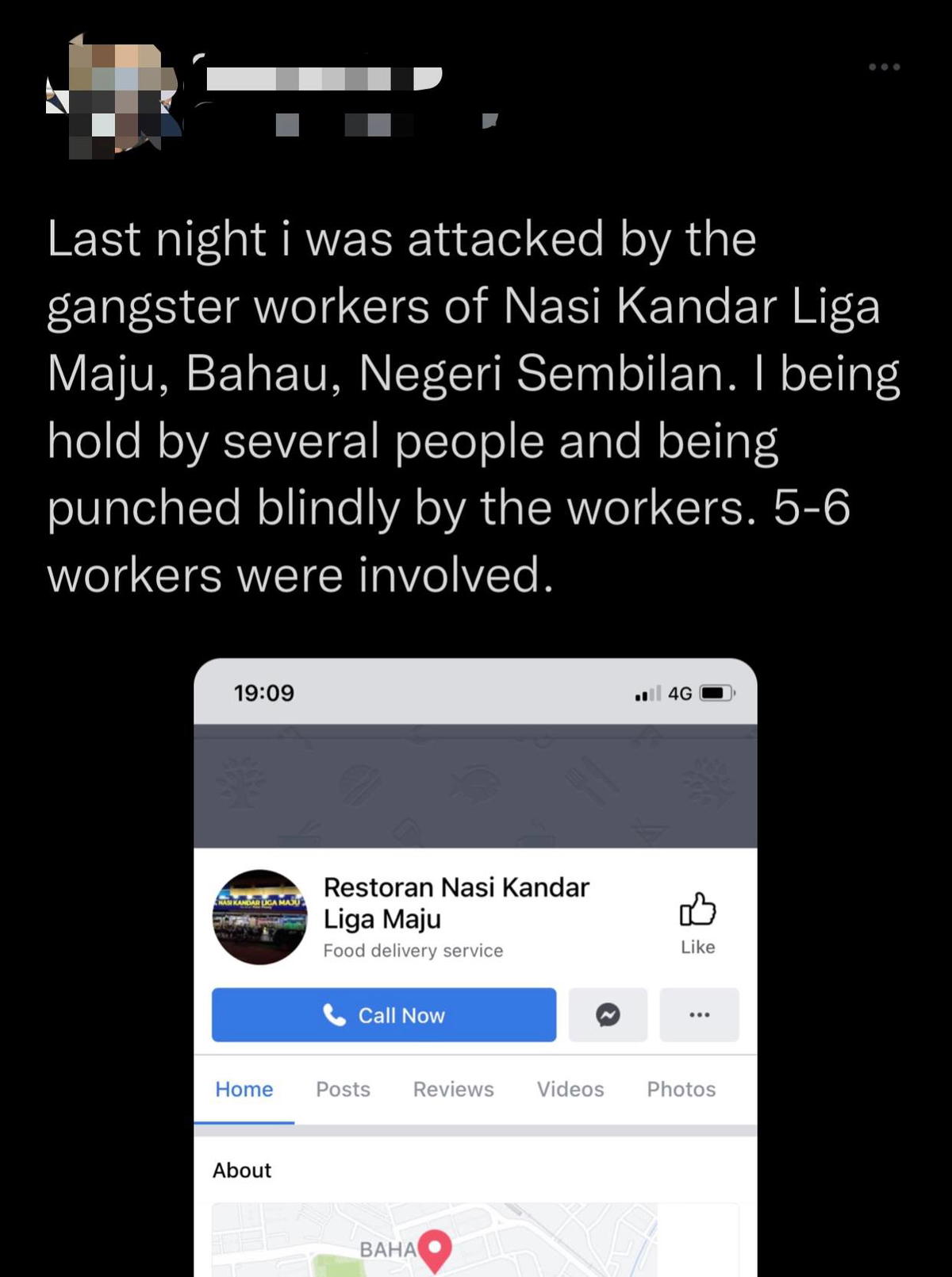 It all started when he and his mother arrived at the stall at 12.30am to eat. Though they initially wanted to order teh tarik and nasi goreng ayam, they were so famished that decided to settle for nasi goreng kosong and maggi goreng kosong — dishes that he described as "bulls**t food".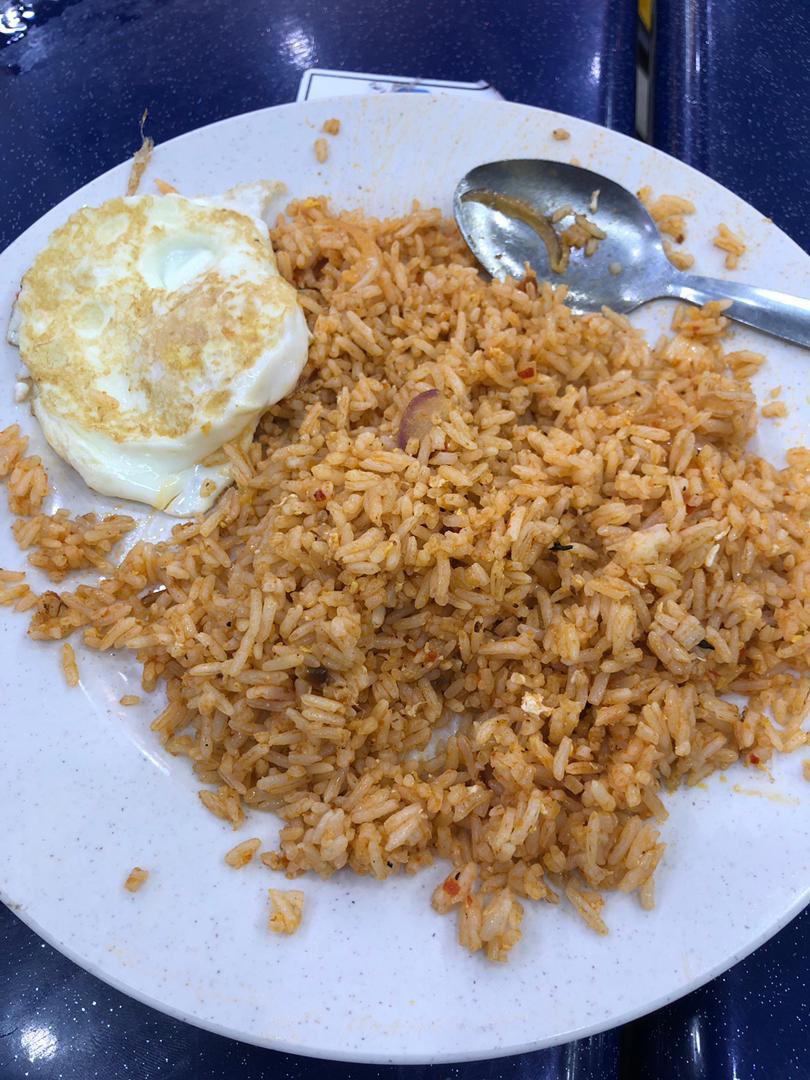 Dispute at payment counter
After their meal, they both went to the counter to pay and to their shock, they were told that the total bill amount was around RM50 for three plates of nasi goreng kosong, two plates of maggi goreng kosong, and a nasi lemak kosong.
"My mother asked the cashier how much the nasi goreng was and he told her and it was RM6 per plate. She then began to complain as she didn't expect it to be this expensive as it hardly had any ingredients at all, unlike the standard nasi goreng."
While the cashier admitted the lack of ingredients and compromised by lowering the bill to RM45, the netizen's mother still wasn't satisfied and said that it was too pricey.
Annoyed by her complaint, the cashier reportedly became aggressive and said, "How much do you want to pay then? RM2? RM3?"
Unsurprisingly, this made the netizen's blood boil after witnessing the cashier's rude reply.
First, he was being disrespectful to my mother. Second, we're customers. Is this how you respond to complaints?
"Out of anger, I took an empty tissue box and slammed it on the counter, but it didn't hit anyone at all," he wrote.
And that was when all hell broke loose.
Chaos ensues
After exchanging heated words with the cashier for a few minutes, the netizen claimed that he was first pushed by a worker before 5-6 more workers grabbed onto his hand and body.
He also claimed that he was hit repeatedly on the neck, face, and arm and wasn't given a chance to defend himself while being attacked.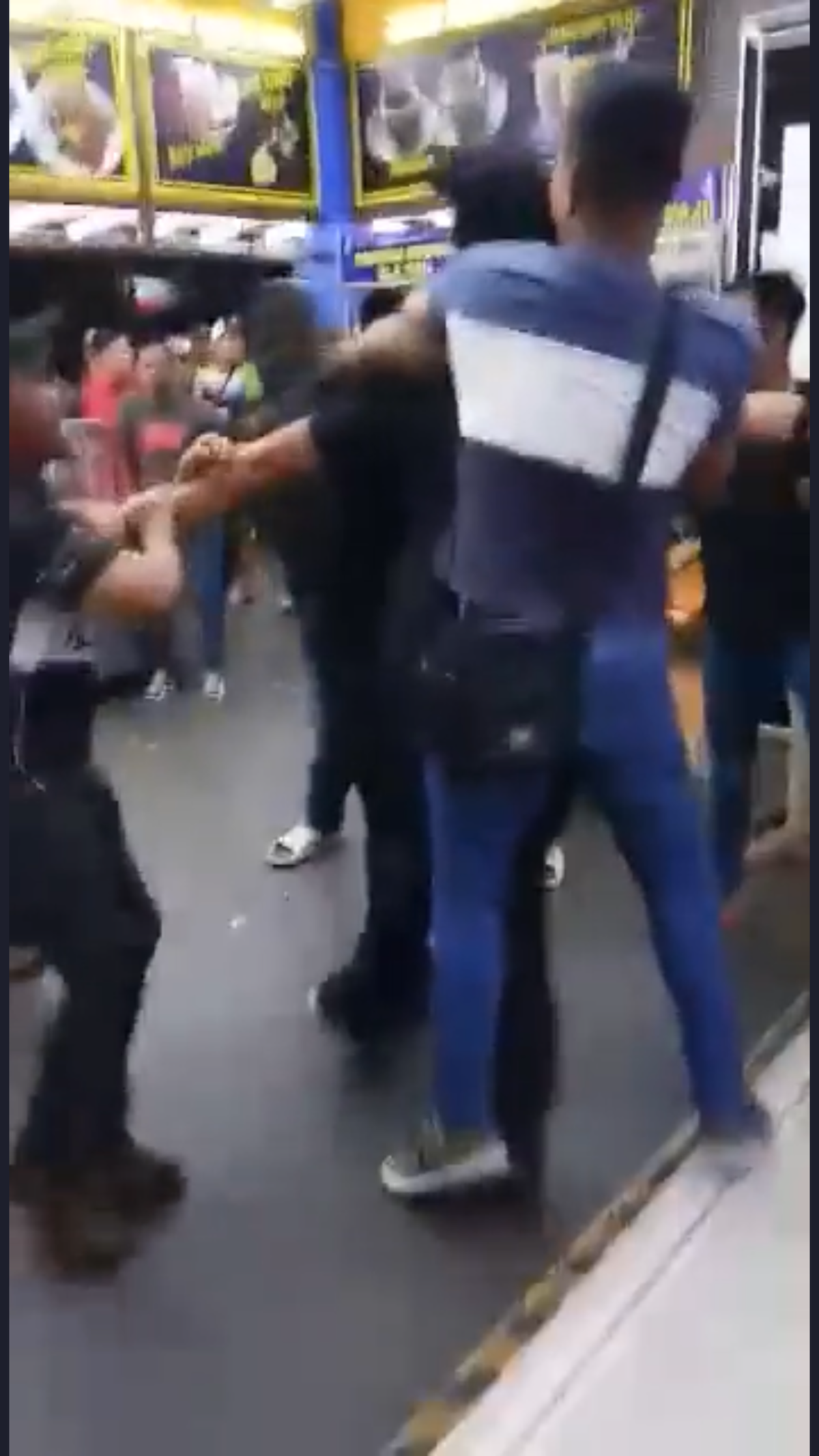 A few customers tried to intervene by breaking the warring factions apart as other customers looked on in stunned silence.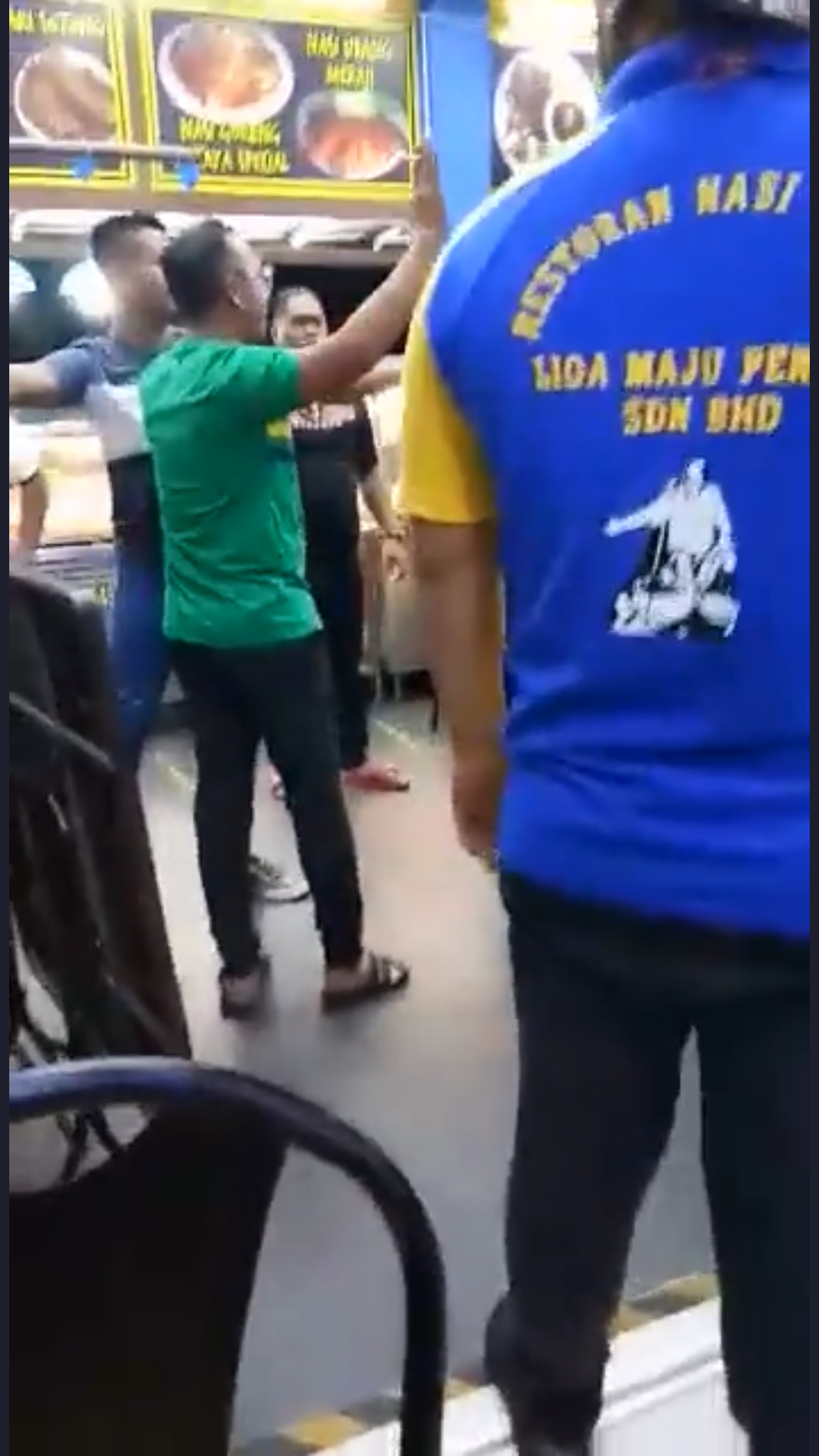 As a result of the scuffle, the netizen sustained injuries to his face and later received treatment at Hospital Jempol.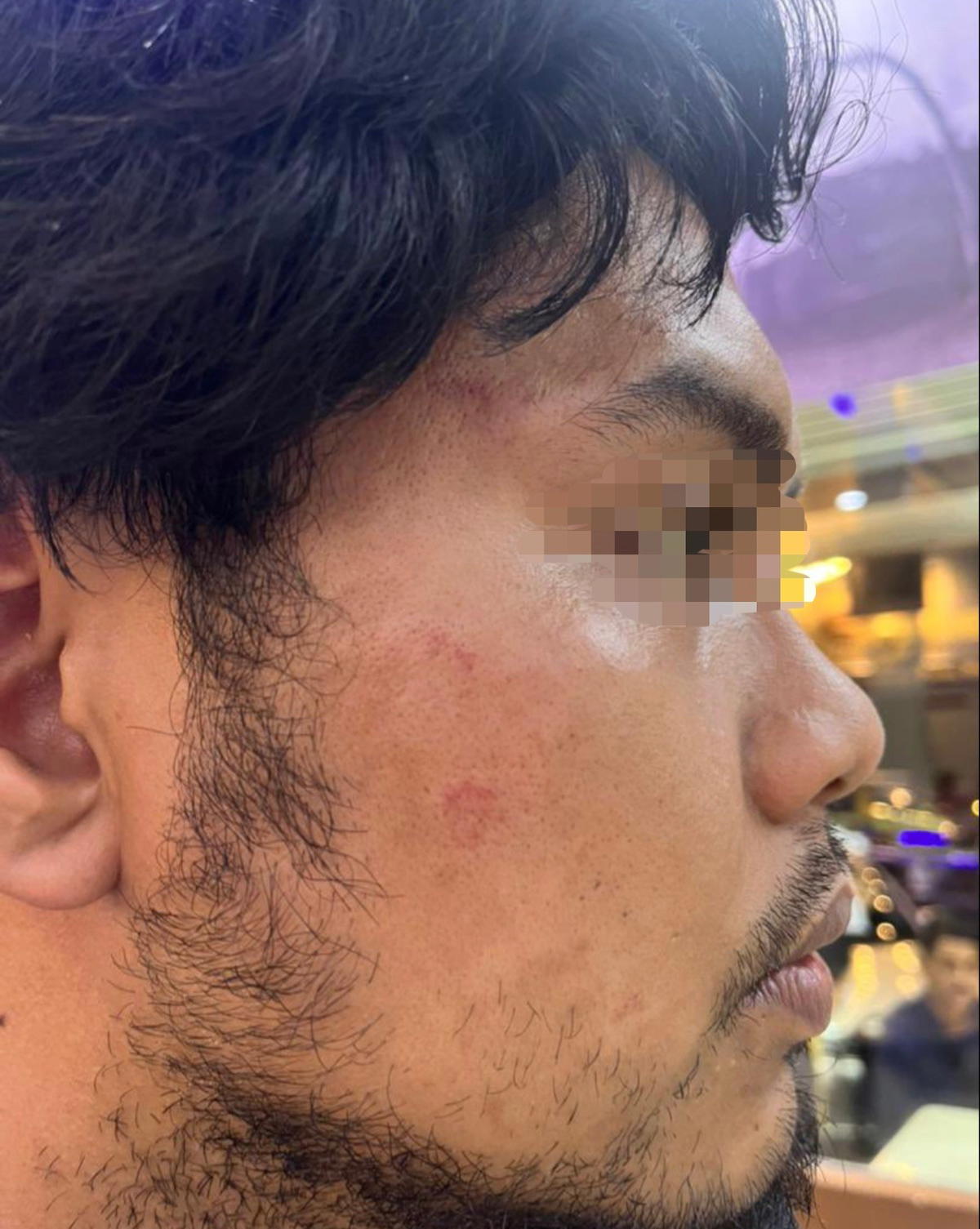 Jempol district police chief Superintendent Hoo Chang Hook confirmed the incident to Kosmo!, saying that the netizen had lodged a report at the Bahau police station at 2.31am.
He said the case will be investigated under Section 323 of the Penal Code and that investigation papers will be submitted to the Deputy Public Prosecutor for further action upon completion.
Special thanks to the anonymous netizen for allowing us to share his story.
Cover image: Twitter