Whenever we joke around with friends, we would sometimes give a playful jab or slight knock on the head. But when exactly is it considered too far?
Kedah MB Muhammad Sanusi Md Nor has recently come under harsh criticism after a viral clip showed him using a piece of paper to hit a student's head, which many have denounced it as a sign of rudeness.
Kedah MB 'whacks' student's head with piece of paper
In the 18-second clip which has garnered more than 4 million views at the time of writing, it showed Sanusi talking to a group of students when he suddenly leaned forward and 'whacked' one of the students' head with the paper in his hand.
Shockingly, those looking on didn't step in or voice out that what he did was unbecoming of a public figure and merely laughed in response.
After the 'whacking', Sanusi seemed unperturbed by what he just did and grinned before handing an envelope to the student.
Online outrage
Needless to say, netizens didn't approve of Sanusi's actions and slammed him for disrespecting and embarassing the female student.
'What is the Kedah MB doing by shaming the girl in public? No manners at all.'

'If someone else did the same to his child, how would he feel?'

MUDA deputy president Amira Aisya also criticised Sanusi on Twitter, where she urged him show respect and set a good example for others to follow.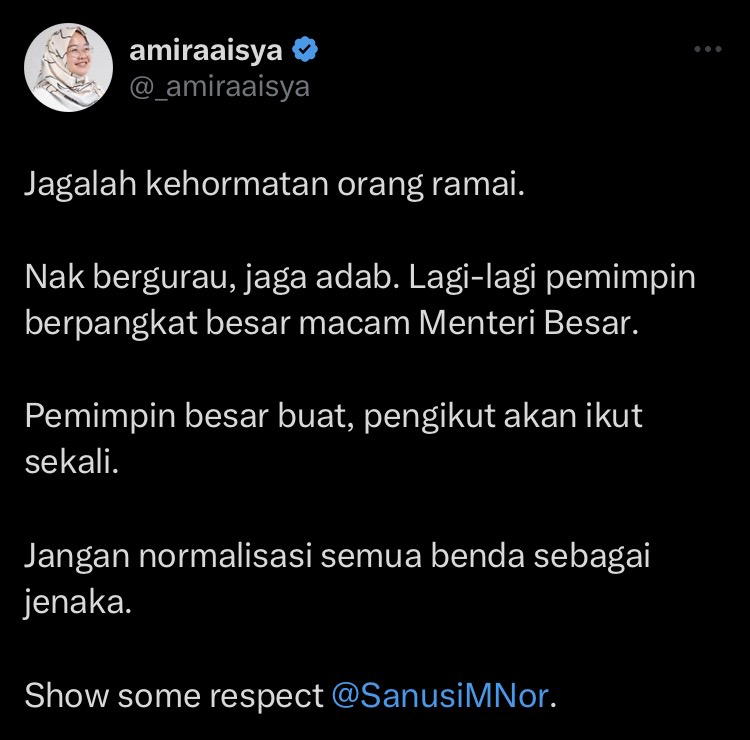 Sanusi: 'It was just a piece of paper'
Despite the backlash, Sanusi doesn't believe that what he did was wrong and defended his actions.
Speaking to Malaysiakini, Sanusi said he had hit the student's head in jest as a way to chide her for being tardy.
I lepuk (swatted) her with a piece of paper (a letter), not a piece of wood. I was just joking around with youths, that is how us kampung folk fool around.
"The student wanted to go to polytechnic the next day (Sunday) but only gave a letter asking for aid on that day (Saturday), so she got swatted," he explained, adding that he eventually gave her RM650 to purchase what she needed.
Watch the clip here:
Hangpa tak nak Melayu Islam lain. Hangpa nak yang rupa macam ni jugak. Sekarang hangpa hadap je la. pic.twitter.com/XBGDXvBqGa

— 𝕬𝖟𝖒𝖆𝖜𝖎 𝕬𝖟𝖎𝖟𝖆𝖓 🇲🇾 (@AzmawiAzizan) August 20, 2023
What do you think of Sanusi's act and explanation? Share with us in the comment section!
READ ALSO:
---
---