A university graduation ceremony in Malaysia turned unexpectedly comical when a graduate's toothless smile went viral on social media.
Recently, a video went viral on social media of a graduate caught on camera with a "toothless smile" during the graduation ceremony.
The hilarious moment briefly interrupted the speech of the university's deputy chancellor, but it also added a lighthearted touch to the serious occasion.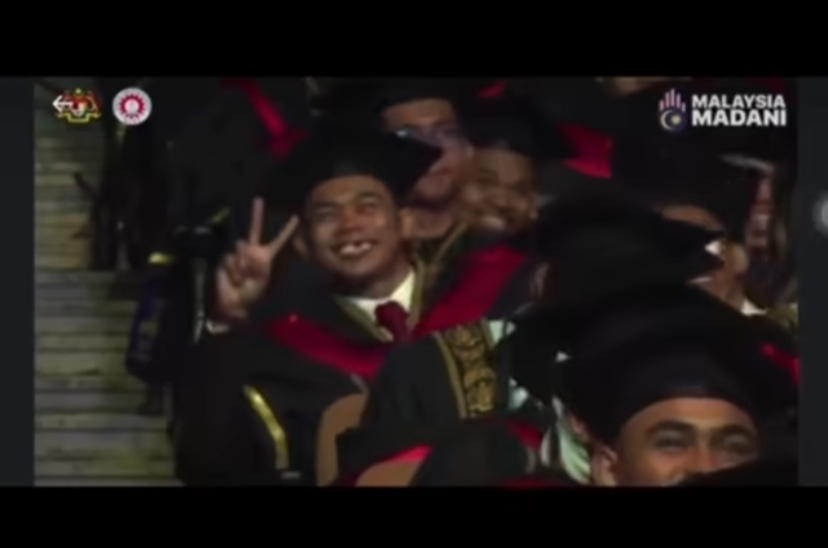 First reaction is to smile
According to the video, during the ceremony, the Deputy Chancellor of Mara Craft University, Dato Zulkifli, was giving a speech on stage, and the camera turned to the group of graduates below.
The graduate, Moha, immediately responded by making a victory gesture and showing a brilliant smile to the camera.
However, he had forgotten that his two front teeth were missing, and his toothless smile immediately became the focus of attention, causing laughter throughout the audience.
This made the deputy chancellor on stage think he had said something wrong and was being ridiculed by the audience. But when he turned to see this amusing scene, he couldn't help laughing.
"I was also startled. My speech wasn't that funny, but it caused laughter. It's okay. Today is a day for you graduates to be happy."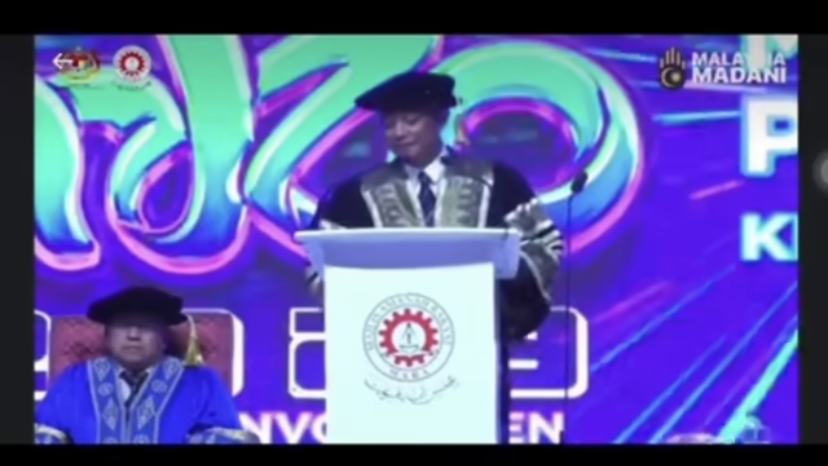 The deputy chancellor's words received thunderous applause from the audience, and the graduates praised him highly.
This incident occurred on Thursday at the 2023 Mara Education College (IPMA) graduation ceremony held at the Kuala Lumpur World Trade Center (WTCKI) Parliament.
According to mStar, the graduate from Johor Bahru Mara Skills Institute (IKM) later revealed that he had been planning to show a running text on his phone to congratulate the graduates as soon as the camera pointed at him. However, things happened too quickly, and his toothless smile became the focus of attention instead.
"But things happened too fast, and my face was already on the screen. I didn't have time to open my phone, so my first reaction was to just smile at the camera."
He pointed out that his classmates had reminded him not to smile widely because of his missing front teeth. But he forgot about it due to his excitement. When he heard the laughter from the audience, he realized his mistake and quickly stopped smiling and lowered his head, shrinking into his chair.
An untoward incident behind the smile
He mentioned that three weeks before the graduation ceremony, he had an accident while riding a motorcycle in his hometown of Johor Bahru, which resulted in his two front teeth being broken, his nose being crooked, and his eyes being bruised.
Because of his missing teeth, he lost confidence in his appearance and was originally planning not to attend the graduation ceremony. But his small episode unexpectedly added a humorous moment to the solemn ceremony.
After the video of this small episode went viral on social media, many netizens asked him how he built his confidence. He responded, "It was my parents who encouraged me to attend the ceremony, and they gave me a lot of courage."
He pointed out that the accident was actually quite serious, so he was very lucky to still be alive and was more grateful to participate in the graduation ceremony with his classmates.
READ ALSO: