For owners of any business, hiring the right people is no doubt a challenging task as it involves a lot of time and energy in training and molding them into effective employees of the establishment.
For this F&B owner in Johor Bahru, he recently expressed his grouses regarding workers born in the after 2000 (aka Gen Zs), where he had fired 3 of them within 3 months.
Claims Gen Zs are unreliable
In a lengthy post dated Feb 5, the young F&B owner of burger joint MR BOGER started off by saying that he had dismissed three workers within a span of three months.
He also said that he had chosen to hire workers closer to his age in order to ensure smoother communication.
Over the days however, he said that he began to notice certain traits among these Gen Z workers which annoyed him.
"Some of it include spending 20 minutes in the toilet, taking leave without prior notice, or even walk out halfway during service to celebrate a friend's birthday.
These are the same people who told me that they could do anything and promised to work their butts off once they start work. However, their attitude underwent a 360 degree change once they got familiar," he wrote.
The owner also said that he hired the workers out of pity for them as they had dropped out of school and offered them a salary of RM1,500 a month.
However, he has since expressed regret over his decision as he felt that they had failed to treasure the opportunity given to them.
Towards the end of the post, the owner sarcastically wished his former employees the best of luck in finding a boss who would put up with their poor attitudes.
"I hope you find a boss better than me, a boss that allows workers to be in the toilet for an hour and allows them to take unlimited leave."
Divided opinions online
The post has since sparked a fierce debate among netizens, with some defending and slamming the F&B owner.
"While I admit that a large portion of those born after 2000 have left you disappointed, it's not fair to those who are hardworking but are being prejudiced against when they've done nothing."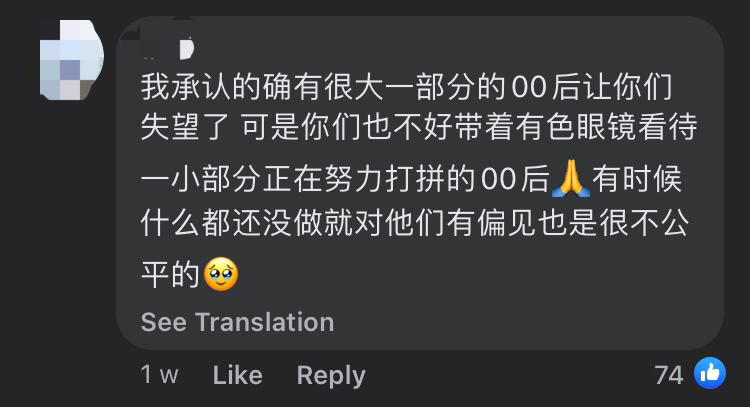 One slammed the owner over low wages, writing: "Bosses always pin the blame on workers but never themselves. 12 hours for RM1,500? Don't they need to eat, provide for their families or have money for daily expenses?"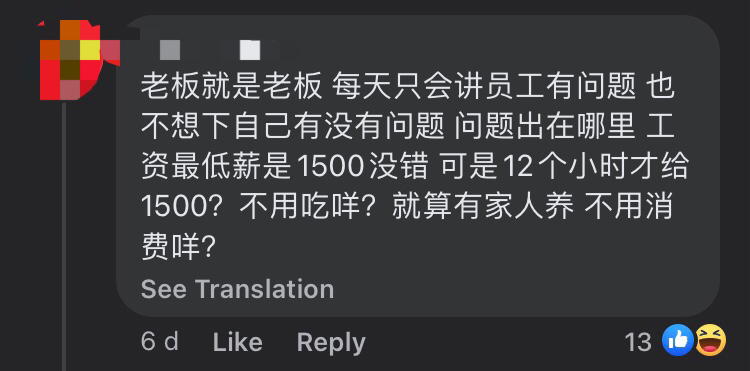 On the other hand, some agreed with the owner's views about Gen Zs, adding that it was hard to find those with a strong sense of responsibility which was prevalent among those born in the 80s and 90s.

Offers higher wage in new job posting
In a separate Facebook post, the owner wrote that he never expected the first post to go viral and had spent time reflecting on it.
While he insisted that a majority of people agreed with his views, he also acknowledged the comments of those who didn't.
He also addressed the issue of low pay, where he revealed that it was conveyed clearly to prospective employees before they got hired.
If the working conditions were really not ideal, why would they join as employees only to be told to leave?
"However, I admit that I still have many weaknesses and areas to improve. I'm also committed to making sure that better working conditions are given to workers," he wrote.
True to his word, the owner posted a new job listing on Feb 7, where the salary was now at RM1,800 a month and seven and half working hours (4pm to 11:30pm), with one rest day each week too.
Do you agree with the owner's views? Let us know in the comment section!
Last year, a Singaporean boss claimed that the "future is f***ed" after a candidate requested to have an online interview:
---
---