Exploring Kuala Lumpur's dining scene on a budget can be quite the adventure. With only RM250 in hand, I set out to experience fine dining in this vibrant city.
RM250 fine dining in KL
In this review, I'll share how I managed and where you can enjoy a memorable culinary journey without hurting your wallet.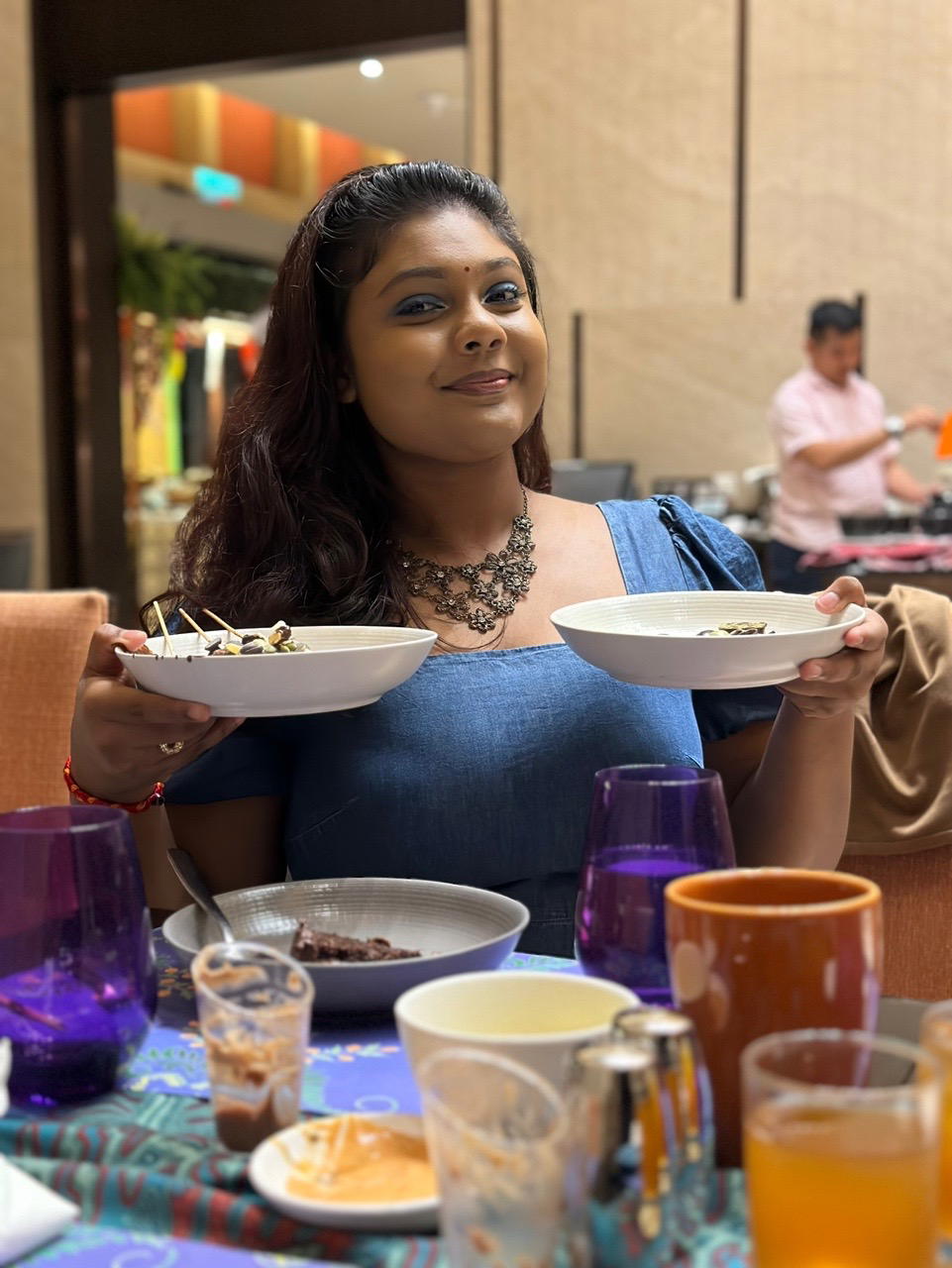 If you're on the hunt for an exceptional buffet experience, look no further than The Courtyard at Pavilion KL Hotel.
Their "Oceanic Delights Buffet Dinner" is a true gem, featuring a mesmerizing theme and concept that will leave you in awe.
This exquisite culinary journey begins at 6:30 PM and lasts until 9:30 PM.
Instead of appetizer, how about some desserts first?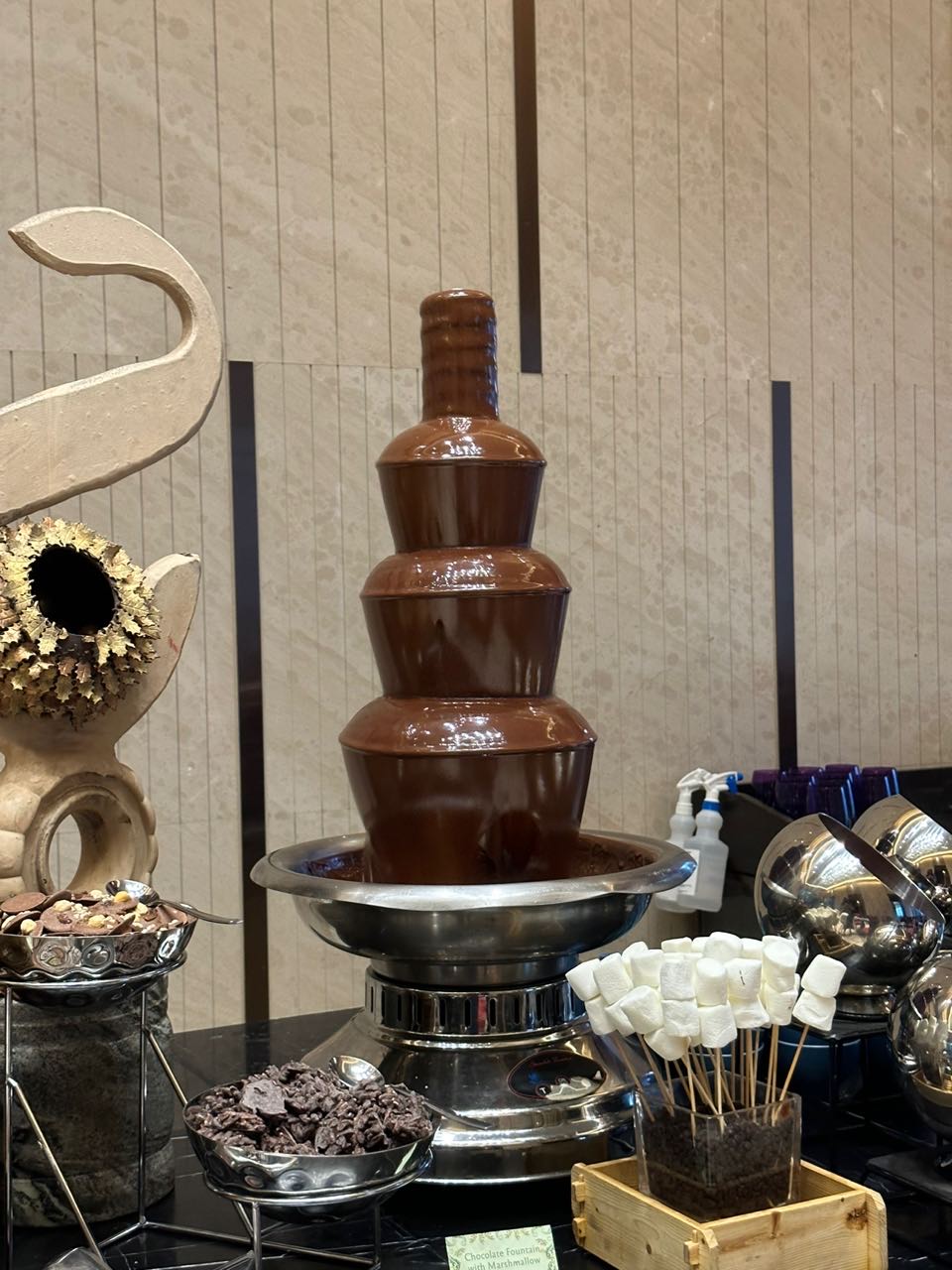 Walking inside The Courtyard, there's a place where you can eat privately and another room where you can dine while conducting a meeting or so.
Going into The Courtyard , you can witness a whole setup of desserts.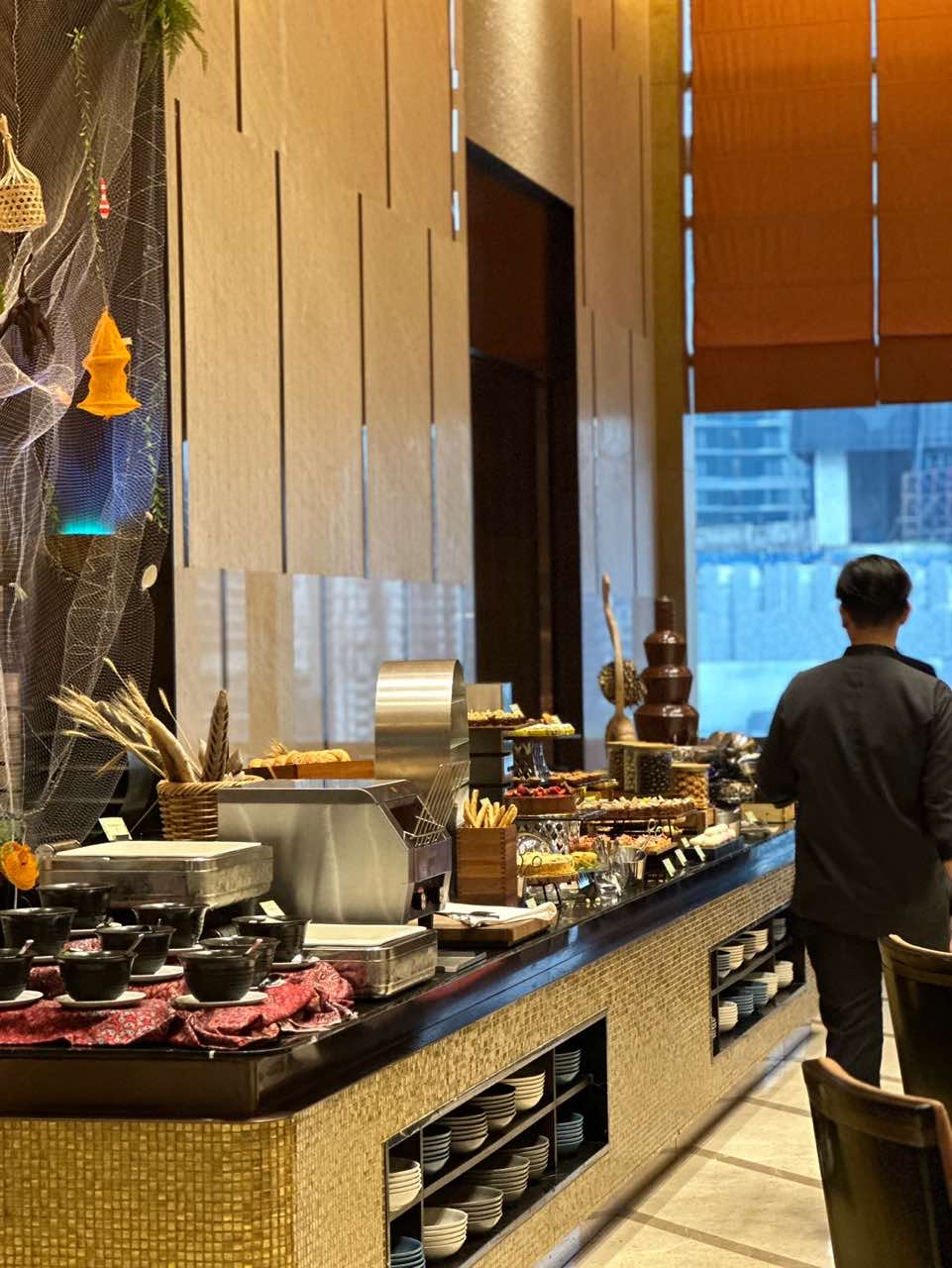 The desserts were a sight to behold, beautifully presented and complemented by a delightful chocolate fountain on the side.
These chocolates were unlike any you'd find in stores, they were homemade and crafted with premium ingredients that made them one of a kind.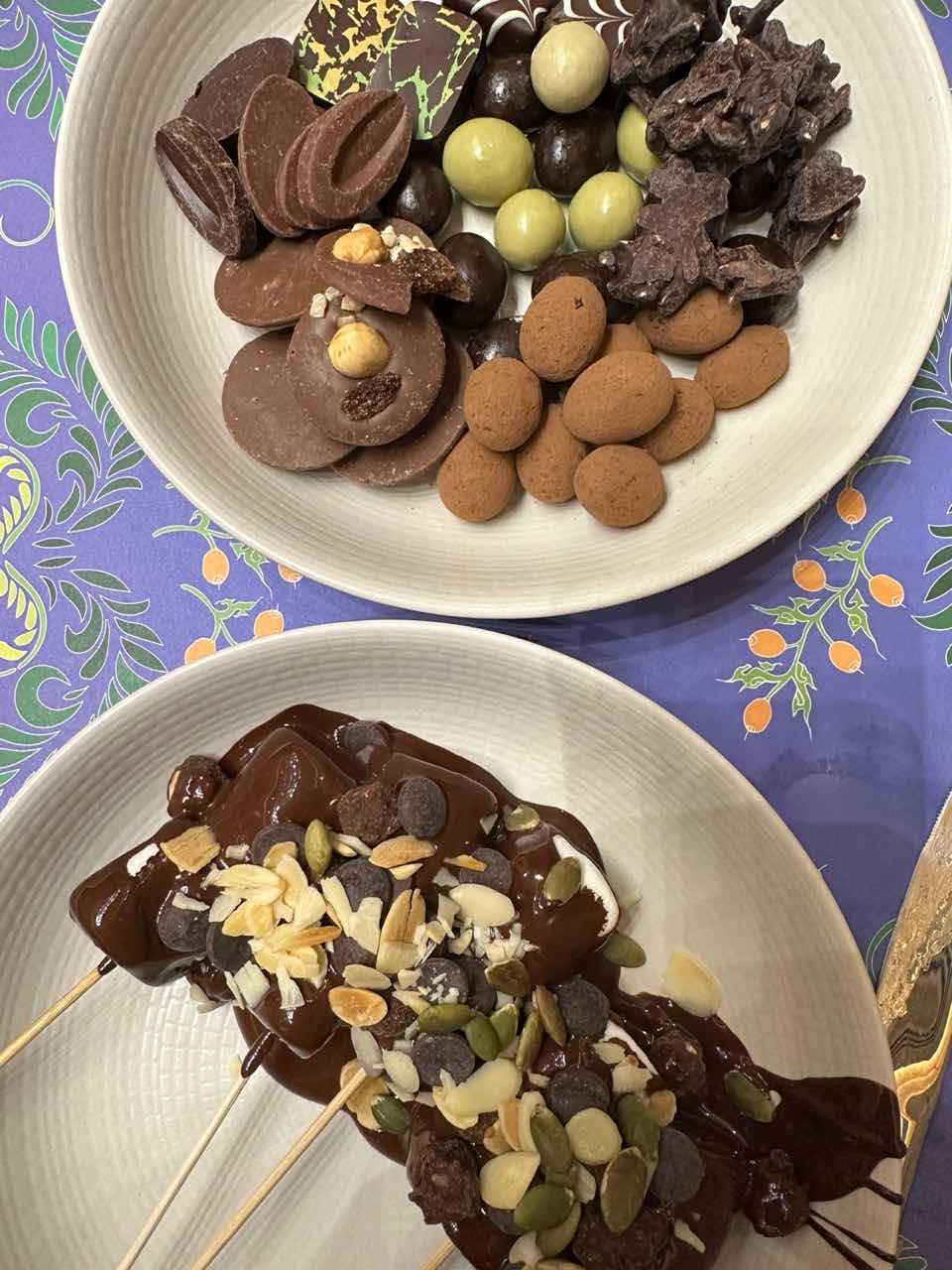 Among the array of desserts, my personal favorites included the brownies, lemon meringue tart, chocolate cake, and, without a doubt, the heavenly chocolate praline.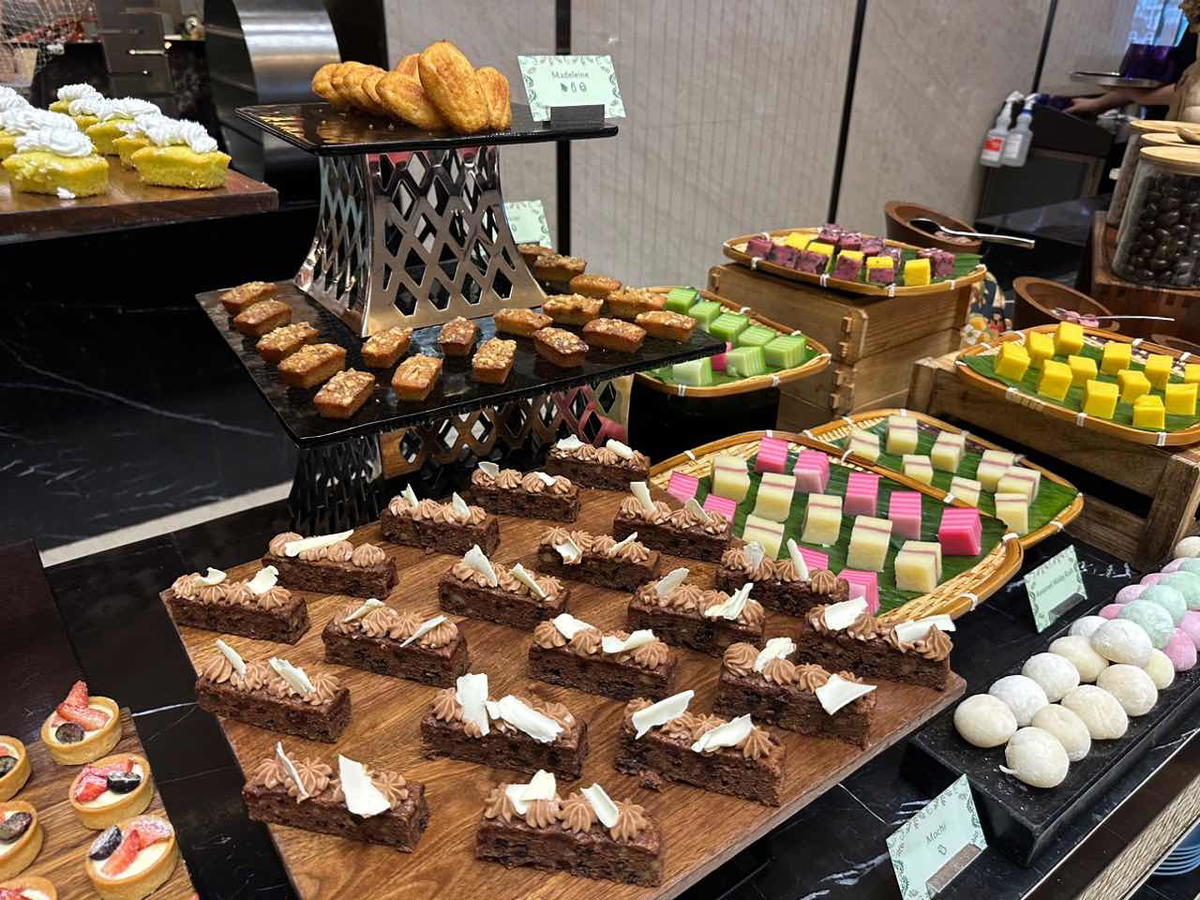 Each of these desserts offered a burst of distinct flavors, with its own unique and dominant taste that left a lasting impression.
The best part of it all : FOOD !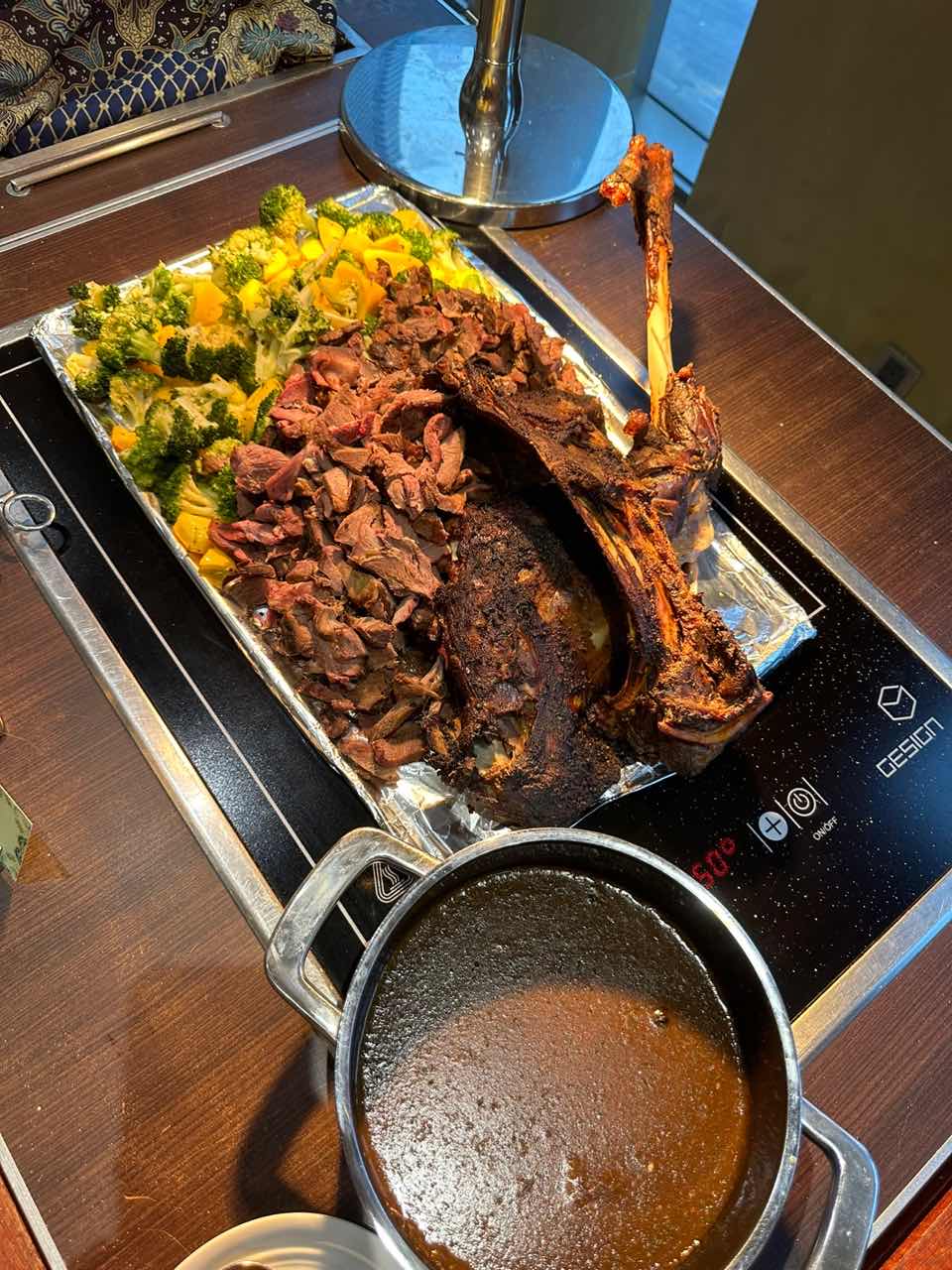 Asian, western, chinese, you name it ! They have it all. Roasted Lamb was set aside with beautiful lighting with broccoli at the side.
It felt so delicious and easy to bite unlike other lamb shanks where the flesh is gooey and not even edible.
For people who are not willing to eat heavy meals, they can try out the Mee Counter, where they have various types of mee for one to choose from, which comes with the sides such as crabfish, fishballs and cabbages.
This section was not my favourite and I could not finish the whole thing as the taste wasn't really extraordinary.
To my left I noticed they had a fridge which had a platter filled with all types of cheese , inclusive of blue cheese.
You heard me right.
Blue cheese ! I have only heard about it in books but never had a taste of it. With so much curiousity, I tried and let's just say it did not go well.
They also had feta cheese, the classic kind with those characteristic holes, as well as Greek cheese. The fridge was also filled with sashimi, salmon gravlax, and raw salmon.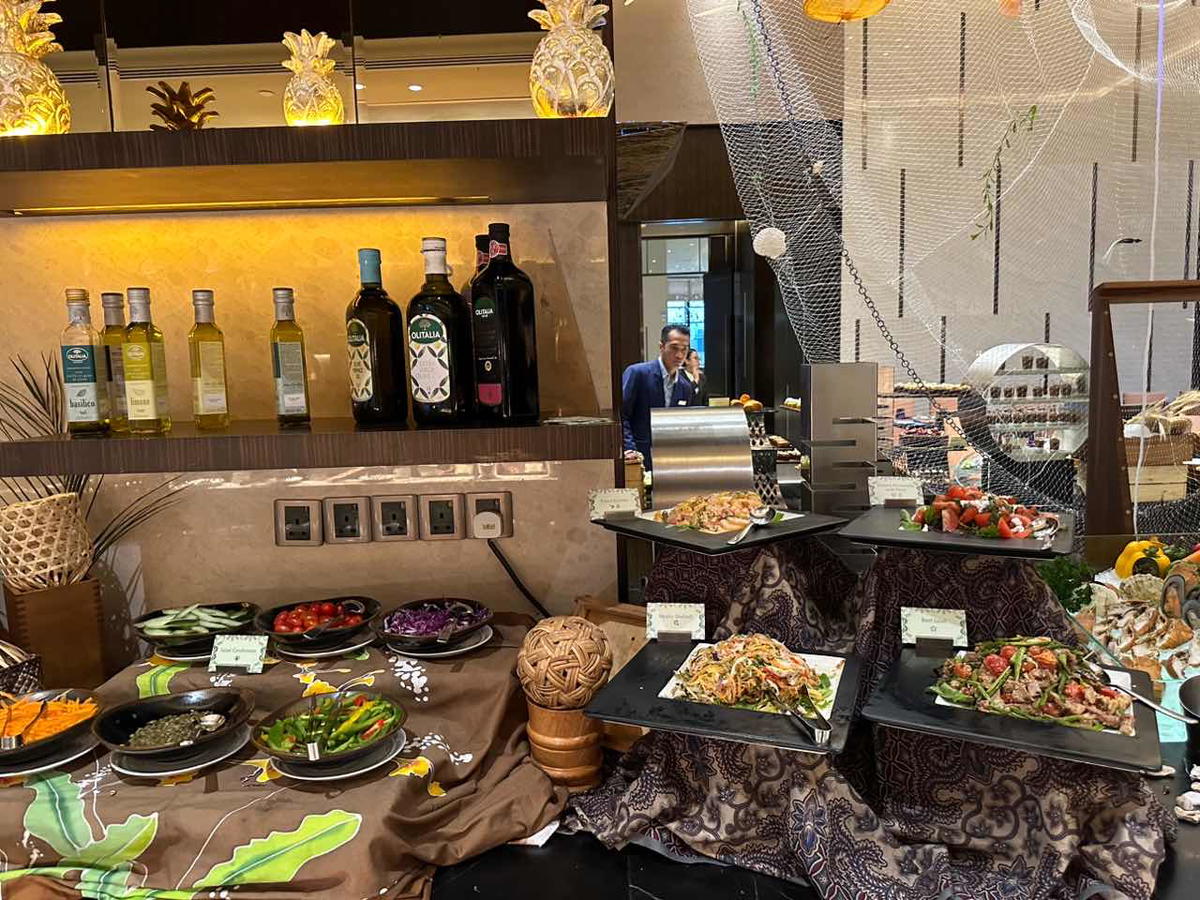 Veggie lovers, you will not be disappointed. Salad condiments, kerabu seafood, and prawn cocktail. This was totally new for me to try.
Trust me, you can never figure out the taste of prawn cocktail unless you try it. Being a fussy person, I was not convinced that the kerabu would taste good. Well, it didn't.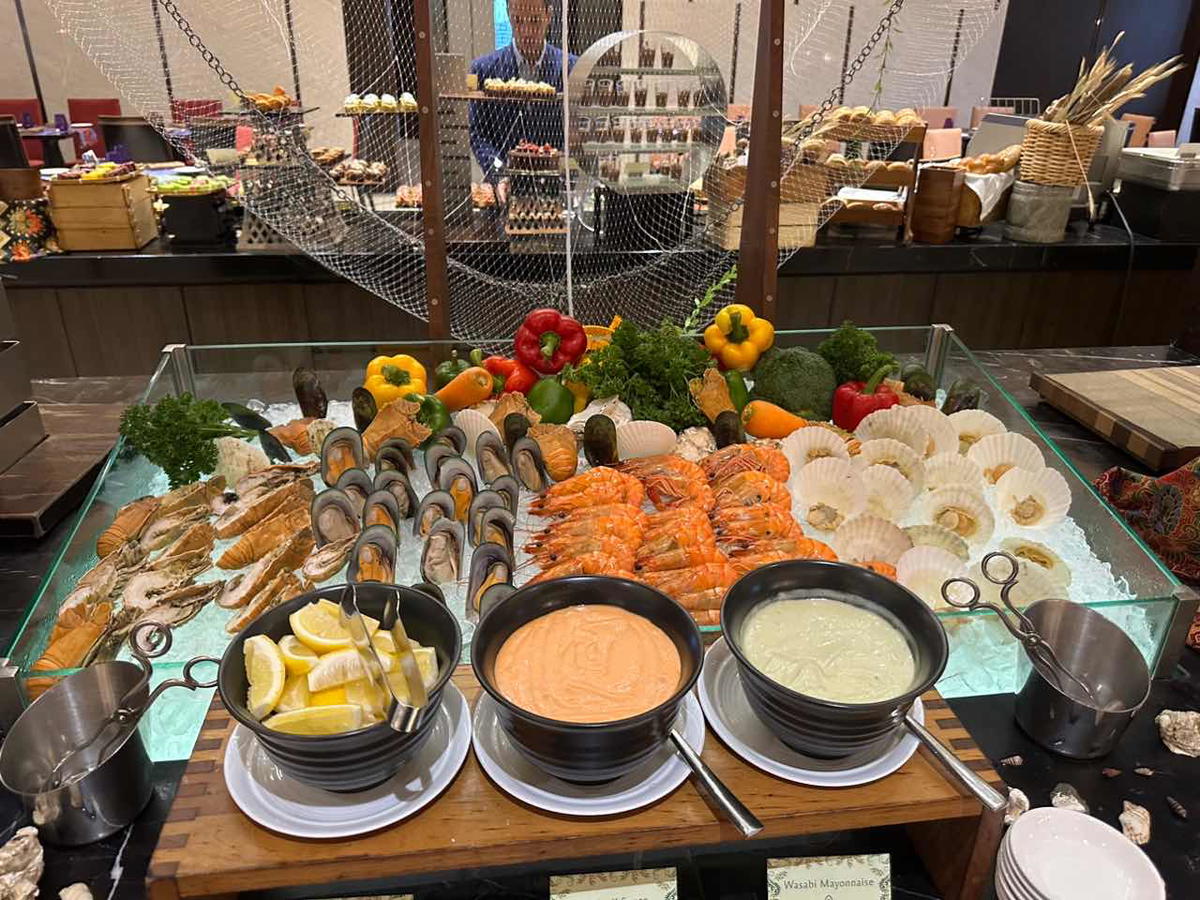 What's an "Oceanic Delights" buffet without seafood, right?
The setup was truly impressive, with everything a seafood enthusiast could dream of, from oysters to tender scallops. It was literally a seafood lover's paradise.
For hardcore Malaysians who crave a hearty meal with the basic curry and rice, The Courtyard also offers traditional favourites like asam pedas, fish teriyaki, curry dishes, and well-spiced vegetables.
It's a perfect blend of flavours for those who appreciate the richness of Malaysian cuisine.
I was stunned of how much they care about the satisfaction of their customers.
The way they greet you, and also how they always clear out the dishes on the table right after eating, without you even having to ask. It's a 5 star for a reason.
This experience that cost me RM178 doesn't even seem like a bait, the amount of food I had probably would cost more if I had it in a normal restaurant or even in a regular chinese shop.
People often label 5 star buffets as not affordable and costly, yet are willing to pay RM100 for basic meal.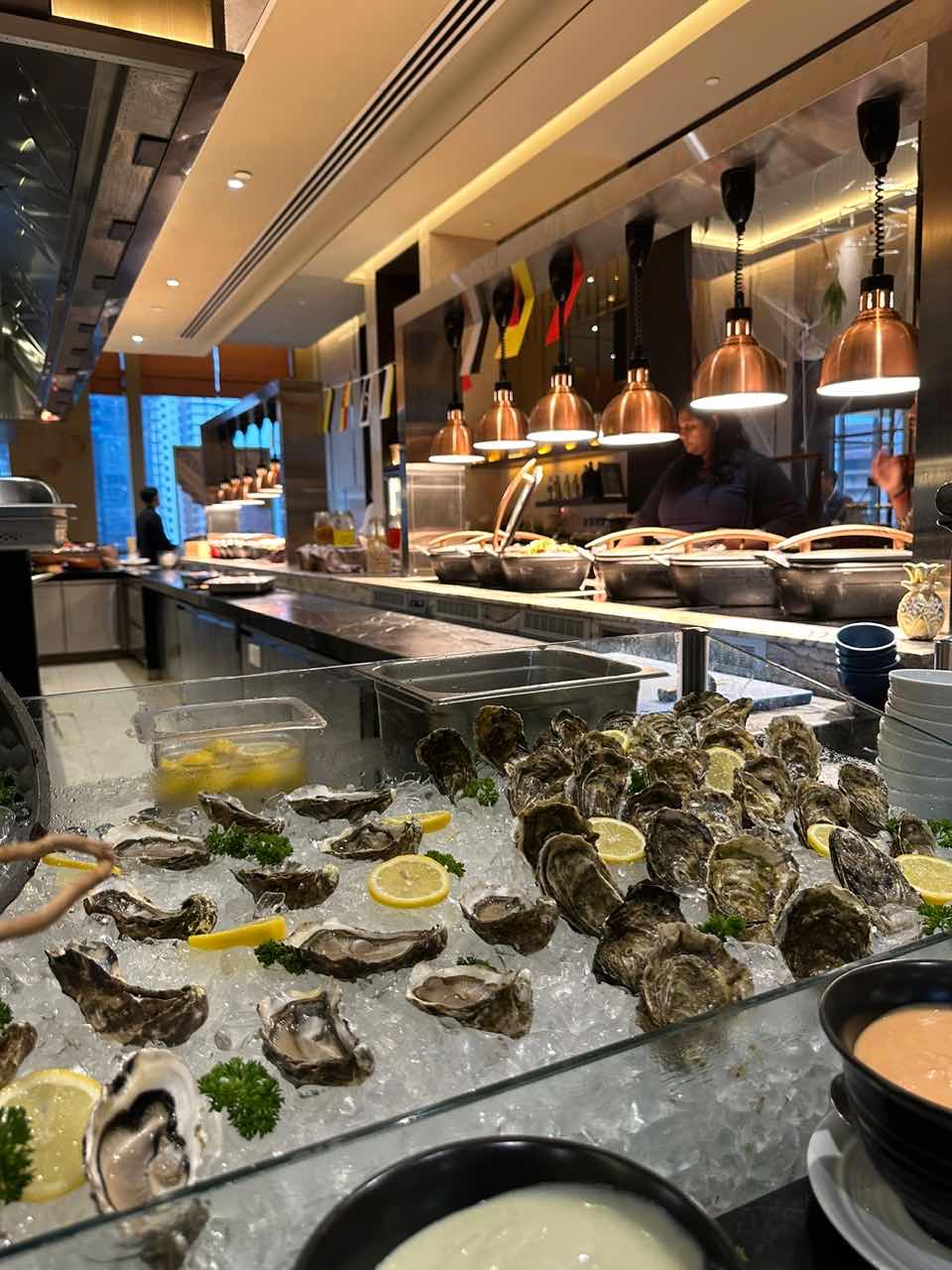 Did I mention how incredibly delicious the raw oysters were?
Oysters are renowned for being one of the pricier seafood delicacies, but at The Courtyard, I had about 10 to 12 of these raw oysters, along with 5 scallops and some truly gigantic prawns.
When I shared the cost of my meal at The Courtyard with those around me, no one believed me; they assumed I was exaggerating.
Many guessed it was within the range of RM300 to RM500 per person. However, as they say, you'll never truly know until you do your own research!
The Courtyard also had a sector where you can grill your fish, prawn and more. You can watch the chef grill it right infront of you, if you are an outdoorsy person.
There was a sector where you can snatch real prawns and I had the chance to catch live prawns from the aquarium to grill , how cruel of me !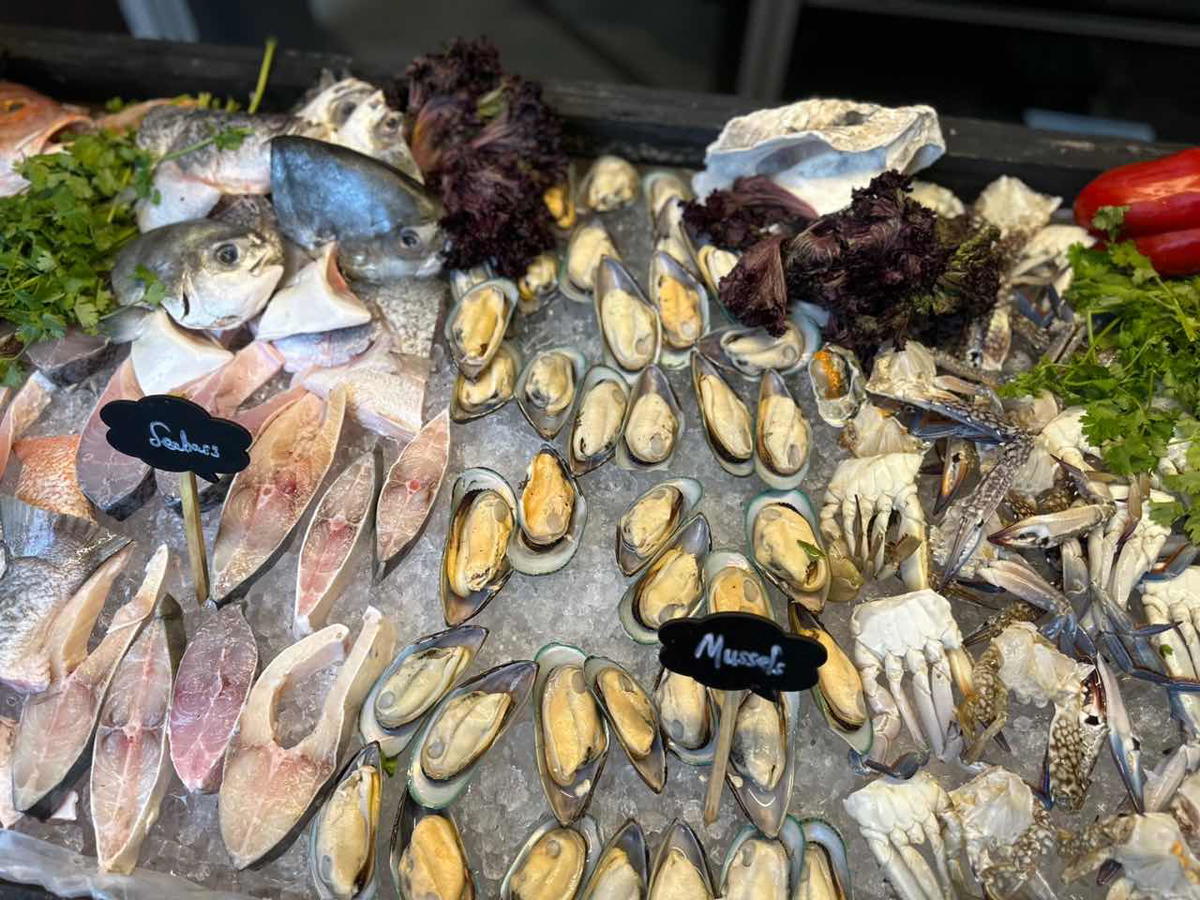 Apart from this they had multiple other fishes and seafood for you to taste, the fish was so tender after being grilled and I absolutely loved it.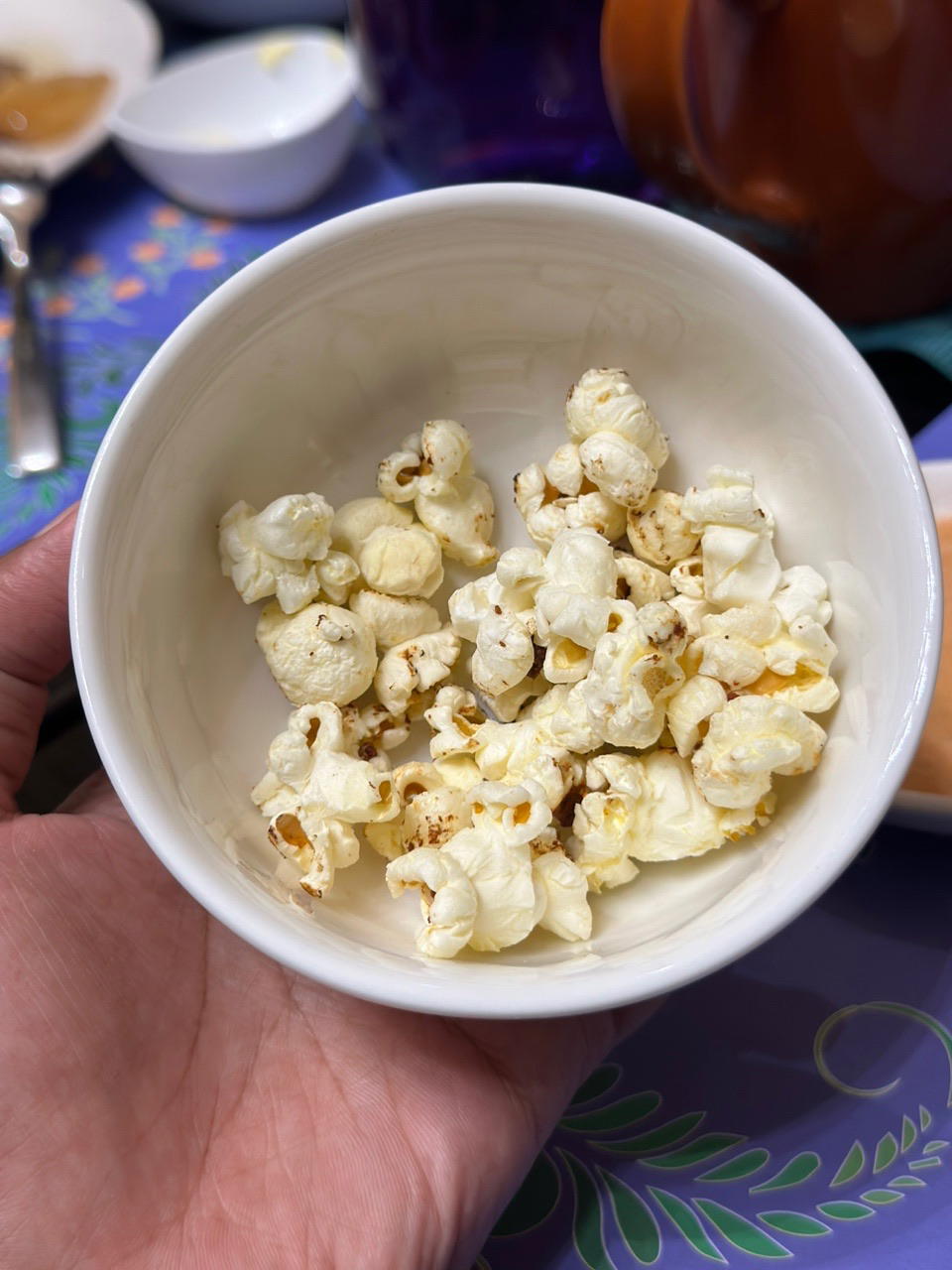 I can go on and on about the amount of things that surprised me there. The drinks, the popcorn and also how hygienic everything was.
The popcorn at The Courtyard was far from your basic theater-style snack.
It was sprinkled with fish powder, creating a unique and unexpected flavor profile that surprisingly didn't taste strange at all. While I'm not personally a fan, many others absolutely loved it!
Here's a personal encounter that I had with one of the workers there. My mother who I brought along did not like the oyster, which was the second batch of the oysters laid out.
After reporting it to the manager, they did not get offended yet actually tried and accepted that it was indeed their fault as it was a little too salty than usual.
This definitely made a good impression to me and here I am writing about it to make sure you are not worried to try out their food.
Let's end with a drink to quench your thirst !
I wasn't ready to end my perfect dinner night, so I continued my venture to Banyan Tree KL's renowned bar, Vertigo.
And for my Muslim friends, you can also enjoy drinks at The Courtyard itself!
My intention that night wasn't to end up completely blacked out, but rather to savor a sip or two, to calm myself.
The view and the refreshing breeze at Vertigo KL were simply perfection.
It was a 360 degree view from the above, located at the 59th floor, what else can be a better place to heal if it's not there.
The drink cost me around RM 50-60 and my family paid for their own. For people who do not prefer alcohol, have various mocktail options to choose from.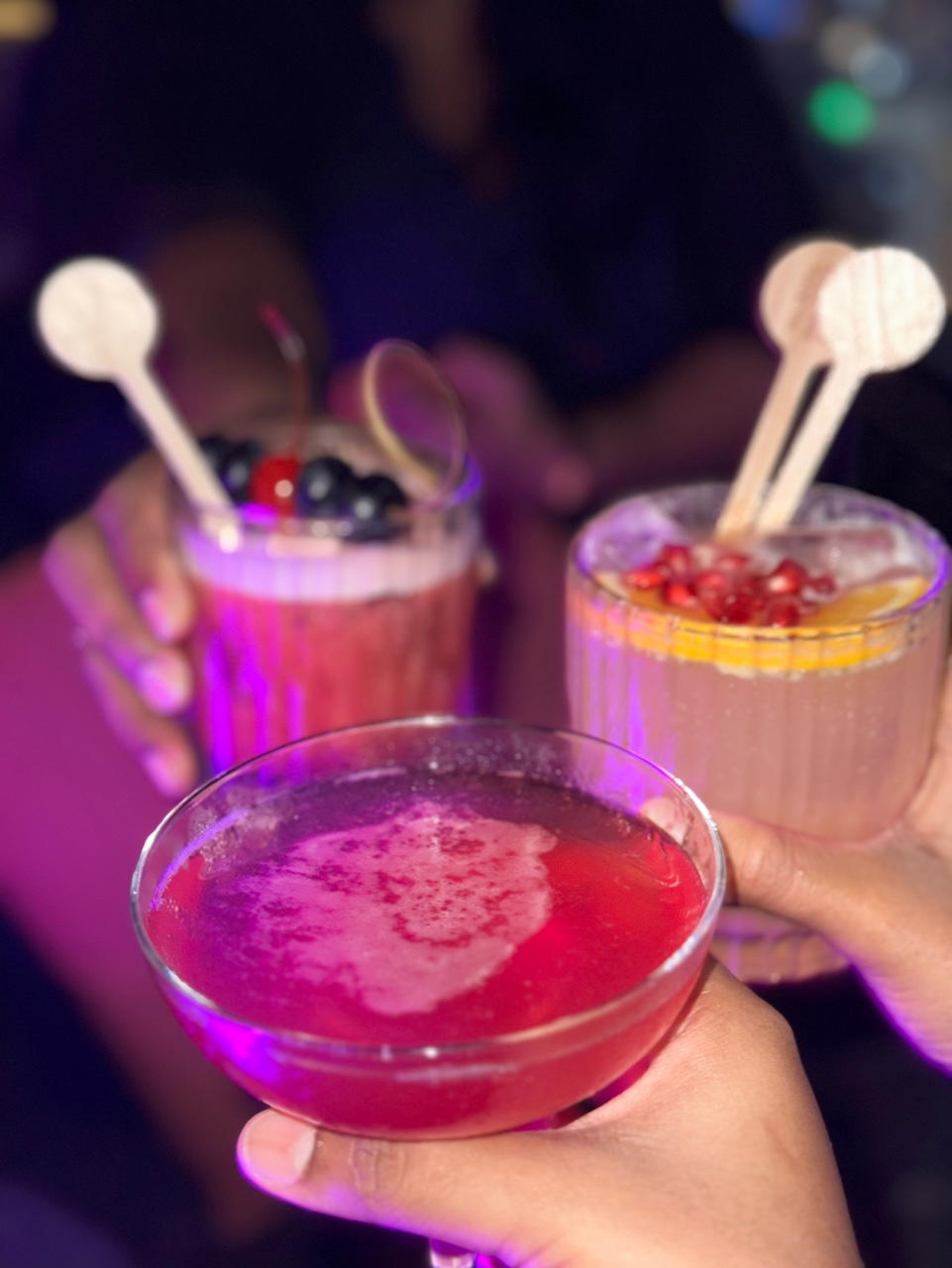 Even if you have a low tolerance for alcohol, one cocktail at Vertigo KL is typically not enough to make you feel tipsy.
Here's a pro tip for newcomers: avoid purchasing soft drinks there, as they can be quite expensive and often not worth the cost.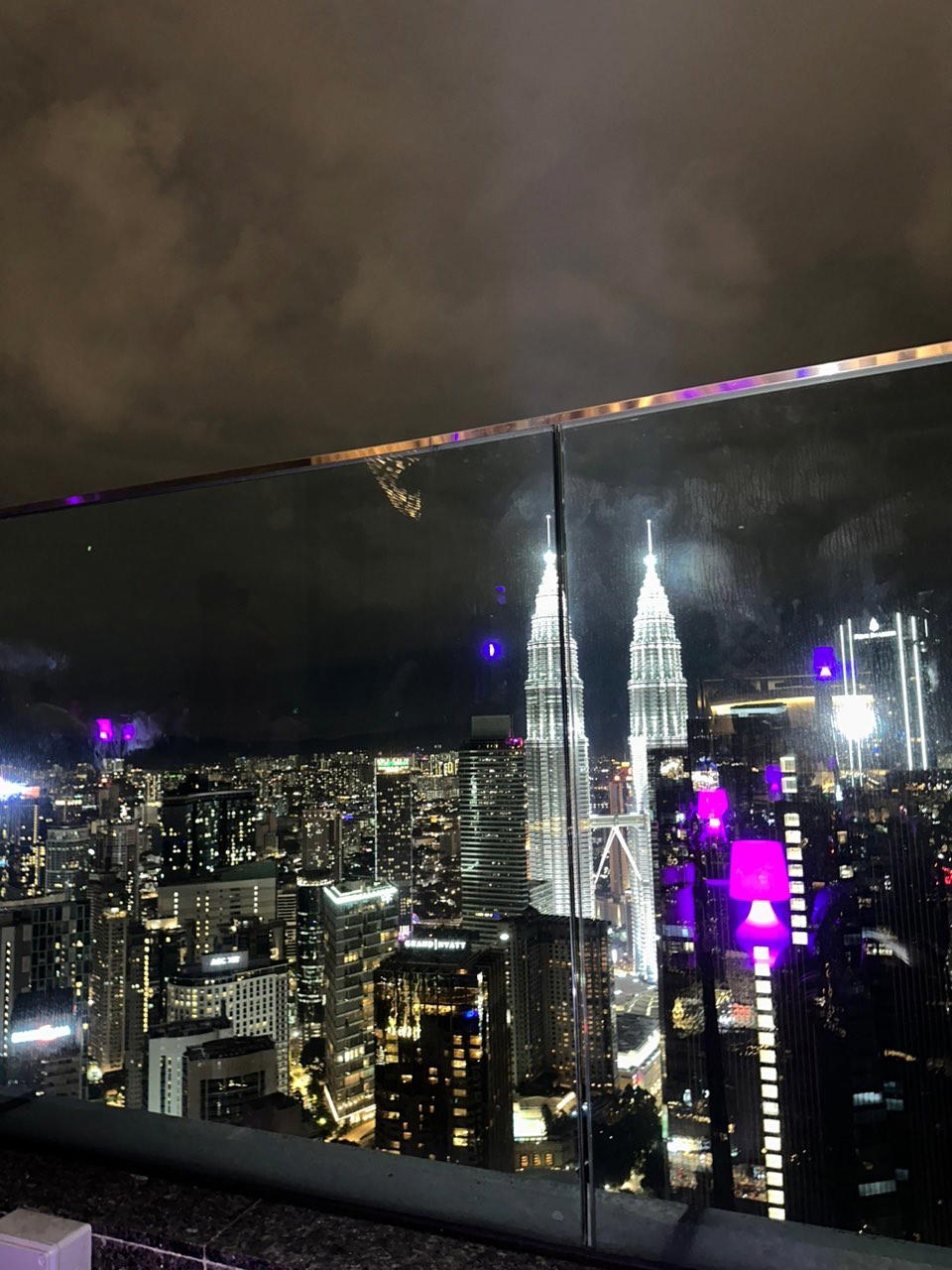 I was on a budget to enjoy the night, yet did not believe that I actually made it work. If you really need an escape from reality I would suggest you to cash out some money, wear some fancy clothes, head to Vertigo right now itself.
READ MORE:
---
---
---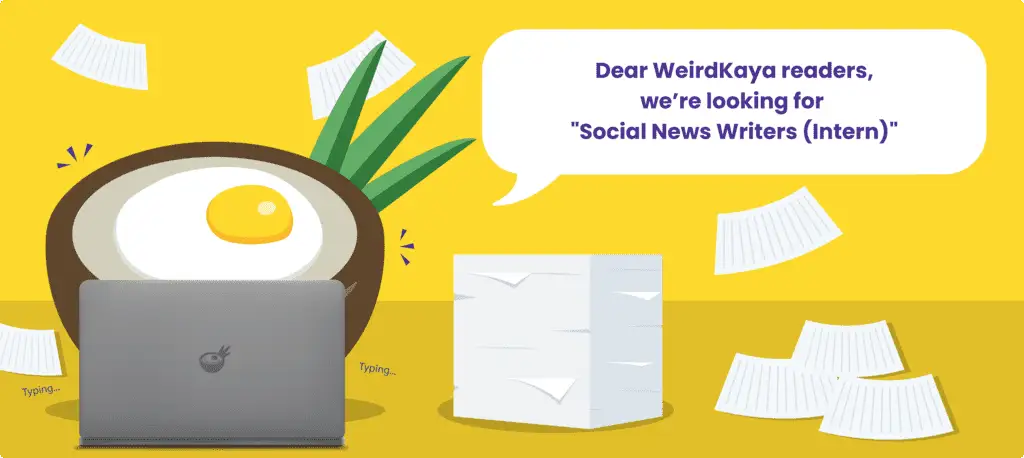 ---