With BLACKPINK coming back to Malaysia for the second time for their Born Pink Tour in 2023, many fans are already looking to secure tickets for themselves.
One fan tried to borrow money for a ticket for the concert from his mother but was rebuffed in a hilarious manner in return.
'I'll wear pink for you!'
According to a tweet by @iqmalxxx, he asked his mother on WhatsApp whether he could go to the BLACKPINK concert in hopes that he could borrow some money to buy the ticket.
In response, his mother told him not to go, saying that it was a waste of time.
Not willing to give up just yet, @iqmalxxx tried his luck again by telling his mother that he was a BLACKPINK fan, prompting this funny reply:
I'll wear pink for you to see when you come home!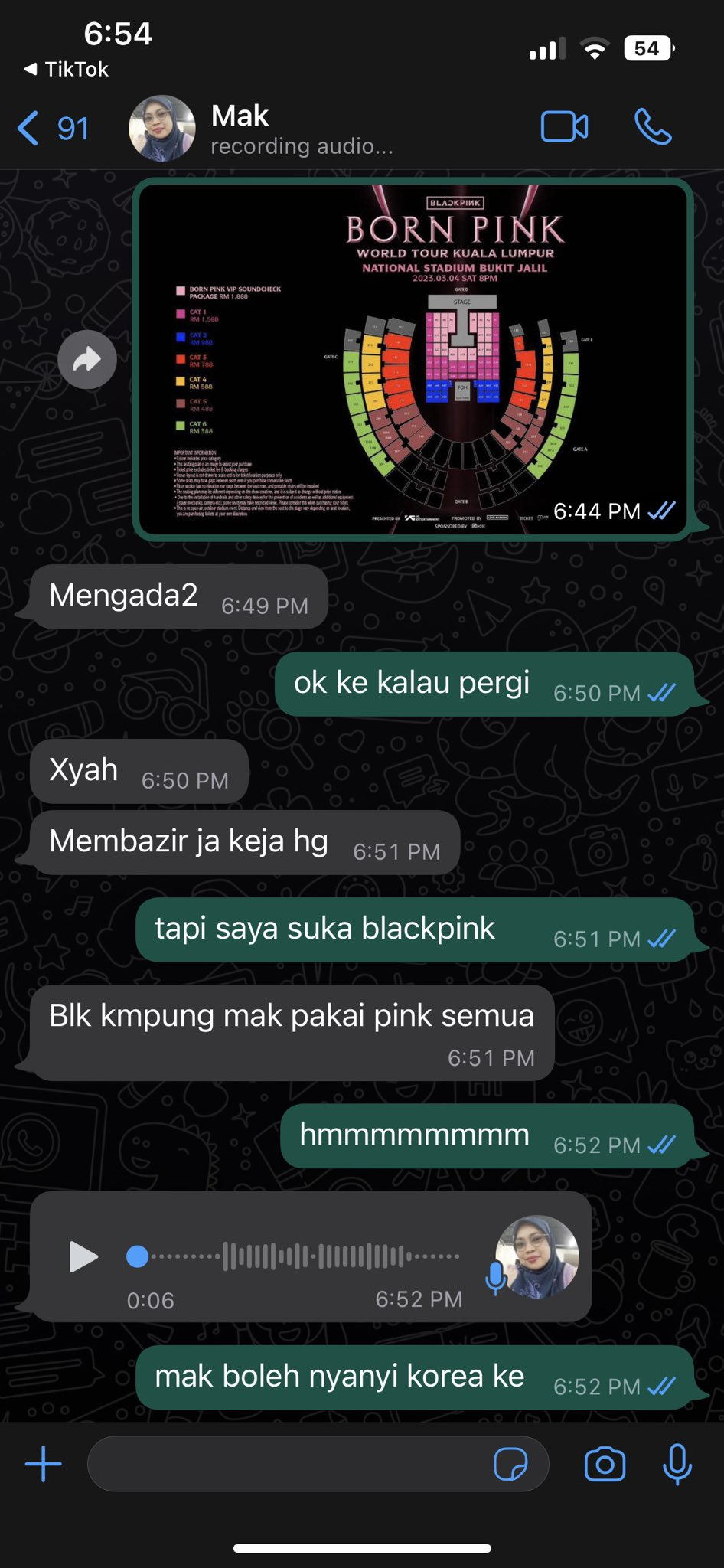 Knowing that he had failed in asking for money, @iqmalxxx asked whether she knew how to sing in Korean, which was unsurprisingly met with silence.
He also surmised the entire incident in the caption: "Cubaan loan fail." (Attempt for a loan failed)
In the comment section, @iqmalxxx cheekily wrote that he was looking for a kind soul who was willing to sponsor a ticket for him.
Read the tweet here:
cubaan loan fail 😞 pic.twitter.com/gzN2myOpHc

— 🚩 (@iqmalxxx) November 12, 2022
Netizens amused by reply
The tweet has since garnered 18.7K likes and more than 7K likes at the time of writing, where netizens were tickled by the answer given by @iqmalxxx's mother.

Some jokingly asked @iqmalxxx when his mother was going to hold a concert of her own so that they can attend, with one helpfully writing, "Ask her to sing Pink Venom as encore."


What other funny responses did you get from your parents when you ask permission to attend concerts? Let us know in the comments!
On a side note, BLACKPINK's 2023 concert is set to be most expensive yet: