Just two days ago, Malaysia recorded a new high in the daily death toll. In this uphill battle, the country mourns over the loss of their loved ones.
Working under a funeral management team, Ajak has arranged countless burials. However, nothing prepared him for the burial of his own mother. In a heart-breaking tweet, Ajak expressed how it 'felt wrong'.
"Today, I buried my mother. Yes, my own mother." Ajak wrote in his tweet.
His mother was tested positive before passing away on 8 August at 11.30 pm.
Ajak escorted his mother on her final journey to the cemetery. He grieved by her grave before leaving.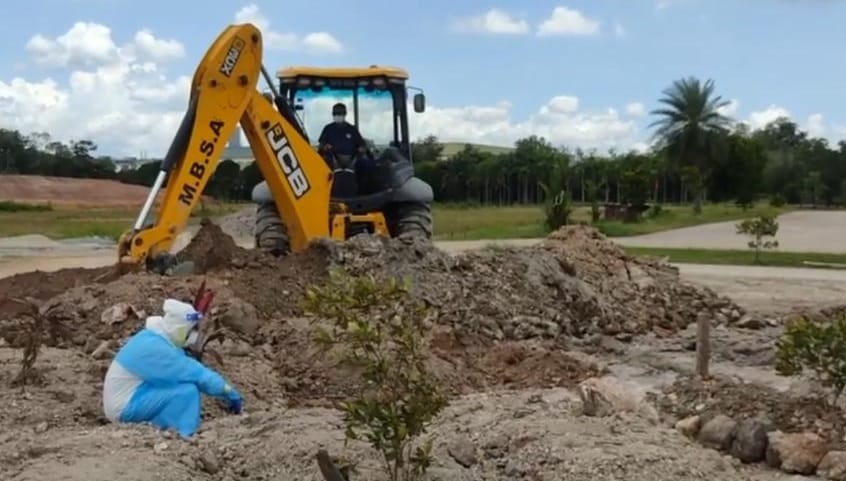 Ajak's tweet received the attention of many netizens, garnering 61 thousand retweets. Many of which expressed their condolences to him and his family.
Read the full post here:
Selaku petugas Pengurusan Jenazah Covid-19 selalunya aku menguruskan jenazah orang lain. Hari ini serba tak kena buat aku. Aku menguruskan jenazah mak aku. Ya, mak aku sendiri. pic.twitter.com/35s7ofe12y

— ARN ???????????? (@IamAjak) August 9, 2021
The team at WeirdKaya will also like to extend our condolences to Ajak and his family.
Read more related articles here:
Cover Images via WeirdKaya Twitter/@IamAjak
Author: Raymond Chen
Proofreader: Grace Choong