SINGAPORE – Singaporean influencer Xiaxue unintentionally crossed paths with the "Badge Lady" during a video shoot at Orchard Road on Sunday (Mar 6).
Phoon Chiu Yoke, also known as the "Badge Lady", went viral for all the wrong reasons last year when she was recorded arguing with a store employee over mask wearing and demanded that she show her official badge.
If you have forgotten what went down, here's a video and an article for you to reminisce on:
Following the altercation, Phoon was sentenced to jail for 16 weeks for failing to adhere to Covid-19 protocols last September.
Anyone missed her?
Now that she has been released from jail, it seems that she is still out and about maskless and doesn't seem to be bothered at all.
---

---
Xiaxue, who was conducting street interviews near a mall at Orchard Road immediately recognised Phoon who was walking past her and wearing a pair of sunglasses.
In a YouTube video posted by The Straits Times, Xiaxue said that when she went up to Phoon to confirm if she was the "Badge Lady", all she got was a fierce glare.
She glared at me in silence and walked off. She [is] really next level, really not wearing mask.
Even after being identified as the "Badge Lady", Phoon was sighted again by Xiaxue half an hour later while maskless – an action which came off as deliberate to the influencer.
"I think she's quite defiant, and seemed to be smirking", she said.
Several netizens also seemed to agree with this notion, saying that Phoon was probably looking for attention.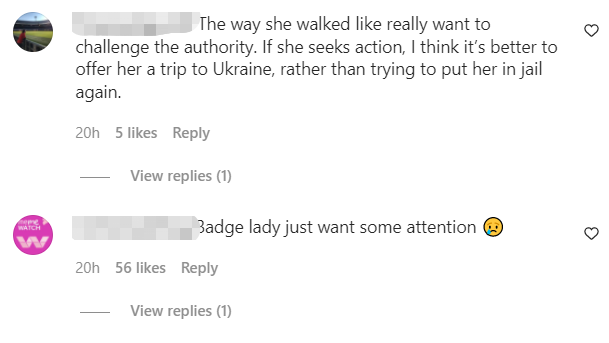 STB looking into the matter
Singapore Tourism Board's (STB) Safe Management Measures Operations director Serene Tan told The Straits Times that investigations are currently ongoing into the alleged incident.
Members of the public are required to strictly comply with all prevailing safe management measures.
She also warned that STB takes such matters seriously and that they "will not hesitate to take enforcement action for non-compliance".
Cover image via Today Online and The Straits Times YouTube.