We all have certain gifts that we want for our birthday and if it ever comes true, it would be the happiest day of our lives.
A young woman was recently given the best birthday gift ever in the form of a pink, blingy Porsche from her boyfriend as a surprise.
RM710,000 Porsche as birthday surprise
Last Saturday (Dec 3), Bigo streamer and Instagram influencer, Jun Jun was left agape after she received a pink bejewelled Porsche 718 Spyder from her boyfriend while she was out with her friends in KL.
She initially thought that the car was meant for someone else but quickly realised otherwise when she saw her Instagram handle plastered on the side of the truck's transparent shipping container.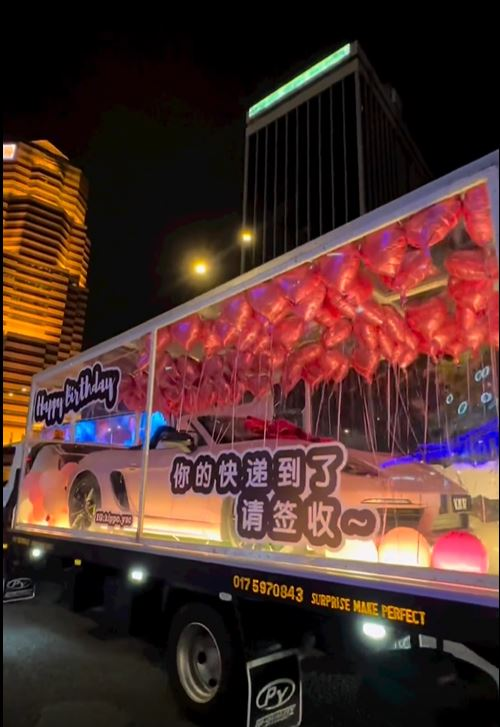 It is believed that the luxury car has an estimated retail value of RM710,000, not including the custom wrap.
Joked about having a 'bling bling supercar'
Jun Jun told WauPost that she had jokingly told her boyfriend about how nice it would be to have a glittering car wrapping and placed on his car.
However, she never imagined that he would eventually bring that joke to reality by gifting her a Porsche with the exact wrapping.
Jun Jun added that her boyfriend purposely waited for her to be out of town before purchasing the car as a birthday surprise.
Who [would've thought that] the whole joke [would become] a reality. It really caught me by surprise that the car [was] a gift to me," she said.
The influencer is no stranger to receiving luxurious gifts, as shown when she got a huge bouquet made entirely of RM100 notes back in February.
Just last month, a couple decided to gift their daughter a Porsche Cayman worth RM555,000 for her 21st birthday: