A 12-day concert by Canto-pop boy band Mirror was cut short after a giant LED screen fell off the ceiling and crashed last night, leaving two dancers injured.
Terrifying footage of the incident has also gone viral online, leaving netizens in shock.
According to Variety, the injured dancers were part of the performing troupe for Mirror, a 12-piece boy band who are currently holding a concert series named "MIRROR.WEARE" at the Coliseum, one of Hong Kong's most prominent performance locations for some of its biggest stars.
This was also the band's debut appearance at the Coliseum.
Details of incident
The dancers were performing their routine onstage when the LED screen suddenly fell off and hit two dancers who were directly underneath it, knocking them to the ground.
They were then sent to the hospital and it was later reported that one suffered a head injury but was in a stable condition while the other had a neck injury and is currently in a critical condition.
Following the accident, the concert was immediately cancelled and stunned viewers were told to leave the premises immediately. They were also told to hold on to their tickets until further notice.
Several people who attended the concert or saw the footage online told Variety that they were shellshocked by it.
I have never felt this terrible going to a concert. Walking out of the Coliseum felt like walking out of a funeral home. It was somber, no one was talking.
"Some other girls among the audience were crying. Another friend, who's a mother, questioned why such a horrible, unacceptable incident could happen in Hong Kong, at the Coliseum," said one.
Watch the video here: (Viewer discretion is advised)
Investigations to be launched
SCMP reported that an investigation has since been launched upon Chief Executive John Lee Ka-chiu's orders.
In a statement released this morning, he expressed shock over the incident and said that the Culture, Sports and Tourism Bureau, the Leisure and Cultural Services Department and related authorities will conduct a thorough investigation.
"I express sympathy to those who were injured and hope that they will recover soon," he said.
Meanwhile, MakerVille, the entertainment business arm of PCCW, and the concert's organisers Music Nation issued a public apology and assured that they would do everything they could to support the injured dancers.
MakerVille also confirmed that Mirror's remaining concerts will be cancelled and that refunds will be carried out soon.
Fans later took to Change.org and launched a petition demanding that the concert's organisers remove unsafe mechanical stage designs and provide a safe environment for performers.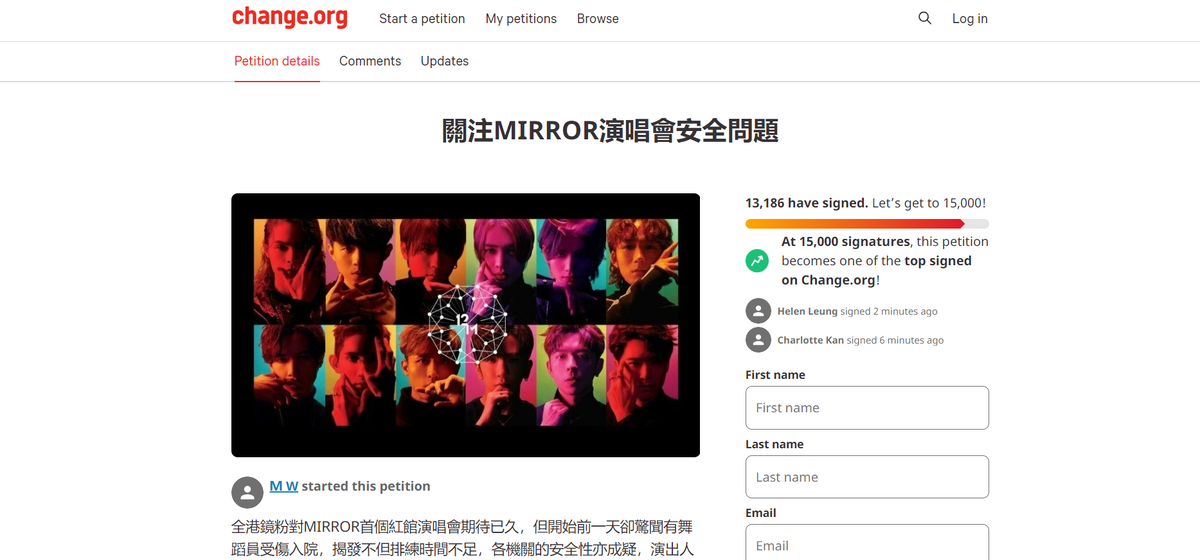 The petition has garnered more than 13,000 signatures at the time of writing.
Read also:
---

---
Cover image via SCMP