Commuters can now enjoy free rides on the newly launched Putrajaya MRT until March 31, reported FMT.
Prime Minister Anwar Ibrahim announced that this offer was in conjunction with the Putrajaya MRT line's official launch today and it's expected to be fully operational at 3pm.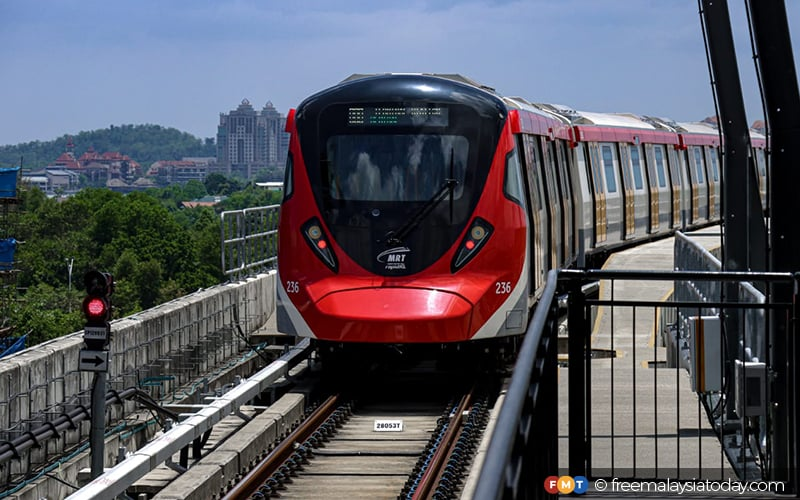 What to know about the Putrajaya MRT line
The Putrajaya MRT line is the country's second MRT line and is capable of ferrying 104,000 passengers a day and covers a total of 36 stations from Kwasa Damansara to Putrajaya Sentral.
It also has 10 interchanges and connecting stations, which includes Titiwangsa, Ampang Park, Chan Sow Lin and Sungai Besi.
The 49 electric four-car trains, nicknamed 'Ducky', will have a frequency of around four to six minutes, 7-10 minutes during non-peak hours, and 7-15 minutes during weekends and public holidays.
The Putrajaya MRT line will be open from 6am to midnight daily and is expected to help ease congestion on roads and highways leading to the city centre such as the Maju Expressway and Sungai Besi Expressway.
Ride fares
As for its fares, a flat rate of will be imposed if commuters use their Touch 'n Go card for parking and riding the MRT within the same day.
A maximum fee of RM6.10 will be charged if commuters fail to tap their card out by the end of the day.
Non-MRT users will be charged RM3.30 for the first hour and RM1.10 for every subsequent hour, where a maximum of RM16.10 is charged per day.
Commuters can also opt for feeder buses at the Putrajaya MRT line, where it covers more than 350km via 31 routes.
Take note that only cashless payments are accepted and the fares range from RM1 to RM2.40.
Are you excited to take a ride on the Putrajaya MRT? Let us know in the comments!
READ ALSO: