We all love a good food review to make us salivate over delicious food and visit the said restaurant for a meal.
Unfortunately for this food reviewer from JomKita, his actions did the opposite, no thanks to a now-viral video on Twitter.
Food reviewer eats sloppily
In the clip, it showed the food reviewer known as Daddi visiting a Western food restaurant in PJ for a food review along with a few others.
All throughout the clip, they could be seen being served with humongous portions of food which were drowned in sauce.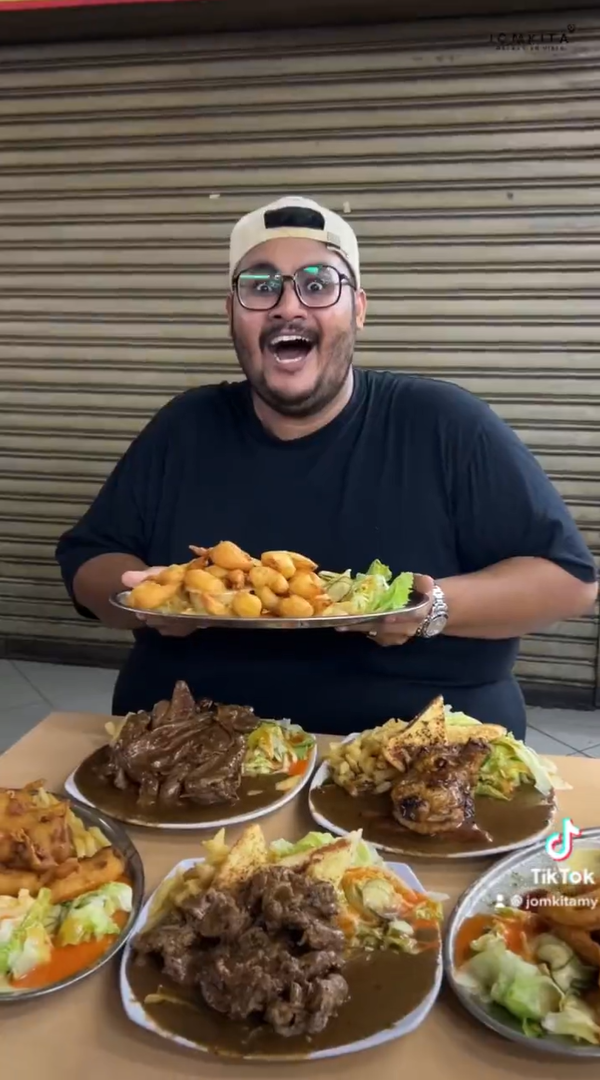 Aside from the portion fit for giants, Daddi was clearly delighted by the food as he eagerly dug his fingers into the food ate heartily, so much so that the sauce went dribbling down his mouth.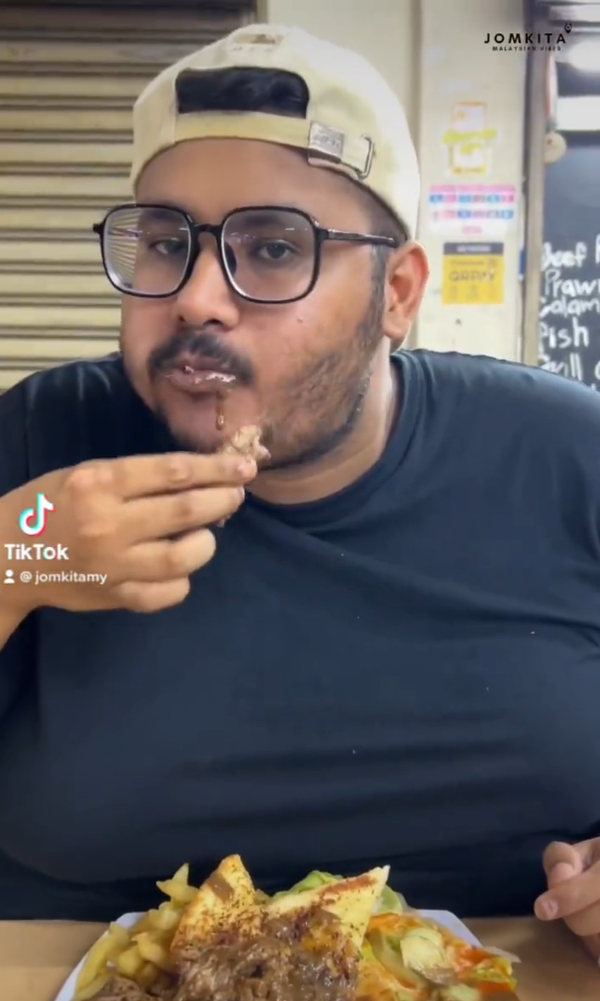 Watch the video here:
Kedai Western Portion Banyak Gila Sumpah Kenyang! #Jomkita

Semua makanan dekat sini portion dia banyak gila wehhh lepastuh kuah black pepper dia kasi banjir wehhh memang sedap sangat sangat recommend 👍👍👍

Lokasi 📍: Garden Western Grill, Petaling Jaya pic.twitter.com/cZmzSYeLAF

— Jomkita 🇲🇾 (@Jomkitamy) December 28, 2022
'Lost my appetite immediately'
Though the video garnered 1.4 million views at the time of writing, it didn't sit well with netizens, who were put off by the messy eating.


Others also commented on Daddi's body weight, saying that his eating habits were super unhealthy and a recipe for disaster.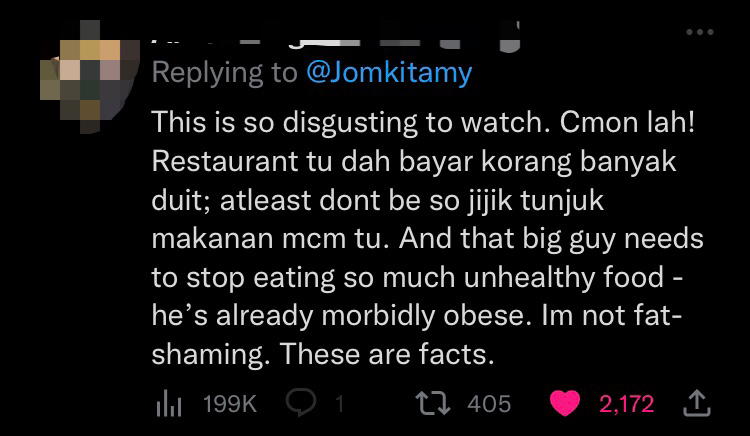 JomKita apologises
Following the online uproar, Daddi, whose real name is Rifdi Amri, apologised for his sloppy eating and promised to do better for future food review videos.
I'll try my best to change how I do my food reviews to ensure there is more etiquette and quality. However, I'm requesting to please stop insulting my physical appearance.
Saya ingin memohon maaf mengenai gaya makan yang agak kurang sopan dan menerima teguran secara terbuka. In shaa allah saya akan cuba ubah gaya review makanan agar lebih sopan & berkualiti selepas ini 🙏

Cuma saya mohon janganlah sampai menghina fizikal saya https://t.co/iJ12qWyuyq

— Daddi 🇲🇾 (@RifdiAmri) January 2, 2023
As for JomKita, they expressed regret over the video and said that they will improve their methods in reviewing restaurants.
3. Mengenai isu makan

Maaf sekiranya cara kami agak over untuk menunjukkan nikmat makan tu. kami akan perbaiki

Ya host kami sihat sikit tapi dia tak habiskan pun makanan tu. sekadar untuk tunjuk dalam video. jangan la assume dia melantak sama seperti media untuk promote F&B

— Jomkita 🇲🇾 (@Jomkitamy) January 3, 2023
Were you disgusted or attracted by the food review video? Let us know in the comments!
READ ALSO: