Shah Alam was taken by surprise today as a torrential downpour, combined with a malfunctioning drainage pump, resulted in flash floods in Section 13.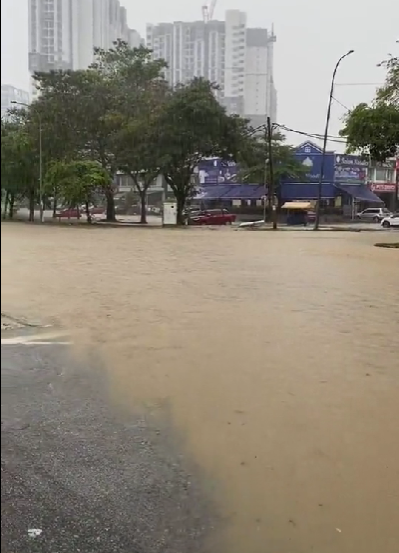 Streets and thoroughfares were submerged, transforming into murky waterways that posed challenges for the local populace.
A 22-second clip circulated on social media showed the severity of the situation, with floodwaters reaching depths of half a foot to nearly a foot in certain areas.
One segment of the video captured a motorcyclist daringly maneuvering through the inundated roads, causing considerable splashes.
August 16, 2023
Six locations in and around Section 13 were affected by flash floods starting from 4 pm. Affected areas included Persiaran Sukan Section 13, the Stadium roundabout route leading to the Accapela building, and the vicinity of Surau Munawwarah Road.
Other affected routes were the traffic light junction at the Sultan Abdul Aziz Shah Golf Club, the old MSU Road, and the Perdana Apartments.
However, as the Shah Alam city council promptly intervened and repaired the malfunctioned pump, residents observed a noticeable receding of the floodwaters.
Zulfikar Jaffar, the Chief of the Selangor Fire and Rescue Operations Center, stated that the flash floods reached a depth of about 0.3 meters.
However, no evacuations were carried out during the flood.
"The flash floods were a result of heavy rain coupled with the malfunctioning pump system. Fortunately, water levels began to recede after the Shah Alam City Council repaired the pump," he said in a statement today.
He further emphasized that despite the initial concerns, the flood situation was currently under control.
---
---