A female hawker became an online hero after she risked her life to save a fellow hawker from being hacked to pieces by two men armed with parangs.
2 men storm hawker stall with parangs
In a video uploaded to the Facebook page FTopNews today, it first showed two young men turning up at the hawker stall with parangs, causing the patrons to flee in terror.
The men then turned their attention towards their target, a male hawker who was dressed in a light blue t-shirt and red apron.
After chasing after him for a few seconds, the men began slashing wildly at him. Although the male hawker tried to defend himself, he lost his balance and fell onto the ground.
Female hawker intervenes
Fearing for her fellow hawker's life, the female hawker bravely charged towards the men with a plastic chair in hand and tried her best to fend them off.
She was also seen holding onto their arms and even tried pleading with them to let the male hawker go.
According to the video caption and timestamp, the altercation is believed to have occurred at Taman Segar Perdana, Cheras on Tuesday (Jan 17).
Watch the video here: (Warning: Viewer discretion is advised)
Netizens praise her bravery
The clip has since garnered 2,000 reactions and 126,000 views, with many commending the female hawker for her courage.
"Wow! The lady was really brave. All the guys were super useless."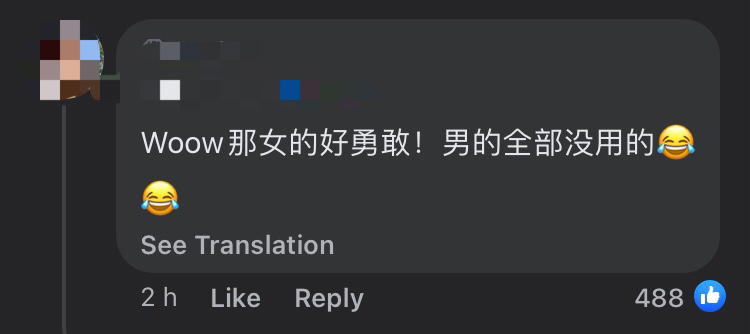 "She's super steady."

"I see a bunch of dudes but only one pair of balls. It's on the lady."

Suspects arrested
Sin Chew Daily later reported that the two men were arrested by police and will be remanded for five days until Jan 22.
As for the male hawker, his left index finger was cut off and suffered a slash wound to his right knee, requiring him to have 7-8 stitches.
Huge applause to this woman who had the guts to face the attackers head on!
READ ALSO:
---
---