Segambut MP Hannah Yeoh has recently aroused the wrath of both politicians and netizens alike after she compared a Kedah ADUN's face to that of Datin Seri Rosmah Mansor.
Said ADUN's face looked like Rosmah
In a tweet made by Yeoh on Thursday (Oct 13), she shared Malaysia Gazette's coverage of Sungai Tiang ADUN Datuk Suraya Yaacob's resignation from her position.
She then wrote that she thought it was Rosmah's face that appeared on the front page and wondered what she was doing in Kedah.
A quick glance, I thought that was Rosmah and wondering what she was doing in Kedah https://t.co/P2p07kJEA8

— Hannah Yeoh (@hannahyeoh) October 13, 2022
Triggers wave of criticism
Not long after, Yeoh found herself in the centre of brickbats from netizens, who accused her of face shaming Rosmah.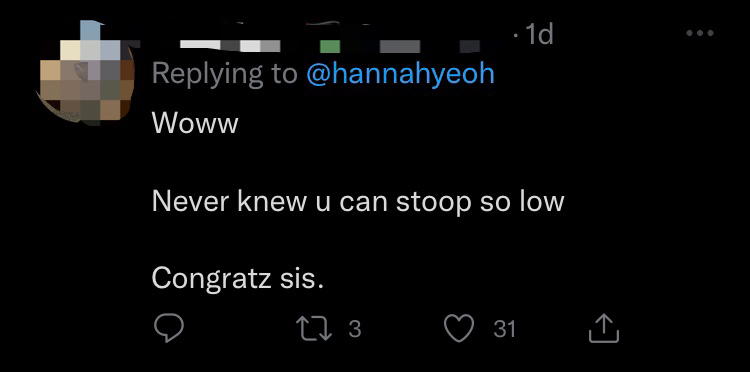 They were soon joined in by Puteri UMNO wing chief Zahida Zarik Khan, who called Yeoh "rude" and her tweet "disgusting".
BiaDAP!

'FaceShamming' daripada seorang berpangkat YB, juga bekas Timbalan Menteri Kerajaan PH.

Biarlah berbeza idologi politik, namun tindakan mengaibkan lebih lebih lagi sesama wanita adalah satu tindakan yang amat menjijikkan. pic.twitter.com/Xj4KxqTJDQ

— Zahida Zarik Khan (@ZahidaZK) October 14, 2022
Yeoh: 'How is this face shaming?'
In response to Zahida's tweet, Yeoh posted another tweet of her own on Friday (Oct 14), where she defended herself.
Hello Zahida, I've never 'face shamed' Rosmah. What's the problem if other people were to look like Rosmah, Najib, or Zahida?
However, she also said that she was willing to retract her earlier statement about Suraya having similar looks like Rosmah for the sake of putting an end to the feud.
"Based on the logic of Puteri UMNO and their youths, I'm rude if I say other women look like Rosmah. I'll retract my tweet as I don't want to prolong the issue anymore," she wrote.
Ikut logik Puteri UMNO dan pemuda mereka, saya biadab kalau saya katakan wanita lain kelihatan seiras dengan Rosmah. Baiklah, saya tarik balik tweet sekali pandang wajah Suraya seiras dengan Rosmah. Saya tidak mahu panjangkan isu ini. pic.twitter.com/6BDd2U2QfH

— Hannah Yeoh (@hannahyeoh) October 14, 2022
As for those who were on Yeoh's side, they said that she never once stated publicly that Rosmah was ugly but was merely making an observation.
They also pointed out that those who accused Yeoh of face shaming Rosmah were indirectly implying that Rosmah's physical looks are unpleasant to look at.

Do you think Hannah Yeoh face shamed Rosmah with her statement? Let us know in the comments!
READ ALSO:
---
---