KLANG – On Monday, an ex-convict who had just been released from prison a week before set fire to his family house in Jalan Iskandar, Kampung Bukit Kapar.
He did this due to anger about not getting money from his mother.
The incident is said to have happened at about 3.30 pm after the 30-year-old suspect's request was denied by his mother.
North Klang District Police Chief, Assistant Commissioner S. Vijaya Rao said they received a report at about 3.30 pm regarding a house fire from a 37-year-old female clerk who is a nephew of the suspect.
The chief reported that the victim was at work, and had rushed home to found that the fire brigade was trying to put out the fire. No casualties were reported.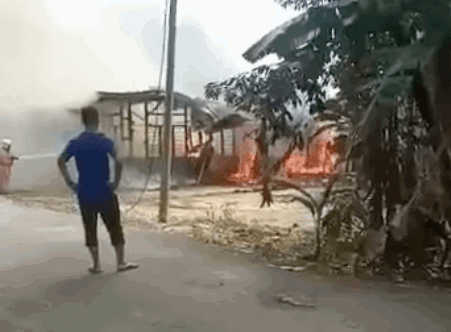 The investigation revealed that the property was a semi-detached village house with the victim living together next to the suspect's home.
"Before the incident, the suspect is said to have met his mother not far from the scene to ask for money but has failed.
"The suspect had threatened his mother that he would burn down the house if his mother did not give him money before leaving.
"During the fire, the house was unoccupied because they went out to work," he said in a statement today.
Explained Vijaya Rao on behalf of his party; they later arrested the ex-convict at about 6 pm near the scene of the fire.
The review of the suspect's profile found that he had only just been released from jail, previously found guilty of drug offences and is now unemployed.
"Investigations are still underway regarding whether the money requested is for the purchase of drugs.
"The suspect is now remanded for four days, and the case is being investigated according to Section 435 of the Penal Code," he said.
You can watch the video here:
Read also:
---

---
Cover Images via Kosmo!

Proofreader: Anna Wong