This year's general election was considered to be an unprecedented one as it saw an influx of young and first-time voters casting their ballots, all thanks to the UNDI18 bill which lowered the eligibility age from 21 to 18 years old.
But with GE15 all done and dusted, some have blamed UNDI18 for Perikatan Nasional's (PN), particularly PAS, rise in several states. On the other hand, some said that the lack of education on voting issues was the cause, not the law.
UNDI18 shouldn't have been allowed. These tiktokers are getting all their facts mixed up & everything is now emotionally charged. Their brains aren't even fully developed yet 😭 tetiber nak bising pasal 13 Mei. You wanna be treated like an adult then act like one 😤 #PRU15 #GE15

— RS (@rcs9205) November 21, 2022
Stop blaming #Undi18 for the polling results. They exercised their rights. Blame the party for not communicating and educating it well to them. I believe 18 year olds are adults and they can think for themselves #GE15 #PRU15

— Megat Danial ⚒️ (@megatdanial) November 19, 2022
As the debate rages on over whether UNDI18 had done more harm than good, there's one kind of ballots that Malaysians tend to overlook – postal votes by Malaysians living or studying overseas.
WeirdKaya spoke to a group of Malaysians currently in the UK and Eire on how they came together under the Vote Malaysia (@votemalaysiauke) movement to ensure their votes were counted in for GE15.
Out of sight, but not out of mind
Speaking to WeirdKaya, Twitter user @jrkf_ said the initiative began on Sept 21st, when seven Malaysian student groups got together in anticipation of GE15 with the aim of making postal voting free and accessible for the Malaysian diaspora in the UK.
The effort was spearheaded by @UKEC, a collaboration between 77 Malaysian societies across the UK and Ireland.
These societies came from world-famous institutions such as Oxford University, University of Cambridge, Imperial College London, University of Edinburgh, University of Warwick, University of Glasgow and Cardiff University.
From there, they banded together and began setting up voting booths in these universities for Malaysians to cast their ballots.
"This was purely an initiative by the student for the students. While the UK High Commission of Malaysia and Education Malaysia London gave their support for the initiative, but all of the planning and execution were 100% done by the students," he said.
Legalizing their votes
Over the course of three months, the team spent hours in meetings and developing a detailed plan to launch 58 collection centres on Nov 15 across 51 locations in the UK and Ireland.
They also created a compliance policy with @KPUM79's assistance to ensure that there was transparency throughout the process.
To make sure that their votes would be counted in, they corresponded with the UNDI18 committee in order to stay connected with relevant government organizations and the Election Commission (EC).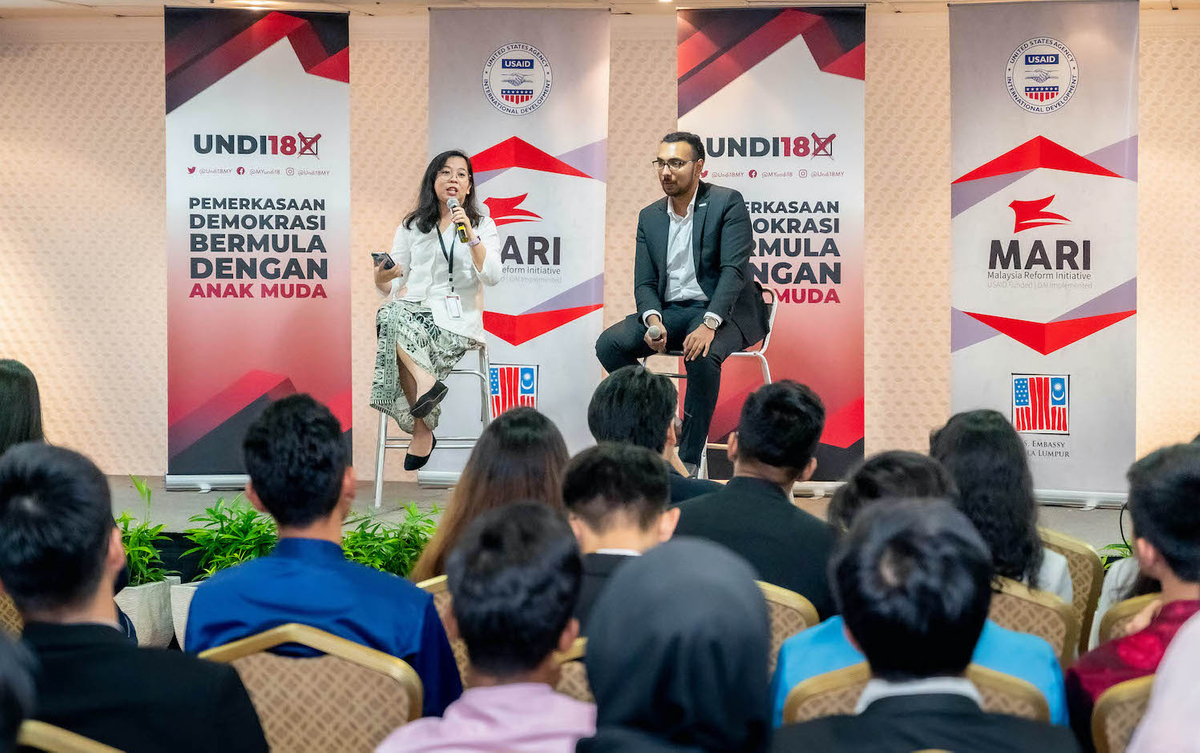 Held workshops
Vote Malaysia's team also organised 15 workshops across 13 regions in the UK and Ireland to educate their fellow countrymen about their political rights in the voting process.
They even came up with their own advocacy and marketing materials which were gleaned from official guidelines made available to the public on websites and the SPR.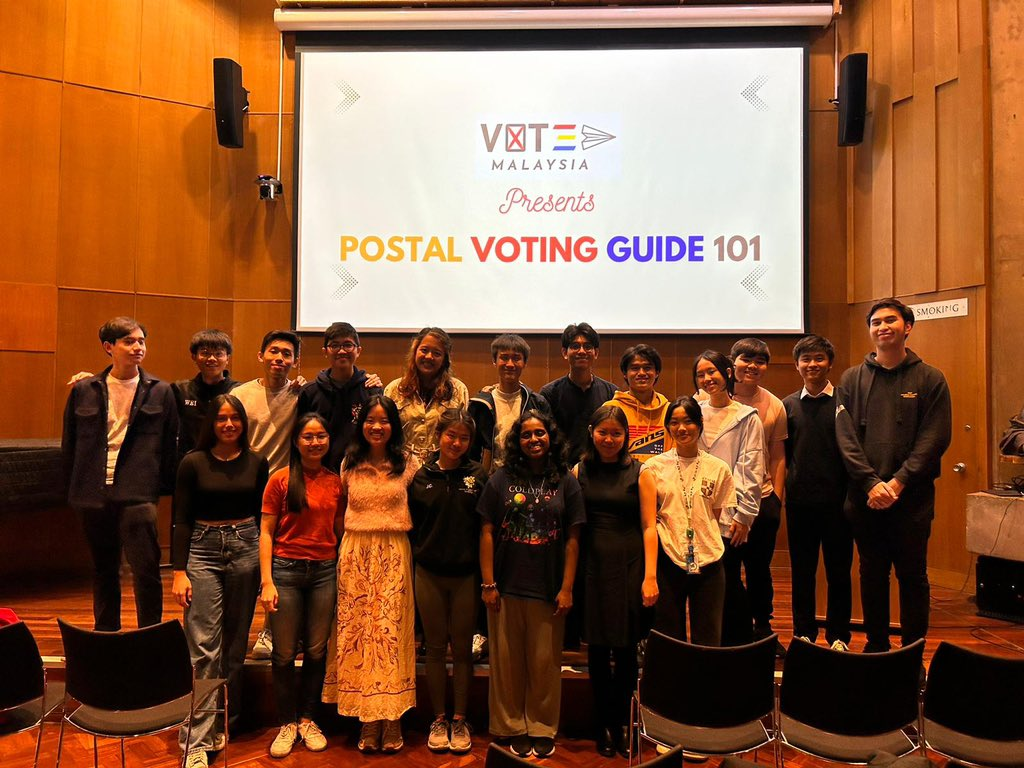 When asked whether there were Malaysians who didn't want to vote, @jrkf_ said that it wasn't the case at all.
"As most Malaysian students here were voting for the first time, they were extremely excited to exercise their democratic rights.
"There were even some who changed their minds after attending our postal voting workshops," he said.
Trials and tribulations
As it is with any feel-good story, there were some challenges that laid ahead for the team.
One of the biggest issues faced by Vote Malaysia's committee's was that many Malaysian students in the UK had not received their ballot paper.
We did a survey and found out that as of Nov 13, 32% of Malaysians had not received their ballot paper.
"So, on that same night, we held an emergency meeting with all participating Malaysian societies for seven hours to convince them to open the collection centres for one more day, as opposed to the initial plan where the final day was on Nov 15.
Thankfully, the team received an overwhelmingly positive response and 36 more collection centres were opened.
At the end, Vote Malaysia collected 6,932 postal votes and took them back to Malaysia via two flights, one by @jrkf_ himself and another by his friend Jonathan.
While @jrkf_ admitted that it was rather tough keeping updated with GE15 results from another country, he said that they were greatly assisted by a think-tank names IDEA Belia who kept them updated constantly.
"Throughout our initiative, we have been fully non-partisan to ensure everyone can make their informed decisions and we are only helping to spread the knowledge and resources available."
'If it's not us, who will?'
Despite the odds that seemed to stacked against the Vote Malaysia team, @jrkf_ said that it hadn't dampened the team's drive to ensure every Malaysian had the chance to vote.
"We realise that postal voting is expensive, where it can cost up to 30£ (RM162) to send back the ballots on our own and might demotivate some who may want to vote.
But if we don't do something, who will?
@jrkf_ added that no matter the distance, Malaysian students will always keep their hopes for the country's future close to their hearts.
"The Malaysian students in the UK understand the importance of voting. Even if we are thousands of miles away, we still have a special heart for where we come from, that is Malaysia."
Special thanks to @jkrf_ and the rest of the @votemalaysiauke team for sharing their story with us!
READ ALSO:
---
---
---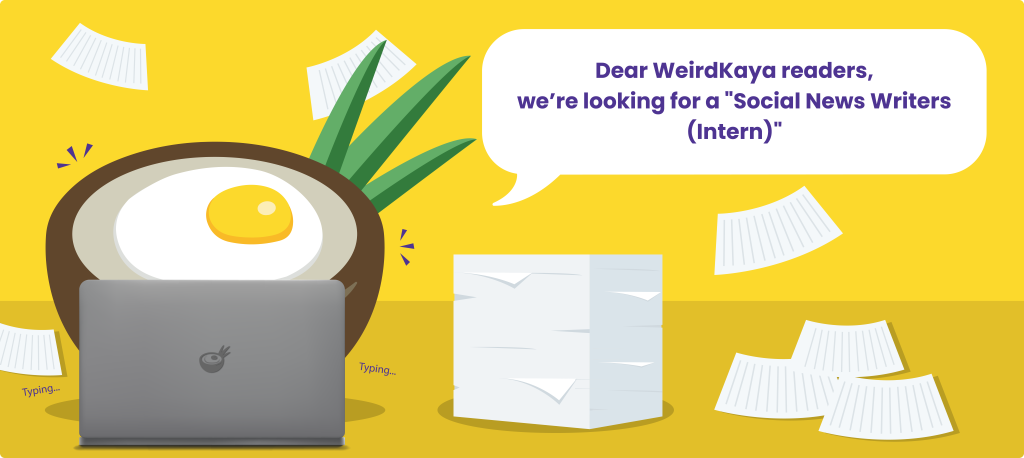 ---