A heartbreaking TikTok clip showing a woman weeping after she was abandoned by her children at an old folks home has recently gone viral online.
According to the clip uploaded by @faizhakim90, the 66-year-old woman, who hails from Kelantan, had two children, where one worked as a doctor while the other was an engineer at Petronas.
Unfortunately, her husband passed away and shortly after his death, her children requested that she sign away all of her property to their names, leaving her virtually penniless.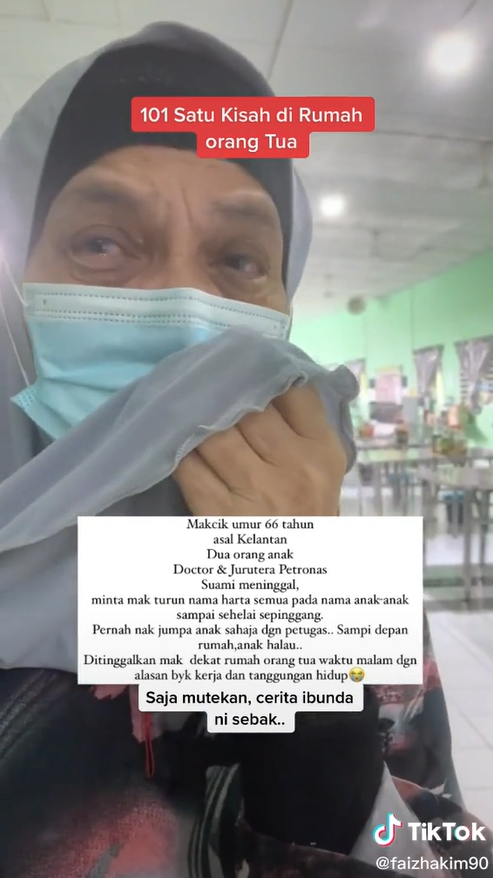 Rejected by children
With their mother's property now under their control, the woman's children sent her to an old folks home and left her there ever since.
Despite her children abandonment, the woman still pined for her children and tried visiting them at their homes along with a worker from the old folks home.
However, they still refused to see her and wouldn't even let her step into the house.
"They also gave many excuses such as massive workload or finding it a burden to take care of her," wrote @faizhakim90.
Watch the clip here:
Netizens heartbroken
The clip has since garnered 1.5mil views and more than 109k likes at the time of writing, where many netizens were saddened by the woman's experience.
"Be my mother, auntie. I just lost my own mother."

"If her children don't want her, I'm willing to live with her as if she's my mother because I don't have one."

They also slammed the children for ditching their mother at the old folks home and warned that they would reap the consequences soon.
"Do her children not think about (their actions)? Where did they come from? And who was the one who brought them up until they were able to have top positions?"

More senior citizens abandoned
Sadly, Malaysia has seen a spate of elderly folks being left behind by their children for the past five years, reported New Straits Times.
According to Women, Family and Community Development Minister Datuk Seri Rina Harun, a total of 2,144 senior citizens were abandoned at hospitals nationwide from 2018 and 2022.
Out of this figure, only 914 were successfully returned to their next-of-kin or family members.
Rina added that the government is currently drafting the Senior Citizens Bill, which will protect the rights of senior citizens and help decrease the number of abandonments.
Our parents have sacrificed so much into moulding us to be outstanding individuals, so spend all the time you can to cherish them instead of abandoning them!
Read also:
---

---
Cover image via TikTok/@faizhakim90